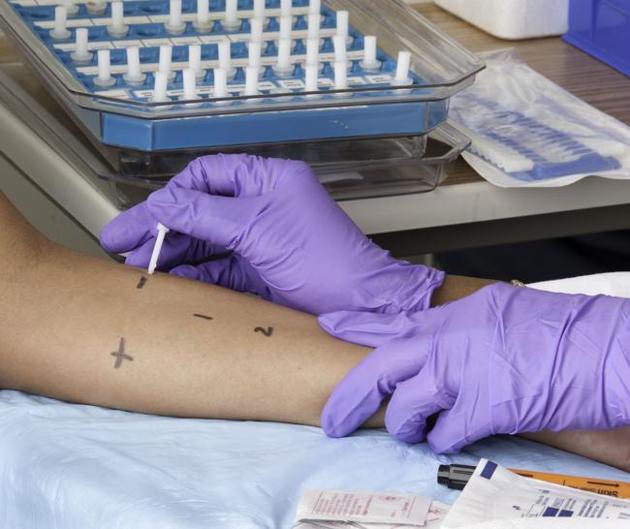 Why some of us have allergies, and others don't
New studies suggest that a combination of strategies — including natural childbirth, breastfeeding, plenty of outdoor activity, a healthy diet and rational antibiotic use — help lower allergy risk.
UPDATED ON APR 08, 2018 07:35 AM IST
Fine dust makes me sneeze, which makes living in Delhi a bit of a challenge. Not only does my allergic rhinitis — popularly referred to as hay fever — make me sneeze my way through pollen, dust and soot from vehicular exhaust, I also develop an annoying sniffle on exposure to particulates from construction dust and smog.
I am also allergic to the most commonly used family of painkillers, called non-steroidal anti-inflammatory drugs (Nsaids). So with aspirin, paracetamol, ibuprofen, diclofenac and naproxen giving me a mild attack of hives (pale red bumps on the skin that go away within minutes of my popping an anti-allergen), I've pretty much aced bearing aches and pain without medication.
What mystifies me is why I have these allergies. No one in my extended family has rhinitis or drug allergies. Why, then, does my immune system go into overdrive on exposure to certain harmless particles? Why dust but not peanuts, seafood or eggs?
Baby steps
The jury is still out on why some people have allergies and others don't. The advocates of the 'hygiene hypothesis' claim that environmental changes, rapid urbanisation, altered diets and antibiotic use are lowering immune tolerance and raising the incidence of allergies.
This theory has now been subsumed by the 'microbiome hypothesis', which holds that the interaction of microbes in the environment with the human microbiome — the 10 to 100 trillion bacteria live primarily in the gut, and in the respiratory tract and skin — plays a big role in immune regulation, affecting how it recognises a threat and demolishes it.
A combination of strategies, including natural childbirth, breastfeeding, increased social exposure through sport and outdoor activities, less time indoors, a healthy diet low in sugars and carbohydrates, and rational antibiotic use, helps keep the microbiome healthy to lower allergy risk.
A new study released earlier this week found that giving babies antacids or antibiotics in the first six months of life raises their risk of allergies, including asthma, in later life. These medicines are given frequently, with about 8% of all children receiving a prescription for acid-suppressive medicines as babies, to 'treat' regurgitation, colic or gastric reflux, according to a retrospective study of 792,130 children published in the journal JAMA Pediatrics.
Antacids raise the risk of all food allergies except seafood, and of asthma, allergic rhinitis, allergic conjunctivitis and medication allergy, among others, the study found. It also found that, regardless of dose, antibiotic use in infancy led to a two-fold rise in asthma risk.
Other studies have found that having siblings, starting preschool or daycare at a very young age, and having a pet offer some protection against developing allergies. It's worth noting here that frequent infections before six months of age raise the risk of skin allergies, which goes against the urban legend that battling infectious diseases in early life protects against allergies later on.
The invisible threat
Irrespective of the allergen, the immune system's molecular defence against perceived attack remains the same. When we are exposed to an allergen through skin, nasal passage, airways, eyes, mouth, food pipe or gut, the immune cells engulf and destroy the perceived invader. These immune cells produce Immunoglobulin E (IgE) antibodies that travel to cells and release chemicals that cause an allergic reaction.
Allergic reaction to things that were well-tolerated even hours earlier can also occur, at any time of life. In most people, allergies cause mild to moderate symptoms, but severe reactions can lead to potentially life-threatening anaphylaxis that can lead to death from shock. Anaphylactic shock almost always occurs suddenly, progressing rapidly from a mild rash or a dripping nose to trouble breathing, tightness in the throat, nausea, dizziness, fainting or rapid pulse and heartbeat.
A second episode can occur up to 12 hours after the first one, so physicians advise people to keep injection devices loaded with anti-allergy shots close at hand if they've had an attack.
About 5% of India's population suffers from some form of allergy, with the prevalence growing every year. People with allergies have three times the risk of developing asthma and are more prone to ear infections and chronic sinusitis than those without.
Allergies in adults can be treated by using medications like antihistamines, anti-leukotrienes and nasal corticosteroid sprays, to reduce inflammation in the nasal cavities and airways; oral immuno-therapy vaccination can be used for long-term treatment; and a series of allergy shots are recommended for those who do not respond to the first two lines of treatments. Allergy shots are needed during acute attacks too, to prevent the anaphylactic shock discussed earlier.
Close