Adani gets third time lucky with WPL winning bid
Published on Jan 25, 2023 10:55 PM IST
The Ahmedabad-based conglomerate had twice failed in bids to bag IPL teams; its ₹1,289 crore WPL bid turned out to be the highest.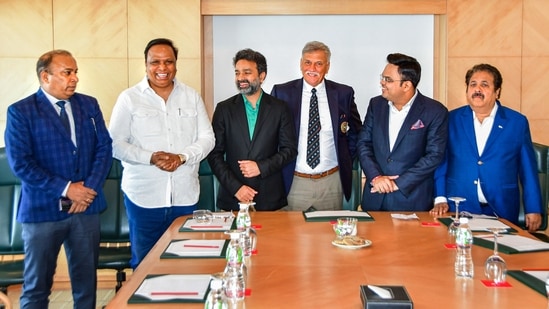 Despite its status as a leading business group in the country, Gautam Adani's group had faced reversals twice in the race to own teams in the blockbuster Indian Premier League (IPL).
In the bidding war on Wednesday to acquire franchises in the Women's Premier League (WPL), they didn't leave it to chance. Their ₹1,289 crore bid to acquire the Ahmedabad franchise was the runaway winner; 30 percent higher than Mumbai Indians, their business rival, and 42 percent higher than Capri Global, the lowest among five winning bids.
For a league that is yet to kick off and with women's cricket still taking baby steps in its commercial growth, some would think that's excess spending. In Adani's case, they probably wouldn't mind the headlines.
"Being the No 1 bidder, whether it is satisfying or not, I don't know. It was all about going there and putting a right price and getting a location that we wanted. We have achieved that," said Satyam Trivedi, Head, Adani Sportsline. "We never thought that we will walk away as the highest bidder. It eventually turned out to be like that."
Two years after Reliance made the highest bid to win Mumbai Indians in 2008 before IPL was launched, Adani's first opportunity to enter IPL came in 2010 when the league expanded from eight to 10 teams. They were outbid by a considerable margin by Sahara and a business consortium that won the Kochi franchise.
In 2021, when BCCI again invited bidders for two new teams, businessman Sanjiv Goenka and CVC Capital Partners beat them to win the Lucknow and Ahmedabad franchises respectively.
The Adani group is widely tipped to pick a team or stake in an IPL team when the next opportunity comes up. For now, it will focus on building a successful women's franchise. Adani's Sportsline, the group's sport wing, also owns teams in the kho-kho league, pro-kabaddi league and a team in the ongoing UAE franchise league (ILT20).
But this is a first for them when it comes to Indian cricket.
"Obviously cricket is big in India and you would want to be part of that, if you are active in sport," Trivedi said. "At the same time, this is just the right time for any large-scale corporate like ours to be in women's sport. If you are participating, you are contributing to an ecosystem which has the definite potential to grow. This was the right opportunity. This investment will encourage women in sport, not just players but also franchise sport, in terms of commercial opportunity. This will encourage other sports and leagues to include women."
Adani will be left to recover ₹129 crore per year from the WPL investment, tough from the new league. It says it is confident about the economics of WPL as a standalone entity in the long run. "I am 100 percent convinced," said Trivedi. "The property has great potential. Nobody will deny that this will become the biggest women's sport in the world and the second biggest cricket league in the world, after the men's IPL.
"It's all about how you look at it. While some may have placed lower bids, we saw a great potential. It is going to be a definite investment in the first media rights cycle. But the next media rights cycle is going to be interesting."
IPL's exponential rise in value too is due to the way media rights have risen every five years. "We had a calculation in mind and bid accordingly," he said.
With the Adani group based out of Ahmedabad, its choice of home base is not surprising. When BCCI is ready to introduce home-and-away format in WPL, it will have the additional attraction of playing matches in the biggest cricket stadium in the world. "Cricket in Gujarat is crazy. People love their cricket. Our headquarters is in Ahmedabad. So, nothing can be better than what have," he said.
Trivedi played down the prospects of the two business rivals, Adani and Ambani, running competing teams in the league and its bid being the highest.
"For us, it was 30 people picking up the tender, 16 people (bidders) in the group. All 16 of them were competitors. We were looking at our vision for the league and believing in the potential it has."