Australian pacer suffers brain bleed after hit during Big Bash League training
Updated on Jan 25, 2017 12:09 PM IST
Australian pacer Joe Mennie was bowling at a nets session with Sydney Sixers, his Big Bash League team, in Brisbane on Monday when a ball struck the side of his head.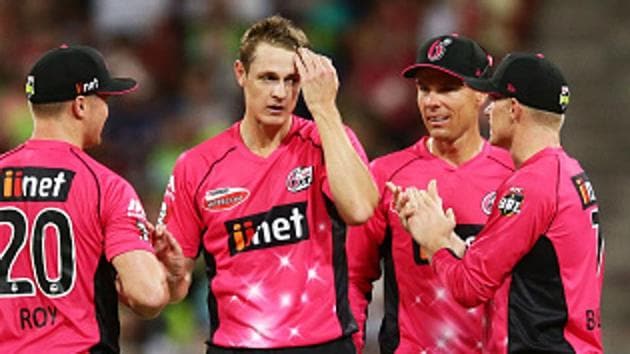 Australian paceman Joe Mennie suffered a "minor brain bleed" and fractured skull after a ball hit his head during training, Cricket Australia (CA) said Wednesday.
Mennie was bowling at a nets session with his Twenty20 Big Bash League team the Sydney Sixers in Brisbane on Monday when a ball struck the side of his head.
Read more | Peter Nevill unlikely for Big Bash League after bursting cheek blood vessel
CA chief medical officer John Orchard said Mennie was initially discharged from hospital that night but follow-up scans the next day revealed his injures were worse than first thought.
Read more | Meet Tymal Mills, England's new weapon to hurt India in T20Is
"Joe was reviewed by a Cricket Australia doctor on Tuesday and had some scans performed that revealed a small fracture and associated minor brain bleed," Orchard said in a statement.
The medic described the injury as serious but said Mennie was "feeling well".
"We believe that this is a stable injury and will not require surgery," he added.
Read more | Big Bash commentator's on-air advice being investigated by Cricket Australia
"As a precautionary measure, Joe has been admitted to hospital for observation and will continue to be assessed by a neurosurgeon to determine best course of action."
Mennie was released from hospital later Wednesday and was cleared to fly out from Brisbane with his team on Thursday, the Sydney Morning Herald reported.
The Sixers are due to take on the Brisbane Heat in the BBL semi-final on Wednesday night.
The newspaper said he would not play in the semis and would be monitored over the next few days.