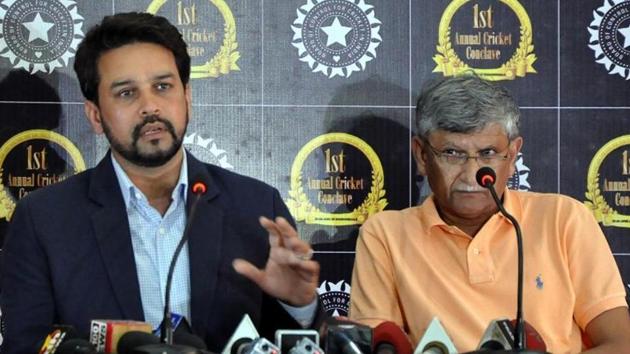 How BCCI spent 100 crore on legal bills and still went bust at Supreme Court
According to a source, the BCCI's legal bill to fight the 2013 Indian Premier League (IPL) spot-fixing and betting scandal adds up to more than
₹
100 crore. According to an estimate, the Board paid more than
₹
9 lakh per day towards its legal bill while fighting the case at different levels.
UPDATED ON JAN 04, 2017 03:47 PM IST
New Delhi
Startling as it may sound, the BCCI spent over ₹100 crore in the country's courtrooms within a short span, but all for a lost cause.
A well-placed source in the Board told HT that the BCCI's legal bill to fight the 2013 Indian Premier League (IPL) spot-fixing and betting scandal adds up to more than ₹100 crore. According to an estimate, the Board paid more than ₹9 lakh per day towards its legal bill while fighting the case at different levels.
Read more | Delhi and District Cricket Association (DDCA) may get an administrator soon
The amount includes the high appearance fee of legal experts like Aryama Sundaram, Kapil Sibal, Mukul Rohatgi, Shekhar Naphade and Arvind Datar, and the expenses of the two investigative and advisory bodies, Justice Mukul Mudgal and Justice RM Lodha Committees, appointed by the Supreme Court.
A case in point is lawyer Shekhar Naphade, who received ₹1.3 crore in just two months last year for appearing in the Supreme Court against the Bihar Cricket Association. Till the apex court's verdict on Monday, the BCCI's legal experts were present in 91 hearings since 2013.
Read more | Why Sourav Ganguly, Bengal cricket boss, may not become next BCCI president
In October 2013, the Supreme Court had fixed ₹1 lakh for every working day for the three-member Mudgal Committee, which was appointed to investigate the allegations of spot-fixing and betting. The Committee submitted its final report in November 2014.
Read more | Here's what Supreme Court's verdict on BCCI means for cricket associations
"Till 2015, the BCCI spent about ₹57 crore on the IPL fixing-related cases," said a senior BCCI official. "I can assess that it has crossed more than R100 crore, but see what we got it in return," he said with reference to the sacking of Anurag Thakur and Ajay Shirke by the Supreme Court on Monday.
"On some issues, we were ill advised. Bringing in Justice (Markandey) Katju at a crucial stage of the case was one of the mistakes we made," said the official. The BCCI's annual balance sheet lists legal and professional charges till March 2016 as a mere ₹17 crore, but the official figure is a poor reflection of the actual expenditure.
The figures further startle as BCCI sources said that the expenses of the Lodha Committee stood at ₹3.5 crore.
While appointing it in January 2015, the Supreme Court had allowed the Committee to fix its fee and incidental expenses such as travel, hotel, transport and secretarial services, which were deemed necessary for conducting its proceedings.
Close