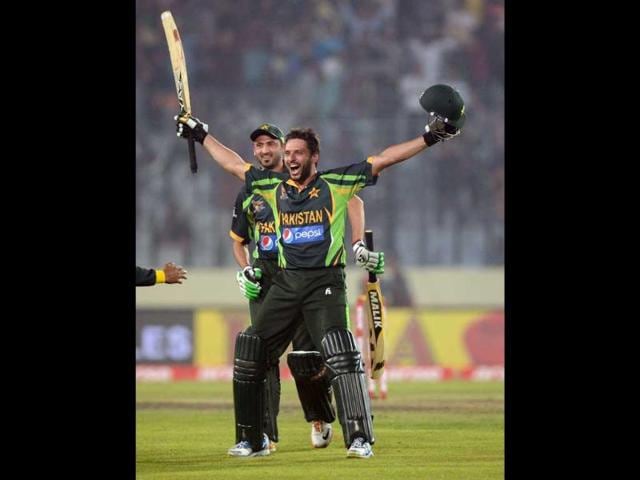 Boom, boom, India's doom
Shahid Afridi explodes to leave the men in blue gasping in the tournament. He had initiated the process of bringing victory to Pakistan, one that ended with him standing with his arms raised in trademark style after stealing the show.
Hindustan Times | By Anand Sachar
UPDATED ON MAR 03, 2014 02:25 AM IST
India and Pakistan converged at the Sher-e-Bangla Stadium, which was surrounded by barricaded roads and multiple layers of security. The intensity of the clash was never in doubt, apprehensions over its closeness were dispelled at the end.
Nine from three balls, with the murderous but inconsistent Shahid Afridi facing the off-spin of R Ashwin, the critical Asia Cup encounter hung by a thread. The old warhorse lofted, slogged and hammered two sixes off a half-tracker and flighted delivery from the India tweaker to seal victory with two deliveries to spare.
Afridi had left the Men in Blue in a state of numbness. India's score of 245 for eight fell short, as the defending champions blew India to the edge of an Asia Cup exit with the one-wicket win.
In a match that swung quicker than the pendulum, it was another below-par performance by the India batsmen, Dinesh Karthik's missed stumping of Sohaib Maqsood and Afridi's insane blitzkrieg that decided the bout.
Mohammad Hafeez carried Pakistan closer to victory, first with Ahmed Shehzad and later with Maqsood.
Costly miss
Bowling round the wicket, Ashwin's carom ball beat Maqsood down the leg. Though it was a wide, it also was a stumping opportunity for Karthik, one he missed. Pakistan were 170 for four and Maqsood on 22.
Even at four down for 200, Pakistan were cruising. Hafeez attempted a slop sweep off Ashwin, only to be caught by a diving Bhuvneshwar Kumar at squarish deep fine-leg.
Immediately, Maqsood was run out but had added 16 since the missed stumping.
With Pakistan still 46 away when Afridi came in, India regained command. But 'Boom Boom' Afridi stole 10 off a Ravindra Jadeja over and then swept Bhuvneshwar from outside off for a boundary.
The 34-year-old had initiated the process of bringing victory to Pakistan, one that ended with him standing with his arms raised in trademark style after stealing the show.
Effort in vain
The green brigade's last-ditch effort overshadowed a fine return by leggie Amit Mishra. Returning to the team after more than four months, Mishra extracted prodigious turn. Most importantly, he flighted the ball at the right pace. His two wickets and an acrobatic dive to complete Misbah-ul-Haq's run out, however, were of no avail.
Bhuvneshwar showed signs of being a slightly improved death bowler, hitting a better length. While Ashwin scalped three, he faltered in the over that mattered.
Earlier in the day, under cloudy skies, the India batsmen tripped and tumbled before recovering at 245 for eight. Rohit Sharma pulled Umar Gul for a flat six over square leg among many delightful shots to promise a game-changing innings. But, one shot too many caused his downfall for 56.
Challenge in middle
With captain Virat Kohli gone early, it was always going to be a challenge for the middle order. Apart from Ambati Rayudu, who played a mature innings, the rest fell in a pack once more. Ajinkya Rahane endured a soft dismissal while Karthik attempted an unnecessarily cheeky sweep. Jadeja, who was handed a reprieve by the umpire, managed to end the innings with a flourish.
Twenty-eight years ago, Javed Miandad struck a last-ball six off Chetan Sharma to hand India a defeat in the Australia-Asia Cup final.
On Sunday, Afridi's last over maximums reduced India's chances of making the Asia Cup final to a minimum.
Close