Chris Gayle: The lord of Kingston, but missing at Sabina Park
Jamaica is unabased about Chris Gayle's party boy image although he runs into trouble abroad over his interaction with women from time to time, as HT found out.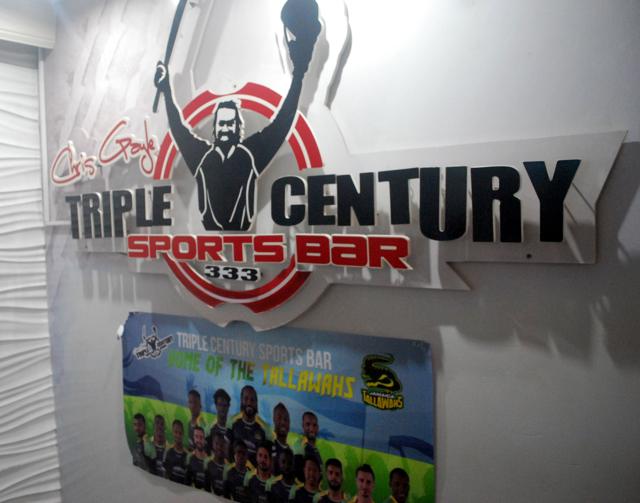 Updated on Jul 30, 2016 11:10 PM IST
Kingston
If there is one batsman who could have boosted the West Indies resistance against India in this Test series, it would be Chris Gayle. But a prolonged feud with the West Indies Cricket Board (WICB) has led to most seniors playing only in the shorter formats. At the ground level, the sentiment differs. A cricket match in Kingston not featuring home boy Gayle is unthinkable for the locals. "They are missing out on him. The man has got two triple centuries after all," said a waiter at the Kingston Cricket Club, which overlooks Sabina Park.
He was here though, a week ago, playing for Jamaica Tallawahs in the Caribbean Premier League. "He came down here and checked if everything was fine," said an employee of the Triple Century Sports Bar, Gayle's recent venture located in the heart of New Kingston.
The bar is an extension of Gayle's image as a wild party man, one that has won him many fans on social networks but the wrath of the media for crossing the line of decency often. Here, the line is blurred. Women love the fact that they can party at a place that is open till 2am on weekends. Booze flows freely, there is live music, and with time the dance gets more intimate.
NO DULL MOMENT
The party follows Gayle everywhere, be it at his sports bar or the terrace of his palatial mansion atop Chancery Hall. House No 8 on Victory Road is all swag and flamboyant, made king size with an entertainment area with stripper poles --- the player has posted pictures on the social media --- and a rooftop pool where neighbours have often seen Gayle party with a bevy of beauties. They don't want to talk about it though, especially not to a journalist from India, where Gayle was slammed for his inappropriate behaviour with women for an interview that appeared during the IPL.
In fact, the curious facet of the trip undertaken to decode Gayle's life was that anyone remotely connected to the player shied away from speaking about him.
He is a successful cricketer, rich, loves to enjoy life and shuts up detractors with huge centuries. His rags to riches story has to be seen to be believed. His three-storied mansion, with the view stretching from the Kingston port on the right to the faraway Blue Mountains, can make anyone feel on top of the world. As one took the winding road up the Red Hills area in search of Gayle's abode, the cab driver informed that even a decade ago the placce was just a rock. "This place was nothing, small houses that's it. Now you want to buy a piece of land here, you at least need 10 million. You got to be rich maan, extremely rich."
THE MARLEY SPIRIT
But the laidback kid from Rollington Town sits on a pile of money and doesn't mind splurging on what he fancies. And he loves to have his way with women. In the Caribbean, it's not a big deal. In fact, nobody knows how many children reggae icon, Bob Marley, fathered. But the problem with Gayle, it seems, is that he forgets that a celebrity needs to be cautious in this age of technology.
The slightest hope of talking to his family members was quashed after a request was sent inside the house that someone from India has come to ask about Gayle. The next door neighbour rushed back to his room. Even the floor manager, like the female attendants at Gayle's bar, didn't want to speak. "He is a great boss, that's all I can say," said one.
Most don't see anything wrong with Gayle's image. "I feel he is a fun person to have around. He struggled his way up, is rich, famous. Girls obviously want to be with him," said a young woman, a regular at Gayle's bar, although she didn't disclose her name. That to some extent explained Gayle's behaviour --- maybe he is used to having his way.
Still, Jamaica would have loved to see Gayle in Tests, especially when the team is in doldrums. He isn't there at the Sabina Park, but is everywhere in Kingston. Had he played, this Test could have been an interesting tussle between him and Virat Kohli. Brothers in arms in the IPL, would they have played hard and partied harder?
Perhaps. One thing's sure though, this match would have been far livelier had Gayle been around.
Close Story