Exclusive: Asia Cup - Rohit Sharma has been top-class as batsman and captain - Saeed Ajmal
Hindustan Times, New Delhi |
Baidurjo Bhose
Sep 23, 2018 09:08 AM IST
Speaking to Hindustan Times, Ajmal said that this Indian team has played like a group of champions, despite the absence of Virat Kohli.
Round one went to India on September 19 and now it is time for round two as arch-rivals India and Pakistan clash in the Super Four stage of the 2018 Asia Cup in Dubai on Sunday. While the thrashing in the group game will still be playing on the minds of the Pakistan players – losing to India by 8 wickets – they must stay positive and look ahead according to former Pakistan off-spinner Saeed Ajmal.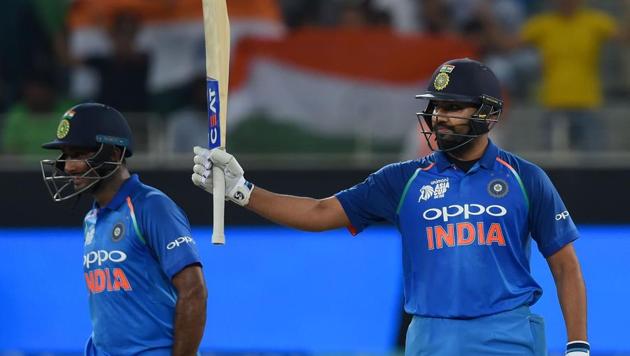 Speaking to Hindustan Times, Ajmal said that this Indian team has played like a group of champions, despite the absence of Virat Kohli. In fact, the spinner feels that Rohit Sharma has been exceptional with both the bat and as skipper. Even though the Pakistan players have in recent times played their home games in the UAE, Ajmal feels that the Indian players have adapted better to the conditions of offer.
"With Hardik Pandya being injured, Ravindra Jadeja came in against Bangladesh and look how well he adapted. The all-rounder starts off with 4 wickets in the game. This is what makes you sit up and take note. If you notice, India haven't looked to play attacking cricket with bat in hand. They have waited to launch an onslaught and have kept wickets in hand. The openers have given the team a good start in all the games. Rohit has been top-class both with bat and as captain. And now you have an MS Dhoni who looked in good form against Bangladesh.
"If you come to the bowling attack, you have Jasprit Bumrah who has been exceptional. Then you have someone like Bhuvneshwar Kumar. Bhuvneshwar can bowl with both the new and old ball. Thanks to these two India's death bowling has become strong. The spinners have also done an excellent job except for Yuzvendra Chahal," he said.
ALSO READ: Ravindra Jadeja eyes Sachin Tendulkar's record ahead of Asia Cup 2018 clash
Interestingly, Pakistan had come into the first encounter as favourites having won their last encounter against India – final of the Champions Trophy in 2017. But Ajmal feels that experience is what makes this Indian team favourite against the relatively inexperienced Pakistan unit.
"They have the experience and if you look at the Pakistan team, you only have a Shoaib Malik who is a senior pro. India on the other hand have 4/5 players who have been in the team for a while now. Yes, Pakistan might have beaten India in the final of the Champions Trophy, but that doesn't take away the fact that India have experience on their side," he explained.
Winning and losing is a part of every sport and cricket is no different. But Ajmal just can't fathom the fact that Pakistan lost the previous game without showing any fight. He feels that showing the right attitude and playing positive cricket is what counts and if Pakistan can do that, they will get the desired results.
"I have just one message for them and that is for them to play positively. They shouldn't think too far ahead and when you have some quality bowlers in your ranks, you just need to stay positive and look to have the right attitude. In the last game, India won one sided and when the team does that minus Virat Kohli, that is unacceptable. A good contest is what is expected, after that if you lose well bad luck.
"Losing with dignity is one thing and getting thrashed is another. I feel that Pakistan have a better bowling attack than India's and it is the batting which let the team down in the last game. If the batsmen can give the bowlers something to play with, things can change. You have to realise that India have the batting to score 300. On the other hand, the Pakistan attack is one which can keep them under check. But, even then, the batsmen have to put at least 250 on the board if they bat first," he said.
Having picked 184 wickets in 113 ODI games, Ajmal does know a thing or two about bowling in the UAE and he isn't happy to see the Pakistan bowlers struggle in these conditions.
"I had a good record on these wickets and I feel over here you need to add a lot of variation to your bowling. If you keep bowling at the same pace on these wickets, you are bound to be taken to the cleaners. The team needs to have more than 1 spinner. If you look at both India and Afghanistan, they are playing 3 spinners each and I feel that is what the track and conditions demand. Pakistan must also go the same direction. No team is winning with fast bowlers here, all are winning because of their spinners. Look at even Afghanistan and you will see what I am trying to say.
"I am a bit surpised to see that Pakistan is failing to find the right combination. We have played so many matches here in Dubai and we should be aware of what the conditions are and what is expected when it comes to team selection. You have to admit that the conditions in the UAE suit the spin bowlers," he said.
ALSO READ: Rohit Sharma-Shikhar Dhawan opening stand holds key against arch-rivals
Commenting on his own memories in the Asia Cup, Ajmal pointed to dismissing Sachin Tendulkar in this tournament and also winning the trophy in Bangladesh in 2012.
"I have quite a few memories from this tournament, but one that stands out is dismissing Sachin Tendulkar, one of the best in the world. Also, we won the tournament in 2012 and that is one memory that will stay with me. I had bowled a match-winning spell and that shall always bring a smile to my face," he said.
Finally, commenting on what exactly Pakistan needs to do to beat arch-rivals India, Ajmal said: "If you ask me, I would say Mohammad Nawaz and Shadab Khan should be playing together as spin is the way to go. Secondly, the bowlers need the support of the batsmen and Pakistan must score 250 plus as all the teams have managed to do that when it comes to winning games. In this case, they must also remember that India chase really well and if they cannot put at least 250 on the board, the Pakistan bowlers will not have much to do. They should fight till the end and make this a contest that shall be remembered for ages."