Good pitches more important than bat laws to strike a balance, says Rahul Dravid
Rahul Dravid believes that ICC's new bat regulations are important, but true balance in cricket will come when they start paying more attention towards the nature of pitches used in international matches.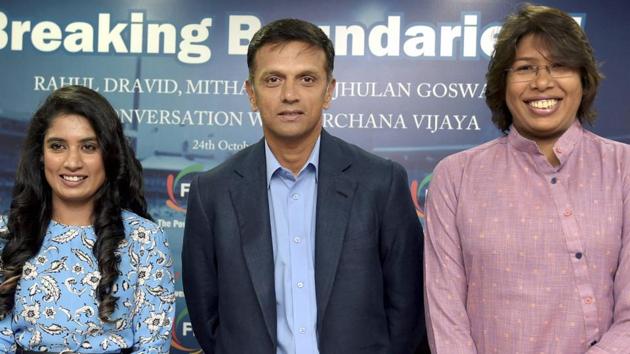 Updated on Oct 24, 2017 08:18 PM IST
Former India captain Rahul Dravid feels the nature of pitches is more important than bat size when it comes to striking a balance between bowlers and batsmen. The ICC has recently come down heavily on the use of thick bats, issuing guidelines of a maximum depth of 67mm and 40mm thick edges. But Dravid feels only a handful of batsmen were using bigger bats.
"The results will take time to show, I think a year or so. The regulations aren't very drastic. Only a few players were using very big bats. But it was going that way," said Dravid at an event organised by the FICCI Ladies Organisation on Tuesday to felicitate India women's captain Mithali Raj and fast bowler Jhulan Goswami.
"But it's more important you provide good wickets. The balance of cricket has got to do more with the wickets than the size of the bats," said Dravid, who is the India's overseas batting consultant apart from being India A and U-19 coach.
READ | India vs New Zealand: Virat Kohli & Co look to avoid first series defeat since 2015
With the next U-19 World Cup (to be held in New Zealand) only a few months away, Dravid defended the decision to not allow any player to play more than one World Cup even he was eligible. "When I took over the U-19, one of the things I felt was to stay on and play too much of under-19 cricket which I think was very dangerous. So we took a decision of not allowing anyone to play more than one World Cup," he said.
"That means five players of the last World Cup were eligible to play this one too --- players like Washington Sundar, Zeeshan Ansari, Mahipal Lomror and Armaan Jaffer. The positive for me from this is part of them have been picked for the Ranji Trophy. So even the state associations are looking ahead and not forcing them to play U-19 cricket. Their mindsets and horizons are increasing," said Dravid.
Prithvi to play World Cup
Dravid however confirmed Prithivi Shaw, the talented Mumbai teenage batsmen who made his Ranji Trophy debut last season and scored 154 in the Duleep Trophy final, will play the 2018 World Cup despite not making the squad announced for the Under-19 Asia Cup in Malaysia from November 9-20.
READ | Irfan Pathan admits Indian cricket team comeback is 'on thin ice'
"Age-group cricket has a purpose to solve but it's limited. From then on you have to go on and play men's cricket. This is what we decided with Prithvi as well. At the moment we definitely want him to be part of the World Cup team but as and when the opportunity for him to play first-class cricket came we were able to give him that leeway," said Dravid.
Asked about his take on the 'yo-yo test', Dravid said, "We have done it in our time as well, there's nothing new about it. They are setting certain benchmarks and directions and that is how the team wants to go. We are following that in the 'A' team as well because it is a reflection of what the national team wants and we are conscious of that fact."
Close Story