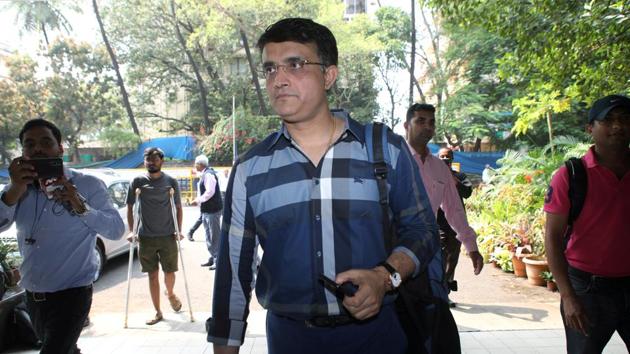 Sourav Ganguly files nomination for BCCI president post; says great to be looked as someone who can take things forward in difficult times
Reflecting on the state of affairs in the board, the former skipper said that he now plans to shift his focus to bringing the house back in order. "The house needs to be set in order", the former captain said.
Hindustan Times, New Delhi | By HT Correspondent
UPDATED ON OCT 15, 2019 10:20 AM IST
Sourav Ganguly on Monday filed his nomination for the post of BCCI president and this has officially cleared the ground for him to be the new chief of the world's strongest cricket board. Speaking after filing his nomination, the former India skipper said that his primary focus will be to revamp first class cricket and improve the financial conditions of the players.
"I have been very vocal on domestic cricket especially remuneration. That is going to be my first priority," Ganguly said while addressing the media which had gathered outside the BCCI headquaters at the Wankhede stadium in Mumbai.
Reflecting on the state of affairs in the board, the former skipper said that he now plans to shift his focus to bringing the house back in order. Ganguly, who represented India in 113 Tests and 311 ODIs and has more than 18,000 runs and 38 centuries to his credit in international cricket, said that it is an important time for the administration of the sport in the country.
ALSO READ: Sourav Ganguly set to repeat unique double in Indian cricket after 65 years
"It's always great to be someone who is looked at to take things forward in difficult situations and hopefully I can deliver.
"Happy and satisfied. It's a very important time in Indian cricket administration because of all that happened in last 3 years. It's satisfying to be in a position to make a difference along with the team. It is a very important time in cricket administration with what has happened in the last three years. Hopefully in the next few months we can put things back in order and bring back normalcy in Indian cricket.
ALSO READ: 'You have made India and Bangla proud,' Mamata Banerjee heaps praise on Sourav Ganguly
"It is a very satisfying moment for me personally. In the last few years, there was a kind of situation in the board which you can call as emergency. There is a lot of work to do especially at administrative level. The board has to be the best in the world that's how it has been over the years. Hopefully it will be a normal situation in the coming years," the former India captain said.
Ganguly reflected on Team India's great performance on the field and said that the new office bearers will have to create a conducive environment for the players to go out and perform at their best.
"As a team we have a lot of things to look after actually. We have to get the house in order, administration in order and most importantly cricket on the field. The cricket has been brilliant on the field since we crashed out of the World Cup 2019 and hopefully that will continue. And this is our job to create an environment that the boys can go out and excel themselves," he said.
ALSO READ: Sourav Ganguly identifies immediate challenges ahead of beginning of BCCI's new era
Ganguly, who has to step down from his position as president of the Cricket Association of Bengal, stressed on the need to improve the financial condition of domestic players.
He further shed light on the circumstances in which he was informed about the decision taken by the board members.
"I had never expressed my aspirations for this position. There are senior members in the team. I have never spoken to anyone or expressed that I was keen. 90% of the representative in the board is new. Till 1030 in the night I wasn't aware of this. I was told that I was needed to take the board forward with Jay and Arun and I felt it was a great responsibility.
"No politician was in touch with me and that's what it is. The members decide who will be part of this esteemed institution. In terms of Mamata didi, I thank her. She is Mamata didi and I am very happy to get her congratulatory message," Ganguly added.
The new administration will see Home Minister Amit Shah's son Jay Shah take over as the secretary of the board while former president Anurag Thakur's brother Arun Singh Dhunal will take charge as the new treasurer.
"I think experience was looked at and I have spent six years in cricket administration at Cricket Association of Bengal. Jay has been even more senior to me. Experience was one of the key factors as to who will take the charge at administrative level at this crucial juncture because as I said, the house needs to be set in order,"
Ganguly also made it clear that he will take up the matter of increasing India's share of revenues with the International Cricket Council.
"That's one area that we will look into. We haven't received any money from ICC in the last few years. Money in the sense what we deserve. India generates 70-80 percent of the revenue. So that's going to be one of the agendas. Talks and discussions need to happen and we have to find a solution to this as this is not leading anywhere," Ganguly said.
Close