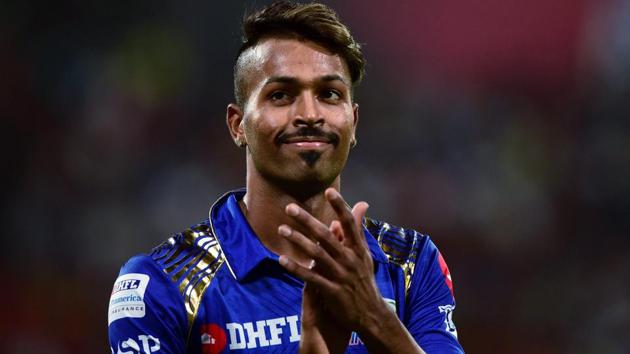 Hardik Pandya takes all-round show versus Kolkata Knight Riders in his stride
Hardik Pandya scored a quick-fire 35 off 20 balls and took two wickets as Mumbai Indians defeated Kolkata Knight Riders by 13 runs in their Indian Premier League (IPL) 2018 encounter in Mumbai on Sunday.
UPDATED ON MAY 06, 2018 10:57 PM IST
Around three years back, Hardik Pandya had shot to fame after slamming a 31-ball 61 as Mumbai Indians beat Kolkata Knight Riders at the Wankhede Stadium. On Sunday, he repeated a man-of-match performance against the same opponents on the same ground, becoming the highest wicket-taker of the tournament as he bounced back from an ordinary start to IPL 2018. (HIGHLIGHTS)
"It is a good thing. It was not my effort. I didn't try that hard. But the (purple) cap is there and if you take wickets... I am happy," Pandya said at the post-match press conference after Mumbai Indians beat Kolkata Knight Riders by 13 runs for their fourth win of the tournament. (SCORECARD)
He scored a 20-ball 35 before giving away just 19 runs off his four overs while dismissing Nitish Rana and Shubman Gill. After picking just three wickets in his first three games, Pandya now boasts of 14 scalps.
Despite the T20 game being labelled a batsman's format, Pandya doesn't mind getting hit for the odd boundary.
"(Bowling in the) death is difficult but one thing I have understood about T20, even if you are bowling well, in odd games you will go for runs. Everybody is bowling well but if you see in all the games, someone has gone (for runs). In some games they have gone for 40-45, which happens in the T20 format. If you ask me about difficulty, powerplay and death is difficult because you have restrictions in the powerplay and in the death (overs), they are just there to swing."
From being bought for his base price of ₹10 lakh in 2015, Pandya was retained this season while his brother Krunal was bought for ₹8.8crore after using the Right-to-Match card.
READ | Luck favours Mumbai Indians against Kolkata Knight Riders in crunch IPL 2018 match
The younger brother spoke highly of Krunal. "I have seen his growth because he has always played with me. He has improved his game after a lot of hard work. To be honest, I am myself surprised. It is because of the confidence which he is carrying and showing that he belongs here, which is fantastic for him and the team."
The win keeps Mumbai in the hunt for playoffs but Hardik wants his side to take one game at a time and not get ahead of themselves thinking about consecutive victories. "The team is quite positive and we have to think that we are going to make it, otherwise no point in playing. As a team we believe we can do this. We have done it in the past though it is a bit difficult to do it."
Close