Here's what Virat Kohli had to say about Nathan Lyon's 'snake's head' taunt
Hindustan Times, Bangalore |
N Ananthanarayanan
Mar 07, 2017 10:21 PM IST
Virat Kohli indicated that the Indian playershad followed every media remark by past and present Aussie players and he also a special message for Australia spinner Nathan Lyon.
Australia spinner Nathan Lyon's 'snake's head' jibe on Virat Kohli, which he borrowed from South Africa fast bowler Dale Steyn, came back to bit him on Tuesday after India stormed back to win the second Test by 75 runs to level the series 1-1. (LIVE BLOG)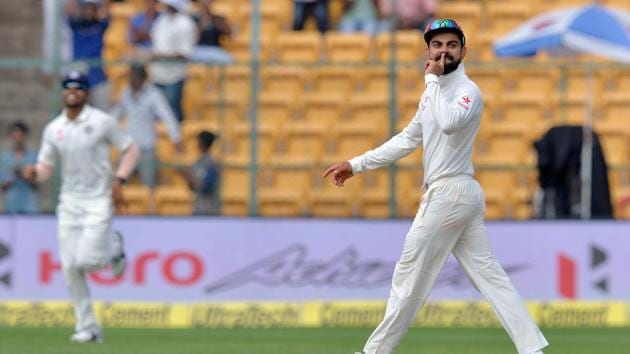 Virat Kohli, during the post-match press conference, indicated the home team had followed every media remark by past and present Aussie players in the middle of the fascinating Test. (SCORECARD)
Lyon, whose record 8/50 on the first day sent India crashing to 189 all out, included the dismissal of India skipper Virat Kohli for 12, trapped leg before trying to leave a ball which did not turn enough and caught him cold.
The dismissal came after Kohli was out for nought and 13 in the first Test in Pune, which the Aussies won by 333 runs, and amid suggestions the visitors had managed to get into the Indian skipper's head.
READ | No respect? Virat Kohli points to Ian Healy's Centurion Test behaviour
Lyon said after his haul: "Virat is a world class batter so we expect him to bounce back. But he is the head of the snake, to put it in Dale Steyn's terms, and if you can take that, the body will fall away. It was pretty pleasing to take Virat's wicket."
The Indian skipper retorted on Tuesday, describing the win thrilling win at the M Chinnaswamy stadium as the best of his two-year captaincy career.
"Till now, this is the best one, definitely… It was a quite an emotional game for us, quite draining as well. Everyone got along together, we showed team spirit. A lot of people were talking about the head of the snake, but I think the snake did pretty well by itself, so it's not just about one individual.
"I'm pretty happy if they keep focusing on the head of the snake, and the snake can sting from a lot of directions. I think some people need to keep that in mind, but I thought [this was] the sweetest victory for us.
"We had spoken even before this Test match, if they are saying they need to get me out and the team will fall apart. I told everyone, it's an opportunity. Let the pressure come, I have no problem, it doesn't make a difference to me whether I perform or not, I just look to learn from failures. If you perform well and the team wins, then you're pleased, you just want your team to win.
"We addressed it and said, let their focus be on this, and if they don't focus on the others, they'll let the momentum slip, and that's exactly what happened.
"They basically played into our hands."
READ | We showed that we can win from any situation: Virat Kohli after Bangalore win
"I feel the partnership between Ajinkya and Pujara, in a situation where the momentum was against us in the series, was outstanding. In the last two years, it's one of the top two partnerships, or maybe number one, because retrieving the lost momentum and giving the team the lead was a question of character, and they both showed why they are India's best Test batsmen."
Their 118-run fifth wicket stand is the highest in this series and turned a first-innings deficit into a 151-run lead by the time the Aussies managed to break the partnership.