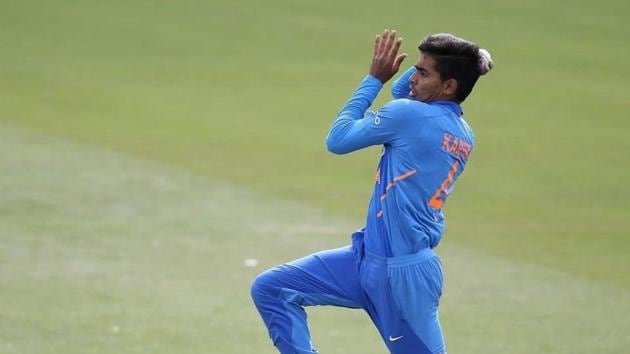 ICC U19 World Cup Highlights: India beat Australia by 74 runs to reach semifinal
India vs Australia, Highlights: Fast bowler Kartik Tyagi shined with the ball as India defeated Australia in the U19 World Cup quarterfinal by 74 runs to reach semifinal. Tyagi picked up four wickets as Priyam Garg's side defended the total of 233. Sam Fanning and Liam Scott led Aussies' resistance, but despite the former scoring 75 runs, it was not enough to save the match. In the 41st over, Liam Scott was dismissed by Ravi Bishnoi. Akash Singh dismissed Fanning in the next over. Conor Sully got run out and Todd Murphy was cleaned up in the same over. He cleaned up Matthew Willians in the next over as Australia were bundled out for 159.
Follow Highlights of India vs Australia, U19 World Cup quarterfinal:
UPDATED ON JAN 29, 2020 07:06 AM IST
20:55 hrs IST
India beat Australia by 74 runs
BOWLED! Akash cleans up Willians and that's the end of the match. Australia are all out for 159. India won the match by 74 runs to reach semifinals.
20:44 hrs IST
GONE!
Murphy has been cleaned up first ball by Akash. India now just one wicket away from win. AUS 155/9
20:41 hrs IST
GONE!
RUN OUT! Excellent work behind the stumps by Jurel, who ran quickly to hit the ball on to the stumps, while Aussies attempted a quick single. Sangha is the man to go. All of a sudden, Aussies resistance is over. AUS 155/8
20:38 hrs IST
Fanning OUT!
And in just two overs, Australia's resistance is over. Fanning tries to pull one, but gets caught by keeper, who takes a smart low catch. Akash strikes. AUS 155/7 in 41.3 overs
20:29 hrs IST
GONE!
Finally, a breakthrough! Scott tried to slam hard on a wider delivery, gets an edge and the keeper takes it easily. Bishnoi strikes first ball in the 40th over. AUS 150/6 after 40.1 overs
20:15 hrs IST
37 overs gone
37 overs gone, Australia are 130/5. They now need 104 runs to win in 13 overs. In modern day T20 era, this seems like a very chaseable target. Fanning and Scott need to up the ante just a little bit. Impressive fightback!
19:59 hrs IST
Fifty!
Fanning brings up his half century, as Australia cross the 100-run mark. Fanning is leading Aussies' resistance at the moment. Can he win this one for Australia?
19:40 hrs IST
Fanning fights on
Sam Fanning about to reach his half century. He is fighting on for Australia and closing in on a 50.
19:10 HRS IST
Tyagi returns and picks up another
Captain Priyam Garg brought Kartik Tyagi back to break the partnership and he has. He bowls that one outside the off stump in the channel and the ball straightens slightly on pitching and gets the outside edge. Rowe has to go back after a good partnership with Fanning.
19:04 hrs IST
Aus 68/4 after 20 overs
The spinners are keeping it tight for India. But Fanning and Rowe have looked comfortable. They aren't taking risks. India needs a wicket and Kartik Tyagi is back in the attack for just that.
18:56 hrs IST
Spin to win?
India have deployed spinners from both ends as the middle overs begin. The idea is to perhaps slow the run rate down and force these two players to look for big hits. The required rate is still comfortable but it will start shooting up if the spinners manage to keep it tight.
18:42 hrs IST
50 up for the Aussies
The rebuild is well and truly on for the Australians. Fanning and Rowe are not taking unnecessary risk but pushing the ones and twos around. The 50 is up. 52/4 to be precise in 15 overs.
18:17 hrs IST
Fanning & Rowe look to rebuild
The Australians were rocked early and they need to rebuild. Fanning and Rowe have survived the initial burst and are now milking the bowling. India need to break this partnership.
18:07 hrs IST
Bishnoi introduced into attack
India's lethal weapon, the leg spinner Ravi Bishnoi has been introduced in the 7th over itself. Captain Garg wants to keep attacking.
18:00 hrs IST
Mishra giving away runs
Sushant Mishra the left arm pacer is yet to find his groove. He has given away extras and was also hit for a six on a free hit by Fanning. Australia might have lost 4 wickets but they have got off to a quick start. 22/4 after 4 overs
17:45 hrs IST
Tyagi strikes again
Oliver Davies has a go at Tyage and teh Indian pacer responds by trapping him. Tyagi bowled that full way outside the off stump and Davies fell for the swinging ball. Edged it and it was lapped up in the slips. Australia 17/4.
17:37 hrs IST
Tyagi picks two
Kartik Tyagi has impressed one and all with his pace and verve in the tournament and he has put India in the driver's seat. He traps Harvey in front and then yorks Hearne. Both the southpaws were beaten for pace. Australia 5/3 after first over.
17:33 hrs IST
Is that for real?
A dream start for India and a disastrous one for Australia. Fanning pushes the first ball down the wicket and starts running. Jake Fraser-McGurk, the in form batsman, has no choice but to respond. The throw is at the wicket-keeper's end and it is a run out. Australia 0/1
17:01 hrs IST
Atharva stays unbeaten; India post 233
Atharva stays unbeaten on 55 as India post 233 runs on the board. This is a fighting total on this wicket. he ground is big and India are in with a chance.
16:59 hrs IST
Atharva slams fifty
It has been an amazing knock under pressure from Atharva Ankolekar. He hits a mighty six and reaches his half century. India have reached 230 and no one would have even imagined they would do that. What an amazing performance from this young left hander.
16:50 hrs IST
India lose wickets; look for quick runs
Ravi Bishnoi was run out a little while back after a handy knock of 30. Atharva and new man Sushant hit a couple of boundaries before Sushant ws caught in the deep. India are 215/8 with 9 balls to go.
16:45 hrs IST
India go past 200
Atharva and Bishnoi have put together a 50-run stand and have helped India get past the 200-run mark. This is a big milestone for India and a psychological barrier. This is not an easy wicket to bat on and India have a good bowling attack.
16:30 hrs IST
Bishnoi using the long handle
Ravi Bishnoi has used the long handle well. He is out there to provide a push to the score and he has done just that in the company of Atharva. The duo are taking India close to the 200-run mark, which will be a good score on this wicket.
16:09 hrs IST
Veer departs
Veer tries to slog against the line, but gets a leading edge. The ball lands in the fielder's hands. Keyll strikes. India 144/6
15:42 hrs IST
OUT!
Dhurv Jurel's struggling innings comes to an end. He departs for 48 with Todd Mur`phy getting his 2nd wicket. India 114/5 in 31.1 overs
15:20 hrs IST
Yashasvi departs
India are on the ropes again. Yashasvi Jaiswal has been dismissed in the most unlucky manner. Misses long hop from Sangha and the ball manages to squeeze through the gap between his legs and hits the timber. India 102/4.
15:15 hrs IST
Six and Fifty for Jaiswal
Yashasvi Jaiswal has hit Tanveer Sangha for a massive six and with that he brings up his fifty. It has been a patient knock from Jaiswal but he has a long way to go still. A century is what India needs from him to get a big score on the board.
14:50 hrs IST
Jaiswal, Jurel look to build back
Opener Yashsvi Jaiswal has stood firm and is looking to repair the innings along with Dhruv Jurel, who has walked in to bat at the number 5 position. Both these boys need to spend a long time in the middle if India are to put a fighting total on the board.
14:40 hrs IST
Indian captain's a goner
It is a major blow for India now as they lose captain and star batsman Priyam Garg for just 5 runs. Garg is clean bowled by Connor Sully. India are struggling at 54/3 after 15.2 overs.
14:30 hrs IST
Tilak Verma departs
Spinner Todd Murphy makes a great start as he sends back India's number 3 Tilak Verma cheaply. It was a well flighted delivery and Verma went for the forward defence. The ball spun and caught the shoulder of Verma's bat and it has been caught in the slips. India have lost their second wicket.
14:25 hrs IST
How the teams lined up
This was right before the teams locked horns. The national anthems were played
All smiles from the Indian team ahead of their Super League quarter-final against Australia!#U19CWC | #INDvAUS | #FutureStars pic.twitter.com/CgUKY6FI5K

— Cricket World Cup (@cricketworldcup) January 28, 2020
14:18 hrs IST
WICKET!
Australia have finally broken through. Divyansh Saxena is player dismissed. Corey Kelly manages to get that outside edge and Rowe takes an easy catch. Saxena goes for 14 off 26 balls.
14:11 hrs IST
Steady but slow start for India
The Indian openers have been watchful. They have managed to score 34 runs in the 9 overs bowled so far. The Australian pacers have been accurate and there has been movement off the pitch. The two southpaws from India have let almost everything pass outside the off stump.
14:03 hrs IST
Batsmen in good touch
7 overs gone and India are looking solid at 27/0. Jaiswal (18 of 28 balls) and Saxena (8 off 15 balls) have not taken any unnecessary risks till now and although they were beaten a few times, the two are looking in good touch.
13:49 hrs IST
Sully comeback
Connor Sully did concede a four and a six but his comeback has been brilliant. He was able to trouble both the batsmen with his bowling line and this will be a good contest. IND 12/0
13:47 hrs IST
Cautious start
3 overs gone and India are 12 for no loss. Cautious start to the innings by both openers and although Jaiswal did go for a few big shots, the plan is clearly to preserve their wicket at the moment.
13:35 hrs IST
Match Starts
Yashasvi Jaiswal and Divyansh Saxena start proceedings for India while Matthew Willans was handed the ball in the first over. This will be an interesting battle as India will look to start well against their much-fancied opponents.
13:15 hrs IST
Playing XIs
India U19 (Playing XI): Yashasvi Jaiswal, Divyansh Saxena, Tilak Varma, Priyam Garg(c), Dhruv Jurel(w), Siddhesh Veer, Atharva Ankolekar, Ravi Bishnoi, Sushant Mishra, Kartik Tyagi, Akash Singh
Australia U19 (Playing XI): Sam Fanning, Jake Fraser-McGurk, Mackenzie Harvey(c), Lachlan Hearne, Oliver Davies, Patrick Rowe(w), Corey Kelly, Connor Sully, Tanveer Sangha, Todd Murphy, Matthew Willans
13:12 hrs IST
Australia will bowl first
Australia have won the toss and will field first
12:49 hrs IST
Hello and welcome
It promises to be a battle of the wrist spinners as India are all set to take on Australia in the first quarter-final of the ongoing Under 19 World Cup.
Topics
Close