India coach Ravi Shastri's Yo-Yo diktat: 'You pass, you play, you fail, you fail'
The India coach said there would be no compromise on players having to pass the fitness test and is confident the team would be ready when the Test series against England starts on August 1.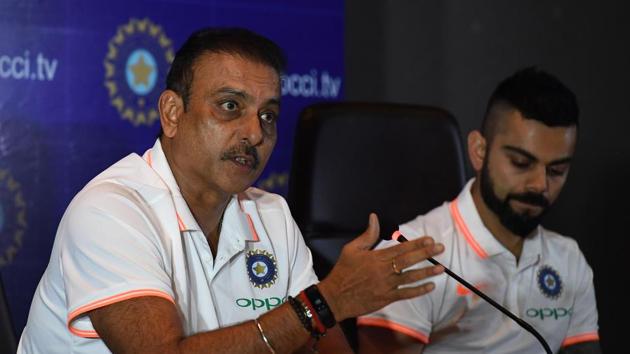 Updated on Jun 22, 2018 11:36 PM IST
Players aspiring to play for India can expect no leniency as far as passing the Yo-Yo fitness test is concerned, coach Ravi Shastri said on Friday.
The India coach was fielding a question on the recent debate sparked after pacer Mohammed Shami (Test) and batsmen Ambati Rayudu (ODI) and Sanju Samson (India A) have been dropped after failing to achieve the target. The test involves accelerating, short back-and-forth running.
Asked whether fitness was that big an issue in performance, Shastri said: "It's a combination of both. You have certain ability, but if you are fit, you can enhance that ability. That is why we emphasise on this yo-yo thing.
"If anyone thinks it is one-off, he can take a walk. He is sadly mistaken. The philosophy is simple: you pass, you play, you fail, you fail. The captain leads from the front, selectors are on the same page, the entire team management is on the same page and the boys have responded extremely well."
Skipper Virat Kohli pointed out that Jasprit Bumrah, who was a big success on Test debut in South Africa early this year, steamed in even in the final session of the Johannesburg Test, which the visitors won to narrow the margin to 2-1.
ALSO READ | Fully-fit Virat Kohli urges to move on from 2014 Test debacle in England
The Indian team faced questions over not landing in South Africa early after they lost the first Test in Cape Town, a low-scoring affair, despite taking 20 wickets.
India start their tour with two T20s against Ireland in Dublin followed by three T20s and ODIs each against England followed by the five-Test series, which starts on August 1.
"As far as preparation goes, it is ideal," Shastri said. "By the time Test matches start, it will be after a month. So, there is lot of time to acclimatise."
Shastri urged the team to focus on raising their performance levels rather than fret about opposition.
"Every series is important, for us every game is a home game. We don't play the opponent, we play the pitch. Our job is to conquer the pitch. It could be Mumbai, London, Johannesburg, it is the 22 yards that we should try and conquer.
"The boys know they will be rated if they adapt to different conditions. The other team too needs to adapt. You have to say how am I going to take 20 wickets or score 350-400. Keep it simple."
Close Story
Personalise your news feed. Follow trending topics