Fully-fit Virat Kohli urges all to move on from 2014 Test debacle in England
Virat Kohli had averaged less than 14 in Indian cricket team's 2014 England Test tour. He and coach Ravi Shastri are happy that this time they are playing white-ball cricket first before the five-match Test series, starting on August 1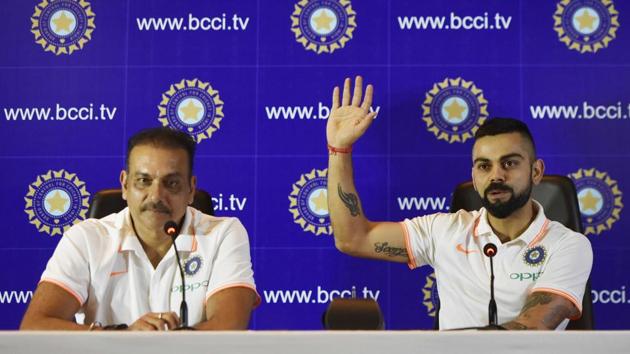 Updated on Jun 22, 2018 06:09 PM IST
Indian cricket team captain Virat Kohli said he has come a far way since his batting failures in the 2014 Test series and urged everyone to move on from that dip in his otherwise brilliant career when he averaged less than 14.
"Lot of people have held on to the last tour for too long," Kohli told a media conference ahead of the team's departure for the long tour. India's limited-overs squad will leave from New Delhi on Saturday. They play two T20s against Ireland in Dublin before playing the T20 and ODI series against England.
READ | Why the Indian cricket team has put its heart in Yo- Yo tests
Both Kohli and coach Ravi Shastri were happy that playing white-ball cricket first will help the those playing all formats acclimatise before the five-match Test series starts on August 1.
Kohli declared himself '100 percent fit' after requiring rehabilitation for a neck injury suffered during the final stages of the Indian Premier League. Although the injury forced him to miss a stint in the English County with Surrey, the India skipper said being fully fit and "looking forward" to the series was more important than landing in the UK "90 percent."
"Things turn out to be the best when not intended," he added, although he had looked forward to playing when conditions were tougher in England. Cheteshwar Pujara struggled in his brief County stint in swinging conditions.
READ | Great chance for India to win series vs England: Anil Kumble
India will take on an England side high on confidence after the hosts smashed their own ODI record score by amassing 481 in the one-sided series against Australia. Virat Kohli was confident things won't be the same when India square up against the No 1 ODI side.
Kohli said India's wrist spinners, Yuzvendra Chahal and Kuldeep Yadav, would play a crucial role and it would simply not be possible to attack them during the middle overs. "We have two X factors," he put it, referring to the spinners.
However, the India skipper acknowledged that bowlers will find it difficult on flat pitches like Nottingham where England notched up their world record ODI score.
READ | Rohit Sharma takes dig at critics after clearing Indian cricket team Yo-Yo test
NOT FUSSED
Virat Kohli said he wasn't too concerned about his individual batting success in England, insisting that team winning was what mattered. "Sometimes, we haven't don't consistently well in the three skills as a group," he said.
"We are looking forward to playing more difficult Test cricket after what happened in South Africa," he said. India lost the first two Tests in South Africa but came back to win the final game in Johannesburg on a tough pitch. "All should be excited," he added.
READ | Indian cricket team to start World Test Championship with West Indies series
The Yo-Yo test for India players has garnered a lot of attention, but Ravi Shastri insisted that there was no getting away from the fitness test. "You have certain ability, and you can enhance it. Nobody should think it is a one-off," he said.
ODI batsman Ambati Rayudu was dropped after failing the fitness test, after Mohammed Shami and Sanju Samson were dropped after not making the grade.
Close Story
Personalise your news feed. Follow trending topics