Great chance for India to win series vs England: Anil Kumble
Anil Kumble feels India have a great chance to win a series against England when the Virat Kohli-led team tours the island nation from July to September.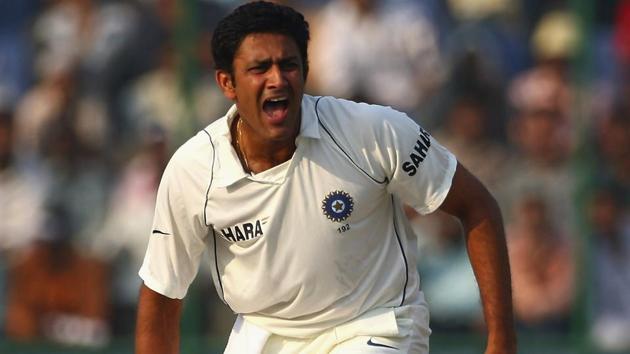 Updated on Jun 22, 2018 02:17 AM IST
Press Trust of India, Chennai |
Press Trust of India
Indian team has enough experience in both bowling and batting to outwit hosts England, said former captain and coach Anil Kumble, who believes wrist spinners will play an important role in the forthcoming series in the Old Blighty.
"We have a great side and an all-round side. In bowling we have the experience and bowlers who can take 20 wickets consistently. If you look at the batting line-up, it has a lot of experience as well," he said at an event here.
READ | FIFA World Cup 2018: Yuvraj Singh is supporting - This is why
He said the squad had the best spinners in the world, adding, playing in the second half of the summer would help the Indians.
"On average, all the players have played close to 50 Tests. That adds a lot of value and its not the first time that they are touring England. They have all been there before and they are familiar with the conditions," Kumble said.
"We have the best spinners in the world and even in terms of conditions the fact that we are playing in the second-half will help our cause. We have a great opportunity to win the series. We shouldn't have a problem operating with Duke ball," he added.
The former India coach, a leg-spinner himself, said wrist spinners would certainly play an important part in England this time.
"Wrist spinners will certainly be a handful and they will certainly play an important part in England since this time we are touring in the second half. The wicket will have its wear and tear and the wrist spinners will come into the game much earlier than the first half of the summer," he added.
Kumble, who was here in connection with the unveiling of a new technology in the forthcoming Tamil Nadu Premier League (TNPL), said such leagues help young players.
READ | Steve Smith, David Warner World Cup starters, feels ex-Australia batsman Michael Hussey
"Washington Sundar's consistent performances in the TNPL fast-tracked him into the IPL and into the Indian team. Similarly with T Natarajan last year when he came out of the blue and nobody knew who he was," he said.
"He played in the TNPL and was successful and we have seen that even in the Karnataka Premier League where a couple of players who have come in and then straightaway got picked by the IPL franchises. They have performed there and then people noticed," he added.
Ambati Rayudu recently failed the YoYo test and was axed from the England-bound ODI side.
Kumble said if YoYo test is part of a process then it should be respected.
"It is important what the communication has been to the player. If that is a criterion that has been laid out and if it's a part of the process then you should respect that process," he added.
READ | Dinesh Chandimal, Sri Lanka Test captain, appeals against ball-tampering suspension
Kumble said his company along with Microsoft would be unveiling a new technology during the TNPL to analyse batting.
"This is technology that we are bringing into TNPL. Glad that TNPL has given us a platform. So this is a smart sticker and once you put this on the bat it becomes a smart bat. And we get data in real-time," he added.
Close Story