Steve Smith, David Warner World Cup starters, feels ex-Australia batsman Michael Hussey
Michael Hussey expects the banned duo of Steve Smith and David Warner to walk directly into Australia's 2019 Cricket World Cup squad if they serve their one-year bans satisfactorily.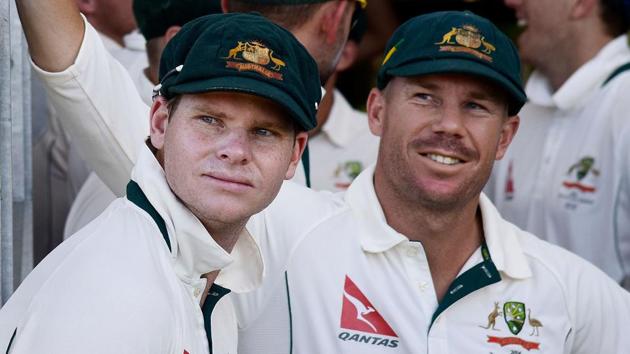 Updated on Jun 21, 2018 08:16 PM IST
Following Australia's humiliating 242-run defeat against England in the third ODI at Trent Bridge, former batsman Michael Hussey believes the banned duo of Steve Smith and David Warner will walk into the national side for next year's Cricket World Cup provided they serve their suspension satisfactorily .
Smith and Warner, who are currently serving a 12-month ban from international cricket due to their involvement in the ball-tampering scandal in South Africa, will be eligible for selection in the national team at the end of March 2019. The 50-over World Cup begins in England on May 30.
ALSO READ: Dinesh Chandimal, Sri Lanka Test captain, appeals against ball-tampering suspension
In their absence, Australian batting has looked depleted in the ongoing five-match ODI series against England, which has prompted Hussey to vouch for the banned duo's selection in the World Cup team.
"It's hard to say so far out, but the quality of player they are you probably would say they are (walk-up selections)," Hussey said in cricket.com.au podcast The Unplayable Podcast.
ALSO READ: Rohit Sharma takes dig at critics after clearing Indian cricket team Yo-Yo test
"As long as they do everything right in the lead up; they're in good touch skills-wise, they're in good fitness, no injury concerns and they've done all the right things preparation-wise and behavioural-wise as well, then you'd have to think they'd come straight back in because they're such quality players.
"They've been quality players for such a long period of time, they've had success at the highest level and are important players for Australia. I think they probably do (return) as long as they tick all the boxes along the way," the 43-year-old added.
ALSO READ: England, New Zealand shatter women's T20 cricket record against South Africa
Hussey also raised questions over the future of Tim Paine as a long-term captain of the ODI side and Aaron Finch's demotion to No. 5 in batting order.
"I'm not sure in 12 months' time Tim Paine will be there because if you think Alex Carey is a better one-day option, you're better off getting him in there sooner rather than later, if the selectors think he's a better one-day option," he said.
ALSO READ: Ahmed Shehzad reportedly fails dope test, faces suspension
Speaking about Finch, who had struggled in the last two matches batting down the order registering scores of 0 and 20, Hussey said keeping him at the top would serve Australia better.
"I must admit, I initially thought that Aaron Finch is best suited to the top of the order and he probably still is. He can be so dynamic and destructive getting off to fast starts.
"I think about his combination with David Warner over the last few years from around that World Cup time in 2015, and when they got Australia off to a flying start then Australia won just about every single game. It's probably the best spot for him," he said.
Close Story