India vs Australia Highlights, 2nd Test, Day 2: Rahane's century takes India's lead over Australia to 82 runs
India vs Australia Highlights, 2nd Test Day 2: Ajinkya Rahane lead from the front on Day 2 as he smashed a century off 195 balls to take India's total to 277/5 at Stumps. Ravindra Jadeja is batting alongside him on 40 runs. India had reached the score of 189/5 at Tea with Rahane and Jadeja on the crease. Shubman Gill fell short of a fifty on debut as Pat Cummins gave Australia the first breakthrough on Day 2 at the MCG. The big Australian struck again to remove Cheteshwar Pujara. India batsmen Gill and Pujara began Day 2 of the India vs Australia 2nd Test in Melbourne with an eye to take a healthy lead over Australia. The pair took India past 50 after the rub of the green went India's way early on. Follow India vs Australia 2nd Test Day 2 scorecard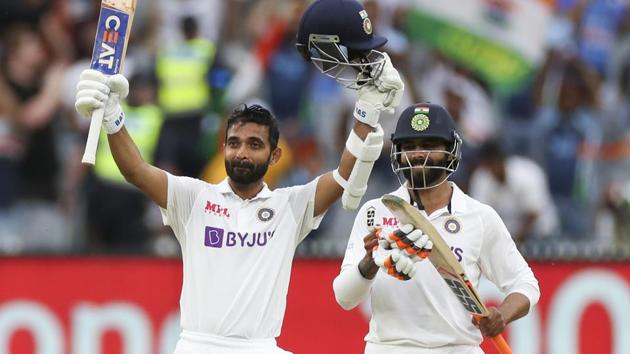 Updated on Dec 27, 2020 02:33 PM IST
Hindustan Times, New Delhi |
hindustantimes.com
12:36 hrs IST
STUMPS
India reach the score of 277/5 at the end of day's play on Sunday. Rahane and Jadeja stuck together in the final session to increase India's lead to 82 runs.
12:27 hrs IST
Another dropped catch
Starc surprised Rahane with a short ball and the batsman edged. It ballooned into the air and Travis Head took the catch but as soon as his elbows touched the ground, the ball popped out of his hands.
12:21 hrs IST
India increase their lead
India's lead has gone past 80 runs as Jadeja and Rahane have struck together in the final session. No wickets have fallen since Tea as both the batsmen have wrestled the initiative back into India's favour.
12:12 hrs IST
Century partnership
Rahane and Jadeja bring up their 100-run partnership. Jadeja came in after Pant's wicket and justified his place in the side as an all-rounder with a nicely-structured 37 runs.
12:04 hrs IST
100 for Rahane
Ajinkya Rahane has smashed a crucial hundred in the first innings of the second Test. India looked in a bit of bother in the middle of the innings but Rahane stuck around to play a captain's knock. He brought up his hundred with a square cut.
11:53 hrs IST
100 on the cards for Rahane
Rahane is batting on 93 and is looking very comfortable on the crease. He would look to complete his century before the day finishes.
11:43 hrs IST
250 up for India
Rahane smashes another boundary to bring up India's 250. The lead has reached 56 runs with India still having 5 wickets in hand.
11:34 hrs IST
BOUNDARY!
Ajinkya Rahane hits a boundary with a straight drive off Cummins. Rahane is inching towards a well-made hundred.
11:29 hrs IST
Smith drops Rahane
Mitchell Starc was handed the new ball and he immediately got an edge from Rahane. But the difficult catch was dropped by Smith at slips.
11:23 hrs IST
New Ball
The new ball has been presented to the Australian bowlers. Mitchell Starc will bowl the first over with the new ball as Australia look to pick some wickets before the end of play.
11:13 hrs IST
Australia looking towards the new ball
The bowling in the last session has looked a little toothless as Jadeja and Rahane have played without any real trouble. Australia would be hoping for the new ball to come soon.
11:01 hrs IST
27-run lead
After the 74th over of the Indian innings, the leads extends to 23. On the first ball of the 75th over, Jadeja smashes a boundary off Green.
10:54 hrs IST
Patient approach by Indian batsmen
India have a 19-run lead in the first innings. Jadeja and Rahane are batting without cloud cover. Jadeja is also not looking to attack the bowling much and is playing patiently.
10:44 hrs IST
A big lead on the cards
If Jadeja and Rahane can play the whole of the final session then India could have a solid lead on their hands at the start of Day 3. The ball is going to swing in the morning on Day 3 and could lead to a few quick wickets. India should look to get some runs in this session.
10:34 hrs IST
FOUR
As Rahane edges one the ball goes through the keeper and the first slip. Both Paine and Smith looked at each other as the ball passed them.
10:25 hrs IST
India take first innings lead
FOUR! Rahane played it with soft hands and it goes through vacant slip cordon and into the boundary. India take first innings, they are now 198 for 5 with Rahane and Jadeja going strong.
10:18 hrs IST
Jadeja attacks
Aggression from Jadeja. It was short one from Starc and Jadeja did not hold back. He gave it a full swing, didn't quite come off the middle but it will allow Jadeja to run three. India now only 3 runs behind Australia's first innings total.
10:14 hrs IST
Covers are off
The covers are off and the players are making the way out into the middle. This is set to be an important session in the context of this Test match. The Rahane- Jadeja is pair is India's last recognised one, Ashwin can bat but they would hope this partnership can take them close to 250.
10:01 hrs IST
Delay in start of final session
Light rain delays start of final session. Play to start at 10:15
9:43 hrs IST
TEA!
India have reached the score of 189/5 at Tea with Rahane and Jadeja batting. The session was brought to a early close as a slight drizzle had started at the Melbourne Cricket Ground. India are only 6 runs behind Australia's score.
9:32 hrs IST
Fifty for Rahane
Ajinkya Rahane brings up his half-century with a boundary. He had the extra responsibility of being captain and he has taken it on perfectly with a well-played fifty.
9:25 hrs IST
Jadeja off the mark
Ravindra Jadeja gets off the mark with a straight drive.
9:21 hrs IST
WICKET!
Rishabh Pant has departed as he edged Mitchell Starc's delivery to Tim Paine. Huge wicket at the right time for Australia. India 173/5
9:08 hrs IST
FOUR!
What a shot by Rahane. The ball was over-pitched by Cameron Green and Rahane just pushed the ball to the boundary towards long off. India 166/4
9:03 hrs IST
34 runs behind Australia's score
India are now just 34 runs behind Australia's score with Pant and Rahane hitting some boundaries.
8:52 hrs IST
150 up for India
Pant has come into the bat and increased the run rate of the Indian innings. He has scored 24 off 25 balls. India 153/4
8:44 hrs IST
FOUR
Pant was expecting a short delivery from Cummins and the bowler did exactly that. Pant dispatched it for a boundary. Good over for India, 12 off it.
8:34 hrs IST
A chance for Pant
Rishabh Pant got a chance to show off his skills in the second Test. He has the opportunity to show why he is rated so highly as Pant comes in when India are looking to take a lead in the first innings.
8:24 hrs IST
Pant of the mark
Rishabh Pant has scored his first runs of the Test series as nicked one to take a double
8:15 hrs IST
OUT
It is a much-needed wicket for Australia as Hanuma Vihari gloved one off Lyon's bowling. Vihari is gone for 21. India 116/4
8:12 hrs IST
Physio is on the field
The physio is on the field as Rahane is facing some back issues. India hopes rest on Rahane to see them off in this crucial session. He is back to the crease.
8:05 hrs IST
FOUR
Rahane plays a beautiful pull shot off Hazlewood to hit a boundary. But Josh bowls an unplayable ball on the very next delivery as Rahane was lucky not to edge it. India 112/3
7:56 hrs IST
100 up for India
The ball turned a fair degree as it missed the wicketkeeper and batsman and went off to the boundary. Vihari took a single on the next ball to bring up the hundred for India.
7:49 hrs IST
India 93/3
Rahane and Vihari played cautiously before Lunch but it looks they are getting a better hold of the wicket now as they look to score some runs.
7:42 hrs IST
Play resumes
Mitchell Starc is bowling the first over after lunch with Vihari facing him.
7:34 hrs IST
Rahane-Vihari key for India
It was an intriguing session of cricket as the ball was doing a lot in the morning. The fast bowlers looked threatening as India lost Gill and Pujara. It will be important for Vihari and Rahane to stay on the crease for long for India to wrest the initiative on Day 2.
7:01 hrs IST
Lunch
In the last over before lunch, Australia hoped Lyon will get a breakthrough. But it did not happen as Rahane and Vihari played him well. Umpires have called lunch.
6:53 hrs IST
Lyon comes in
Josh Hazlewood has been replaced by Nathan Lyon. The off-spinner is bowling for the first time on Day 2.
6:48 hrs IST
BOUNDARY!
Rahane edges one but it does not carry to the gully fielder. It falls short and then rushes to the boundary.
6:40 hrs IST
Rahane playing cautiously
Rahane has stayed back a little bit today as the lengths have been a little shorter by the Australian bowlers to him.
6:32 hrs IST
Starc-Hazlewood in the attack
Rahane and Vihari got three runs off Starc's over. Australia bring back Josh Hazlewood in place of Green.
6:26 hrs IST
FOUR!
Hanuma Vihari hits a beautiful on drive to the boundary off the bowling of Cameron Green. This partnership is crucial for India as two Test specialist batsmen look stabilise the innings. India 77/3 after 29 overs.
6:20 hrs IST
Starc is back into the attack
Mitchell Starc has been brought back into the attack by captain Tim Paine to put more pressure on Indian batsmen.
6:15 hrs IST
Cummins relentless
Another maiden from the big Australian quick. How goos has he been this morning? Just like Bumrah as for India yesterday. But credit to Ajinkya Rahane too, he looks good straightaway, the feet are going to the line of the ball, the head position is still and he just looks confident even while defending the ball.
6:11 hrs IST
Maiden from Green
Cameron Green has been just the ideal support for Pat Cummins. The tall all-rounder is getting a lot of bounce and Vihari did well not to follow any of his deliveries outside the off stump.
6:07 hrs IST
Vihari off the mark
A confident push from Hanuma Vihari, not a bad way to get off the mark at all. The ball has been cut off just inches away from the long-off boundary but Vihari collects three runs. India need a partnership here. It's Rishabh Pant and the all-rounders after this.
6:00 hrs IST
Cummins strikes again, Pujara goes
OUT! What one-handed stunner from Tim Paine. Pat Cummins has got the huge wicket of Cheteshwar Pujara. Nothing different this time around, it was a tad fuller from Cummins this time around, Pujara nicks it, it perhaps wouldn't have carried to the first slip but Paine decided to dive across grab it with one hand. India 64/3
5:53 hrs IST
Pat Cummins gets Shubman Gill
OUT! There was an edge, it carried and Tim Paine took the catch - Pat Cummins will be relieved, he has bowled so well without any luck this morning and finally he gets the wicket he deserved. The debutant Shubman Gill, who looked so good till now, plays one away from his body, perhaps the maiden Test fifty was on his mind and edges one to the keeper. India 60 for 2.
5:47 hrs IST
Another edge falls short
So near yet so far for Cameron Green. He induced the outside edge of Pujara's bat with a lovely little outswinger but it once again fell short of the slip cordon. Pujara's soft hands sure has a lot to do with it, otherwise there is no reason for the edges not carrying, India won't complain at all. They are at 59/1
5:43 hrs IST
Bowling change for Australia
That's surprise from Tim Paine! Surely everyone was expecting Mitchell Starc to be the first change but it is the young Cameron Green who has been asked to replace Josh Hazlewood. May be Starc will bowl from Cummins' end.
5:39 hrs IST
Cummins to Gill: FOUR
Edged but Gill played it with soft hands, the ball never really was at a catchable height and it goes through the vacant slip cordon and into the boundary. Gill is now on 44, six away from a Test fifty on debut.
5:36 hrs IST
Cummins bowls another maiden
Pat Cummins would be really cross the almighty if doesn't end up with at least one wicket beside his name after this spell. He has been simply outstanding, bowls another maiden, this time to Shubman Gill. India 53/1
5:31 hrs IST
Pujara, Gill now look settled
Yes, the rub of the green went their way early on but you perhaps need a bit of that when you play the morning session against bowlers like Cummins and Hazlewood but since then both Pujara and Gill have looked a settled. Gill is ready to pounce on anything which is on his half and Pujara is forcing the Aussies to bowl on his pads.
5:25 hrs IST
Another testing over from Cummins
Only one delivery was slightly off the mark and it allowed Pujara to take a couple of runs through the leg side but apart from that every delivery was an examination for Pujara. Top class stuff from Pat Cummins.
5:19 hrs IST
First runs for Pujara, 50 up for India
Full and on the pads from Cummins and Pujara flicks it away. The slow outfield at the MCG will mean it won't race away to the boundary but the size of the ground will allow Pujara and Gill to run three. This is the first runs of the morning for Pujara and it also brings up India's fifty.
5:16 hrs IST
Hazelwood to Gill: FOUR
Inside edge and four! The rub of the green continues to go India's way. Hazlewood cut Gill in half, the India opener got an inside edge but it was too far from Australia keeper Tim Paine and it races away for a boundary. India 44/1
5:15 hrs IST
Pujara edges but survives
India didn't get any luck in the 2nd innings in Adelaide but they are getting plenty of it today. Pujara was completey squared up by the Pat Cummins out-swinger, got an outside edge but it didn't carry. Another maiden from Cummins.
5:10 hrs IST
Drop and a four
There is always some action when Shubman Gill is on strike. Tim Paine dropped him in the previous delivery when he got an inside edge off Josh Hazlewood and then when the Aussie quick pitched it up on the stumps, Gill flicked it past mid on for a boundary - the first of Day 2. India 40/1
5:06 hrs IST
A maiden to start from Cummins
A brut of an over from Pat Cummins to start with. Pat Cummins was on the money and Pujara got an early wake up call. Boy, it will be a tough job for the Indians.
5:02 hrs IST
Australia lose a review
Good morning Pujara! A review to start the day but replays confirm that the ball had just brushed Pujara's back pad before resting on Paine's gloves. So Australia lose a review. That was a snorter from Pat Cummins. It pitched on good length just around off stump, moved away ever so slightly and just managed to beat Pujara's outside edge.
4:57 hrs IST
What's in store on Day 2?
Lot of pace, bounce, some turn too and hopefully some resilence from the Indian batsmen. The Australian bowlers will come at them hard and India would be hoping they don't nick them all like they did in Adelaide. It's a cloudy day in Melbourne, does that mean anything?
4:52 hrs IST
Ravindra Jadeja reflects on India's performance
"Bowlers were spot on, they were getting wickets in every interval. The wicket was damp, the ball was turning so (Ajinkya) Rahane told me to get ready to bowl a few overs.
"Mohammed Siraj has been playing plenty of first-class cricket back home. he knows how to swing the red ball," Ravindra Jadeja ahead of the start of Day 2.
4:46 hrs IST
India vs Australia 2nd Test live: Day 2 pitch
Not much has changed in the 22 yards at the MCG, still the little covering of grass and of course a lot of bounce expected but will be there more spin for Nathan Lyon? We'll soon find out. Here's how the Day 2 pitch for IND vs AUS 2nd Test looks like.
Hello and welcome to our coverage of Day 2 of the Boxing Day Test. When we arrived, we were greeted with a drizzle. The pitch was under covers too but it has cleared up now. #TeamIndia #AUSvIND pic.twitter.com/Rh3aoP8jLU

— BCCI (@BCCI) December 26, 2020
4:41 hrs IST
How good was Rahane the captain?
Sure Virat Kohli will continue to be the India captain but Ajinkya Rahane showed again that he is more than ready to lead India regularly. His tactics were brilliant - sometimes out of the box. His decision to introduce Ashwin in the 11th over of Day 1 and bowl him a long spell in the first session paid rich dividends. His leg side traps in which three Australian batsmen fell were executed superbly by the Indian bowlers.
4:34 hrs IST
India vs Australia live cricket score: Superb Siraj
What a debut it was from Mohammed Siraj. He did not get the ball in the first session but when he did in the post-lunch one, he made it count. The young seamer got rid of the well-set Marnus Labuschagne and then set up the perfect trap for Cameron Green to give Bumrah the ideal support on Day 1.
4:29 hrs IST
Shubman Gill and Cheteshwar Pujara have a job in hand
The Debutant Shubman Gill was dropped early in the final hour of Day 1 but apart from that he looked good in front of the barrage from Starc and Cummins. He will be up against something similar if not more hostile today on Day 2. Cheteshwar Pujara was solid as ever. India would be hoping this pair can get past the tricky first hour of the morning session on Day 2 at MCG and then make it count.
4:22 hrs IST
Ind vs Aus 2nd Test Day 1 recap
It was the perfect Boxing Day for India. They lost the toss alright but boy did their bowlers led by Jasprit Bumrah and Ravichandran Ashwin provided the goods to stand-in captain Ajinkya Rahane, who did a fine job in leading the side in Virat Kohli's absence. Bumrah picked up four wickets, Ashwin sneered three as India bowled Australia out for 195 on another good pitch. In reply, Mitchell Starc struck in the first over to sent back openeer Mayank Agarwal for a duck but debutant Shubman Gill and the rock solid Cheteshwar Pujara ensured no further damage as India went to stumps at 36 for 1, trailing Australia 159 runs.
4:15 hrs IST
India vs Australia 2nd Test live score Day 2
Hello and a warm (our Indian viewers surely need some warmth) welcome! It's Day 2 of India vs Australia 2nd Test in Melbourne. I can bet there will be a lot more people waking up early to watch India bat against perhaps the best bowling in the attack in the world right now. It promises to be another cracker jack of a day of Test cricket.
Close Story
Personalise your news feed. Follow trending topics