India vs Australia, 2nd Test, Day 2: Leader Ajinkya Rahane hits a ton for the ages
Updated on Dec 27, 2020 07:44 PM IST
India vs Australia: Stand-in skipper anchors innings with 104*, pulls India ahead on Day 2 of the MCG Test.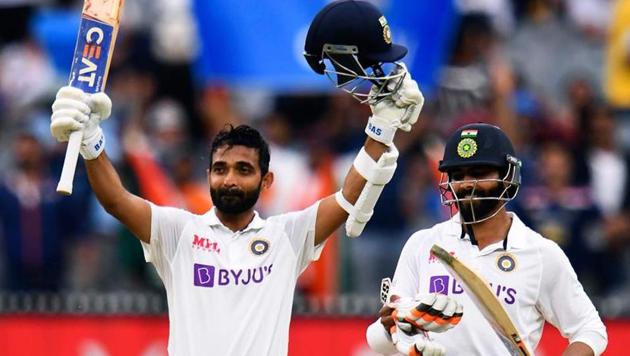 The cricket world witnessed on Sunday another contest that showed why Australia is considered the ultimate challenge for a Test batsman. Playing in England and New Zealand is equally challenging due to the swing and seam movement, but when there is a tinge of grass cover, you have to deal with movement and bounce in Australia. And one is always up against a quality bowling attack that will constantly ask questions of technique and temperament.
For the current generation of batsmen, the challenge is bigger. This Australian bowling unit is as good as any in their cricket history; and Pat Cummins, Josh Hazlewood, Mitchell Starc and Nathan Lyon are at their peak.
At the Melbourne Cricket Ground on Day 2 of the second Test, playing under an overcast sky that saw two rain interruptions was a severe test for the Indian batsmen. After Australia were shot out for 195 on Day 1, the onus was on their bowlers to rein in India.
On another engrossing day, Australia's bowlers threw everything at the batsmen, but Ajinkya Rahane revelled in the responsibility as stand-in skipper who was also filling in for Virat Kohli at No.4. The Mumbai player admirably soaked in the pressure to notch up his 12th Test hundred, unbeaten on 104. India were 277/5 with the Australian cordon having just dropped Rahane again when rain halted play early.
Rahane's first century, a statement of character amid questions about his form, had helped India forge 82 runs ahead.
"As far as hundreds go they all just say one in the hundreds column but some are better than others and that will go down as one of the all-time great Boxing Day hundreds from Rahane," Shane Warne said on Fox Cricket. "Given the conditions, given the situation of the game, given the quality of the bowling, the way the pitch has nipped around, put all those into the mix. That's where the stats don't change, it just goes down as one hundred but it's a lot more than that."
The former Aussie spin stalwart added: "Absolutely outstanding from Rahane, the Indian skipper. I'm sure Virat Kohli is sitting back in India feeling very proud of what this Indian team have been able to do without him and how well Rahane has done."
If Day 1 was about India's collective bowling effort, the batting unit too worked cohesively.
Debutant opener Shubman Gill made a chancy 45 on debut while Ravindra Jadeja, one of the two left-handers inserted in the batting order to counter Australia's bowlers, was on a solid 40 not out.
India hurt Australia by building small partnerships. There were fifty stands or more for the second, fourth, fifth and sixth wickets. Rahane was involved in three—with Hanuman Vihari (52 runs, 127 balls), Rishabh Pant (57 runs) and Jadeja, an unbroken 104-run partnership. The sixth wicket stand is the highest of the series.
FINAL SESSION
With the match evenly poised deep into the day, Rahane's plan was simple. There were no forcing shots. Wary of playing the cut shot with power to avoid nicking it, he looked to time the ball, focusing on twos and threes. Having built the innings steadily, he opened up after the second new ball was taken. His 11th four, a wide Cummins delivery smashed to the point fence to reach hundred, was the only forcing shot in his boundaries. He focused on control over power even while playing the pull and hook.
The momentum shift began once Rishabh Pant joined Rahane on 116/4. With the 'keeper playing a quick cameo, Rahane too opened up and started to get more positive in his footwork.
Pant fell on 29, giving Starc his 250th wicket and skipper Tim Paine his 150th victim, giving Australia something to savour in the day. But Jadeja ensured there was no let-up. The kookaburra ball grew soft and India were 37 runs ahead when the second new ball was taken. Rahane, on 73, and Jadeja, on 27, both attacked the new ball. The pair added 88 runs from 28 overs in the final session.
Luck was on India's side. Rahane edged attempting to steer Starc in the first over with the second new ball, but the ball burst out of Steve Smith's hands in the slips. At 104, Rahane again survived. Starc produced an effort ball which ballooned off Rahane's bat handle, but Travis Head put down the chance diving forward at gully.
CUMMINS' DOUBLE BLOW
India started the day 159 runs behind with nine wickets in hand. There were no easy deliveries. Cummins was all charged up, consistently clocking 145 kph-plus and Hazlewood bowled a nagging length from the other end. Cheteshwar Pujara, expected to anchor the innings, was prised out by Cummins with a delivery that was angled in and shaped away on pitching to take the edge. It was his second wicket in a superb eight-over spell for 12 runs, having induced a nick from Gill.
RAHANE'S BEST
There's something about the historic MCG that brings the best out of Rahane. He marked his first appearance in 2014 with a sizzling 147. That love affair continues. Under overcast conditions and with the match delicately poised, Rahane produced a fine exhibition of Test batting to bind the innings. He averages 80-plus at the MCG and is the only Indian other than Vinoo Mankad to score two hundreds at the venue.
In terms of pure control and entertainment value, Rahane would have enjoyed his 147. But given the conditions and context, it was one of the most difficult knocks he has played. It would have also to an extent make amends for running out the set Kohli in Adelaide, which triggered a momentum shift when India looked like seizing total control.
The most fascinating phase was Rahane's battle with Lyon. The off-spinner has dismissed him nine times. But on Sunday, Rahane was ready. It was not easy. Lyon applied pressure with close-in fielders for the bat-pad catch. Rahane kept his concentration and kept picking runs whenever the offie experimented with line and length. Using his feet to off-drive Lyon to reach 70 was the pick of his boundaries.
For greenhorn Gill, it was a lesson in the art of building an innings. The 21-year-old played some exhilarating shots, but threw it away by going for an extravagant drive off a wide ball from Cummins. "The way I got out, I am not satisfied with my effort. That was the last ball of Cummins' spell… It was a loose shot to play at that moment. Overall, my goal was to play with intent and put together partnerships. I did that to an extent but the way I got out made me feel very bad."
Watching Rahane, he would have learnt the value of patience. Rahane took 17 balls to get off the mark, and 31 to hit his first four—showing how to build an innings brick-by-brick.
Personalise your news feed. Follow trending topics