India vs Bangladesh: Post series win, Virat Kohli bats for fan experience
Updated on Nov 27, 2019 06:36 PM IST
Kohli said Test cricket needs to be strengthened and suggested the idea of having interaction with the fans, especially school children during the games.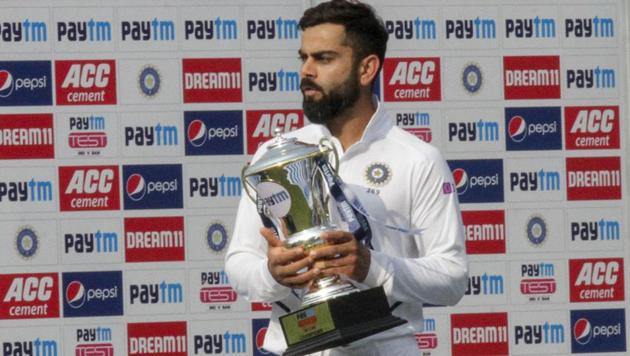 Hindustan Times, Kolkata |
PTI
For all of its heft on and off the cricket park, the stadium experience in India is poor. Be it a contest spread over five days or the slam-bang white ball format, the overwhelming feeling of paying spectators is that they end up feeling boxed in.
Forget picnic baskets and inflatable pools, carrying which is the norm in most grounds outside Asia, outside food is forbidden inside grounds in India. Barring Ranchi, venues in India don't have grass banks like in South Africa, New Zealand and Australia. You don't have bands performing to enrich the spectator experience and children are not allowed to have a knockabout with plastic bats and balls provided for during the lunch break. And at most stadia, last-mile connectivity and parking leave a lot to be desired.
Yet over one lakh people came on two days of the pink-ball Test and over 15,000 on Sunday knowing full well that Bangladesh, overnight 152/6, were teetering. India captain Virat Kohli thanked Kolkata on Twitter—you have been amazing, he said referring to the crowd—and iterated the need to identify Test centres at the post-match presentation. Then he batted for the fan. "I am a big fan of having more interactive areas for people during the game like you have in venues when you play abroad," he said, after India swept the two-Test series against Bangladesh. Elsewhere, there have been instances of former cricketers being got to the ground to chat with spectators, and at the last World Cup there were audience interactive programmes during breaks.
ALSO READ: 'It all started with Dada's team': Virat Kohli pays tribute to Sourav Ganguly post series win
"There is something or the other happening, maybe a play area for kids, maybe school children could interact with Team India players during lunch, be on the field, play with them like we see in other countries. These small things will really help. People will want to come and have an experience of a Test match. It should be an event where you come and experience cricket, not just sit and watch in hot conditions. I think there has to be more for the fan and (Test cricket) has to be marketed well," said Kohli.
Kohli said they are open to doing anything required to promote Tests but there is that much players can do. The board and the broadcasters need to do their bit to promote Tests, he said. "It is very crucial to market Tests like we do T20 or one-dayers," he said. If the accent of marketing is only on T20 or ODIs, Kohli said, "in the psyche of the fan a certain template is already established. I think if enough buzz is created around Test cricket then there will be a lot more keenness to come to the ground."
India don't play one at home till February 2021 (against England) and Kohli said it is important that people are looking forward to that. "I hope the changes I've spoken about are only restricted to Test cricket because you don't really need more crowd interaction in one-day or T20s. They are already looking forward to slam-bang cricket. But when there comes a (Test) session when not much is happening, what do they (spectators) do between breaks? There has to be more interaction with fans, if those things are added then Test cricket will receive a boost. The pink ball Test is a beginning... Dada (Sourav Ganguly, the Indian board president) has been very open and welcoming to all the viewpoints that I've discussed with him. He has understood what views we have as a team and his vision is also in sync. He's also doing things for the betterment of Test cricket. We are walking in the right direction. I think under him we will see lot more positive changes which will be cricket specific and priority will be Test cricket."
ALSO READ: ICC World Test Championship: India take massive lead after win against Bangladesh
After Bangladesh captain Mominul Haque spoke of this tour being a learning experience that should help in the nine Tests they play next year, Kohli spoke of the need to balance home and away series in the World Test Championship.
"We are playing very good cricket but we have played only two Tests away. And we saw the Ashes, the level of intensity in which that series was played. So it is very difficult to judge a team. If of the four series, two were home and two away and we had 300 points then you could have said 'yes we are playing really well'," said Kohli. With 360 points from seven Tests in three series, India have a massive lead in the nine-team championship. Australia are second on 116.
Close Story
Personalise your news feed. Follow trending topics