India vs England: Former India wicketkeeper says Mohammed Siraj is 'bowling avtaar of Rishabh Pant', explains why
India vs England: Former India wicketkeeper Deep Dasgupta drew similarities between pacer Mohammed Siraj wicketkeeper-batsman Rishabh Pant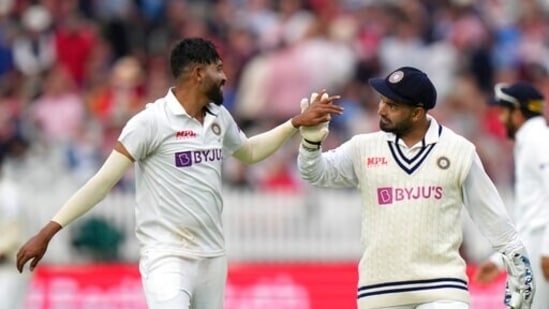 Updated on Aug 16, 2021 08:48 AM IST
India fast bowler Mohammed Siraj has been a breakout performer for India over the past few months. With several key fast bowlers including Ishant Sharma, Mohammed Shami, Umesh Yadav getting injured - Siraj was presented with the opportunity to make his Test debut in Australia.
The right-arm fast bowler has grabbed the opportunity with both hands and has slowly made a mark in Test cricket with his aggressive bowling spells. He has become one of the rising fast bowlers from India, and his performances in England are turning heads all around the cricketing world.
ALSO READ| 'Foot is somewhere else, bat is somewhere else': Gavaskar on Kohli's struggle, says India captain 'hasn't played well'
In a recent video uploaded on Youtube, former India wicketkeeper Deep Dasgupta drew similarities between Siraj wicketkeeper-batsman Rishabh Pant.
"Mohammed Siraj was standout. The thing I like about Siraj is that he, according to me, is the bowling avtaar of Rishabh Pant. He has an attacking mindset like Pant," Dasgupta said.
In 2 Tests, Siraj has taken 7 wickets at an average of 32.29. He is currently fourth on the list of leading-wicket takers in the series.
"There will be days or spells where he might leak runs. But as I say for Rishabh Pant that you need to be patient with him, same applies to Mohammed Siraj," Dasgupta said.
"Even if he gives away runs, there is a need to be patient because his attacking mindset is his speciality. There might be days or spells where he would frustrate you but you will need to stay patient and encourage him," he concluded.
At the end of the fourth day, India were 181/6 in the second innings with Rishabh Pant, their only batting hope, on 14. Mark Wood was the pick of the bowlers with 3/40, restricting India to a lead of 154. Moeen Ali chipped in by removing Ajinkya Rahane (61) and then Ravindra Jadeja (3).
Close Story