Latham, Young put New Zealand in command after Iyer hits maiden ton
The Kiwi openers adjusted to the slow and low Green Park track admirably to raise an unbeaten 129-run alliance after Shreyas Iyer kickstarted his Test career with a memorable ton.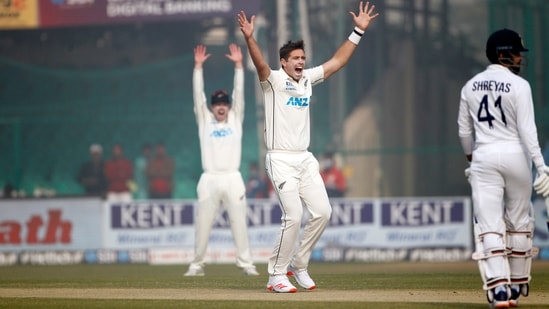 Updated on Nov 26, 2021 07:55 PM IST
Tom Latham and Will Young stitched an unbeaten 129-run partnership as New Zealand ended Day 2 ensuring that anything is still possible in this Test. It was a rivetting day of play that had a bit of everything--Shreyas Iyer reaching a wonderfully crafted century on debut and becoming the sixteenth Indian player to do so. A cascade of wickets followed as Tim Southee gave a masterclass in how to use foggy, dewy conditions on a largely unresponsive wicket. Then the morning turned to day and for 57 long overs, the Indian bowling attack tried everything they could but simply could not budge the Kiwi openers.
Right-handed Young, playing only his fourth Test and first in Asia, scored the second half century of his career and remained unbeaten on 75. His partner Latham, a tenacious southpaw with 59 Tests behind him, was batting on 50 when the stumps were drawn at the Green Park Stadium.
Earlier, Iyer brought up his hundred in the eighth over of the day, when his soft defensive prod to Kylie Jamieson went past a diving gully for a brace.
Iyer's innings and Ravichandran Ashwin's 38-run knock pushed India's tally to 345--not what they would have had in mind when Day 1 had ended with Iyer and Ravindra Jadeja looking so well set together. Southee had other plans. He bowled an unbroken spell of 11 overs to pick up four wickets to set up the day for New Zealand.
Then Latham and Young dug in. Skipper Rahane deployed a catching cover and a short mid-wicket and sometimes even a short mid-on to capitalise on a false shot, but there were none on offer.
Umesh Yadav and Ishant Sharma beat the bat on a few occasions, but rarely looked threatening. Ashwin came into the attack in the eighth over of the innings, presumably to use the bounce generated by the new ball. He found his trusted fourth-stump line straightaway, but the Kiwi batters played him with ease, often using their feet and the depth of the crease to blunt him on a slow wicket.
When Ashwin went fuller, Young stepped out and hoisted him straight for a boundary. Latham used the slowness of the track to his advantage, going back even to good length deliveries and letting them come to him, besides occasionally bringing out the sweep to derail the line. Against Patel and Jadeja, he accumulated runs through deft dabs behind the square on the leg side.
Latham, who scored a fifty in each Test in New Zealand's last tour to India, was saved by DRS more than once, most notably after being hit on the back pad by Jadeja when the review revealed he had inside-edged the ball. In the penultimate over of the day, India appealed for a caught behind for Latham, but DRS ruled otherwise.
Rahane read the pitch well and kept changing his field in search of an opportunity. In the 53rd over of the innings, bowled by Patel, the Indian skipper left the covers open, inviting the batters to drive. However, Patel ended up pitching length balls on leg stump, and the Kiwis milked him comfortably for singles. In Ashwin's last few overs of the day, Rahane deployed Mayank Agarwal in the gully region. Agarwal sat on his knees to snuff out dying edges and faint bat-pads. None arrived.
"It was a tough day for our bowlers, and it will be a really challenging day for us tomorrow," said Iyer at the close of day's play. "We'll focus more on stopping the runs and building pressure. The cracks should open up as the day progresses and hopefully, one wicket will lead to more."
Iyer's moment to savour
Six months back almost to the day, Iyer fell awkwardly on his left shoulder, trying to stop a drive by Jonny Bairstow in an ODI in Pune. The dislocated shoulder necessitated going under the knife. In April, he tweeted his picture from the hospital bed after his successful surgery. Left arm in a sling, right hand covered in intravenous tubes, Iyer smiled at the camera and posed with a thumbs-up sign. He promised he'll be "back in no time" with "lion-hearted determination."
It took him almost five months to be able to play top-flight cricket. He missed the first half of the Indian Premier League (IPL), and saw Rishabh Pant, the replacement captain for Delhi Capitals, being told to keep the spot even when he was back in the team for the second half. Then he was kept out of India's T20 World Cup squad. If he was battling insecurities, he fought back with his bat; his century on debut made it a hattrick of Mumbai batsmen to achieve the feat - Rohit Sharma and Prithvi Shaw were the last two Indian batsmen to hit tons in their first Test. He is also the first batter since Gundappa Vishwanath to mark the feat in Kanpur.
"It is a special feeling. I was transported back to my Mumbai cricket days (upon reaching hundred). I played my last first-class game almost three years back, so I decided to focus on my processes and not think too much about how I am going to adjust to red-ball cricket," Iyer said.
Southee stars with a fifer
New Zealand were well served by the experienced Tim Southee, whose 11-over spell claimed Iyer, Jadeja, Patel, and Wriddhiman Saha to add to Cheteshwar Pujara's wicket on Thursday. The 13th five-wicket haul of his career came on the back of the masterful exhibition of fast bowling that saw him extract every ounce of assistance from a largely unresponsive pitch.
Southee started the proceedings by castling Jadeja in the third over of the day, a mix of old-fashioned bluff, sound planning and immaculate execution. Having pushed square leg to the fence, indicating a short ball was on the way, Southee went fuller, bringing the ball into the batter with the angle. Jadeja, yet to open his account on the day, sat on the backfoot in anticipation of a bouncer, and was late in transferring the weight forward. The ball snaked through the gap.
Patel's wicket was another example of Southee's bowling nous. Realising that the upright seam was taking the new ball down the leg side with the angle, he switched to scrambled seam in the very next over. The ball held its line, grazed Patel's outside edge and was caught by the keeper.
In all, India lost their last six wickets for 87 runs, the last three batters contributing only 13. The Kiwis evidently carried the momentum to their batting. They closed the day at 129/0, still behind India's 345 by 216 runs, but with their experienced middle order still to bat, the hosts would do well to gear up for a long weekend.
Close Story