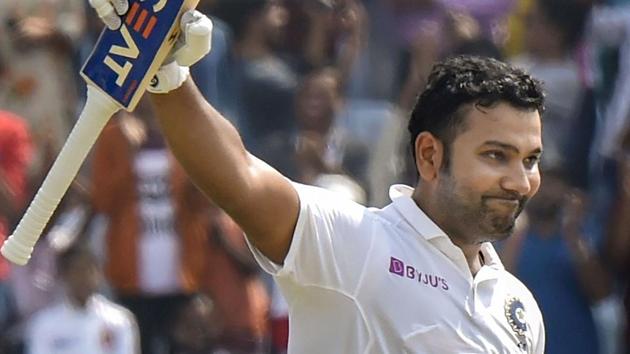 India vs South Africa: Rohit Sharma keeps stress away as he piles on the runs
The in-form Sharma, who hit twin centuries on his debut as Test opener at the start of the series, was involved in a crucial 267-run fourth-wicket stand with Ajinkya Rahane, who made 115.
UPDATED ON OCT 21, 2019 08:30 AM IST
It could have been the longest and the most stressful lunch break of Rohit Sharma's career when the first session of the final Test against South Africa on Sunday ended with him batting on 199. It was neither, he said. Frustrating, yes, but in this Freedom Series, Sharma's left stress beyond the boundary. "I wasn't thinking about it at all. I know it can get frustrating at times but there is nothing you can do about it. I just went back happy. 199 not out, I would take that any day," said Sharma, who made 212, after another truncated day's play here during the third Test.
Sharma said a lot of things could have happened if he failed—"kaafi kuch hone waala tha," he said—so it was about making most of the opportunity to bat up the order. "Now, you will write good things about me," he said. That will include 19 sixes, the maximum by any batsman in the history of Tests, but Sharma said he will think of records after retirement.
Also read: Lessons learnt for debutant George Linde after four-wicket haul
Sharma said he is not reading much into the 529 runs he has scored in three Tests—"though, I will take a lot of positives," he said—because he is merely three Tests old as opener.
This is his 30th Test in a career that began in November 2013, so Sharma said, "in terms of what was thrown at me in this Test, I would definitely say it was probably the most challenging one (Test innings)." Sharma was referring to surviving a stiff test from Kagiso Rabada in the first session on Saturday when India were 39/3.
Opening in Tests presents a different challenge from what he is used to in white-ball cricket. "And a different challenge to batting at No.5 or No.7 at times. "Playing the first ball, compared to facing the ball after 30-40 overs where you need to play with a low backlift because the ball is older, softer and can keep low in India.
"There's nothing in particular that I've done in terms of technique. (But) The new ball does something in whatever conditions you play... We saw in Ranchi and Pune that it did something (more) than (it) would overseas, in Australia for instance. I was allowing myself to take time rather than going after the ball," he said.
Also read: Umesh Yadav emulates Sachin Tendulkar's batting feat
This wasn't the first time Ajinkya Rahane has rescued India, he said. "It shows how strong mentally he is and how hungry he is for runs which get India out of trouble. His Test career graph is always going forward step by step. If your middle-order is strong and you are confident that one guy will put his hand up and take the team forward whatever the situation, it augurs well for India. Very happy for him, he had wanted to post a big score for a long time."
The conversation moved to Sharma's 267-run fourth-wicket stand with Rahane. Sharma said in India you need to bat five sessions to win a Test and so they had to start cautiously.
"We have played with each other for a long time; we know which single to steal and when not to run. When we knew there was something in the pitch for the bowler, we wanted to respect that spell.
Also read: VVS Laxman accurately predicted Rohit Sharma's score - Watch
"After lunch, it was Ajinkya who gave the team the momentum. If I'm not wrong, he was batting on 40 off 43 balls just around the first drink after lunch, which means he capitalised on the loose balls. And because we were getting those singles, the strike kept being rotated. We did that pretty well. After that our partnership just kept growing," he said.
Close