Indian batsmen tune up for chin music against South Africa
On a lush Newlands wicket, Virat Kohli-led Indian cricket team train to handle the bouncing ball in South Africa.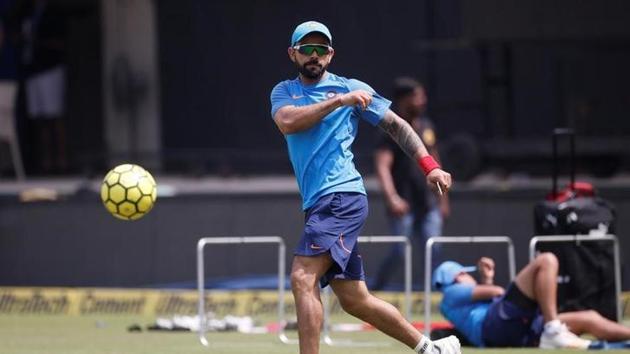 Updated on Jan 03, 2018 01:57 PM IST
India shifted camp to the Newlands stadium after two days of training at the Western Province Cricket Club to find a lush Test match pitch and an almost bare but bouncy practice wicket waiting for them on Tuesday.
With just two days to go for the first Test, the pitch is generating a lot of speculation as to how it might behave. A lot depends on the conditions though. Fickle weather in Cape Town means a long patch of sunshine can be immediately followed by overcast conditions. And that maybe of some concern.
READ | Gary Kirsten, Ashish Nehra signings by RCB signal intent for major IPL title push
According to Newlands chief curator Evan Flynt, there is no doubt about the pitch South Africa wants — a strip that will assist pace and seam bowling. Proper watering of the pitch thus becomes very important. The groundsmen have been allowed to use borehole water but the unseasonal rains over the holidays too have been of immense help.
Normally the Newlands pitch is slightly damp and on the slower side on the first day of a Test. As it dries up, the pitch becomes faster and there is more bounce on offer. Tuesday was cool and breezy but with two days of hot weather predicted, the challenge is to prevent the top soil from drying up quickly.
The pitch could end up assisting seam movement, but India seemed more concerned about the bounce. At different times, batting coach Sanjay Bangar was seen using a tennis racquet to lob balls at batsmen from almost the middle of the pitch.
READ | Dale Steyn all but ruled out from first South Africa vs India Test in Cape Town
The idea was to get batsmen learn either to evade or get on top of the rising delivery. Meanwhile, India continued to work on Shikhar Dhawan's fitness. He batted for a long time and so did third opener KL Rahul. Virat Kohli looked fluent at nets, focusing particularly on playing a left-arm spinner keeping in mind South Africa's Keshav Maharaj. Out in the centre, India's pacers kept going at the batsmen with coach Ravi Shastri parked just behind them. Each batting stint was recorded from the umpire's end for dissection later.
The talk of leaving a bit of 'juice' in the pitch was getting stronger by the day but South Africa could be walking a double edged sword if that actually happens. Had it been even a few years back, South Africa wouldn't have had any problem choosing to bat after winning the toss.
READ | Mohammed Shami's New Year message termed 'un-Islamic', triggers bitter war of words
India's seam bowling depth this time though shouldn't make it an easy decision. South Africa coach Ottis Gibson too said they would decide according to the overhead conditions.
Moreover, South Africa come into this series looking slightly underworked and underprepared, having played just a two-Test series against Bangladesh in October before the mismatch of a four-day Boxing Day Test against Zimbabwe in Port Elizabeth.
From India's perspective, playing Sri Lanka in a drab series didn't serve any real purpose too but since Gibson doesn't expect the Newlands pitch to change much, Virat's team would now be trying to draw insight from the Eden Gardens Test more than ever.
Close Story