Indian women's cricket team did not perform in sync, admits Jhulan Goswami
Jhulan Goswami believes the Indian women's cricket team's batting and bowling not performing in sync saw them perform poorly during the Women's T20 tri-series involving England and Australia.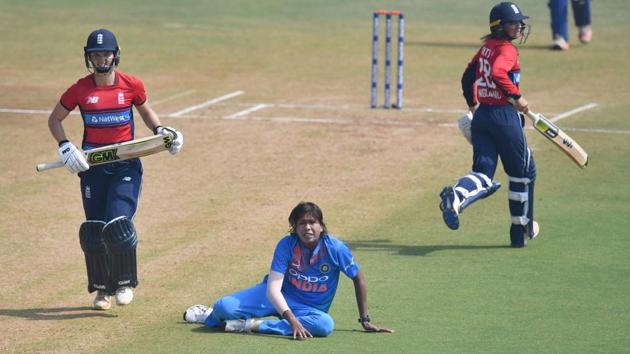 Published on Mar 29, 2018 05:03 PM IST
Press Trust of India, Mumbai |
Press Trust of India
Veteran India pacer Jhulan Goswami has admitted that the Indian women's cricket team's batting and bowling unit did not perform in sync in the Women's T20 tri-series involving Australia and England. (IND v ENG match report)
India were already out of contention for the final after losing the first three games, but scored a consolation win today defeating England by eight wickets in a dead-rubber.
"We never said that we are going to win this competition. But as a process for our T20 World Cup, we were seeing this as an important tournament, we were trying new players. And the thing was like as a team, bowling and batting unit did not contribute together," said Jhulan.
But the veteran pacer also said that there were positives like performance of young players like Pooja Vastrakar and all-rounder Anuja Patil.
READ | Adam Gilchrist blames David Warner's influence on Australian cricket team for ball-tampering scandal
"But considering the new rules, so far what we have done in the competition, I am happy. Because we scored 198, which has never happened, consistently we scored 160-170. When the top order did not click, Anju (Patil), Pooja (Vastrakar), they have performed, people are coming down and taking the responsibility, which was not happening earlier.
"Fielding was up-down. The process (has) started for the (T20) World Cup and keeping that in mind, we are settling on a combination," the 35-year-old explained.
Jhulan feels that the new rules like just four players outside the 30-yard circle are challenging for the bowlers.
"The rules have been changed and as a bowler what I found, you need to be a little more precise about your line and length and your accuracy and you have to make sure (in) which areas you will bowl and have protection in the boundary line and this is the thing you have to work on.
READ | International Cricket Council to review punishment for ball-tampering
"Bowling is one area where we can work because (of the) new rules is bit tough for the bowlers because five fielders always in the ring, is difficult, but it is challenge and all the bowlers in the world have to accept it and we are going to work on it."
She also praised Vastrakar and described her as a hard-working player.
"And she (Pooja) has done her best in the chances she has got. And I am glad that we have a player like Pooja who can bowl, bat and field well. If we keep her in the team, our batting number increases. She is hard-working, when I have been speaking to her and few things I have tried to tell and she is trying to develop. As a bowler it takes time to implement new things," Jhulan added.
Close Story