IPL 2018, Sunrisers Hyderabad vs Mumbai Indians, highlights: SRH clinch thriller on last ball
Updated on Apr 12, 2018 11:57 PM IST
Get highlights of Sunrisers Hyderabad (SRH) vs Mumbai Indians (MI) Indian Premier League (IPL) 2018 match here. Sunrisers Hyderabad defeated Mumbai Indians by one wicket to clinch a thrilling match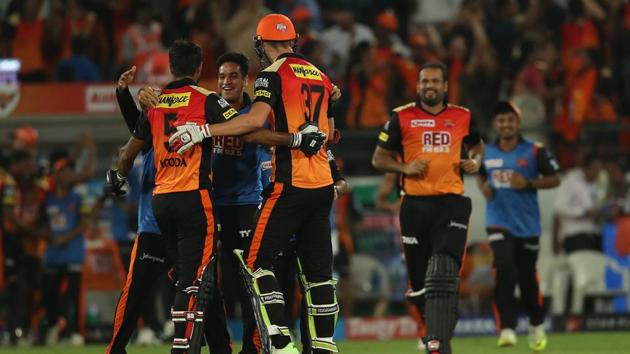 Mumbai Indians bowlers did everything they could to defend a low total against former champions Sunrisers Hyderabad but it was not enough at the end at the Rajiv Gandhi International Stadium on Thursday. Chasing 148, SRH won the match on the last ball after Mayank Markande, Mustafizur Rehman and Jasprit Bumrah bowled brilliantly to rattle them. Earlier, Sunrisers Hyderabad's bowling prowess came to fore as Siddarth Kaul and co. restricted Mumbai Indians to 147/8 in 20 overs at the Rajiv Gandhi International Stadium in an Indian Premier League (IPL) 2018 encounter on Thursday. Kaul and Sandeep Sharma took two wickets each. Get highlights of Sunrisers Hyderabad (SRH) vs Mumbai Indians (MI) Indian Premier League (IPL) 2018 match here. (SCORECARD | LIVE STREAMING INFO)
23:50 hrs IST: That's it from here. Thanks for joining.
23:46 hrs IST: What a match! What a thriller! It could have gone either way until the last ball. With this win SRH take their tally to four points. Markande, Bumrah and Mustafizur turned the match with brilliant bowling but it was not enough till the end.
23:45 hrs IST: And Stanlake hits a four to clinch the thriller in the kast match.
23:44 hrs IST: And Bumrah failes to take a catch. SRH has levelled the scores. Stanlake on strike. SRH need 1 off 1
23:45 hrs IST: And Rohit misfields! How is that possible. Hooda is again on strike.. SRH need 2 off 2
23:39 hrs IST: They take a single and Stanlake will be on strike. SRH need 3 off 3 balls
23:37 hrs IST: WIDE! And now Cutting bowl a wide. This is ultimate thriller.
23:36 hrs IST: SIX! Deepak Hooda hits a sixx off cutting. SRH need 5 off 5.
23:34 hrs IST: OUT! Sandeep Sharma c Pandya b Mustafizur Rahman 0 (2b 0x4 0x6) SRH 137/9Th
This has been such a great over for MI. The pressure is on SRH now. Deepak Hooda is their last hope.
23:30 hrs IST: OUT! S Kaul c and b Mustafizur 0(4) SRH 137/8 (18.4 Ovs)
WHOA! It's all happening here for Mumbai Indians. Mustafizur does his job again.
23:25 hrs IST: OUT! Rashid Khan c Ishan Kishan b Bumrah 0(1) SRH 136/7 (17.5 Ovs)
And there's another one! Bumrah is on a hat-trick.
23:23 hrs IST: OUT! Y Pathan c Pollard b Bumrah 14(14) [4s-2] 136/6 (17.4 Ovs)
That is huge! Bumrah gets a huge wicket. This match is turning out to be thriller.
23:21 hrs IST: FOUR! Crucial boundary by Pathan, who directs Cutting towards short fine-leg. SRH need 15 off 18 balls
23:10 hrs IST: Great over by Mustafizur as he gives just three runs. SRH need 24 off 24
23:04 hrs IST: Great, great effort from Cutting. he saved a sure shot six from Yusuf Pathan off Bumrah. MI 121/5 in 15 overs
23:00 hrs IST: FOUR! Yusuf Pathan directs Cutting for a cheeky boundary. SRH need less than 40 runs now.
22:55 hrs IST: OUT! Shakib b Markande 12(12) [4s-1] SRH 107/5 (13.0 Ovs)
The young Markande gets his fourth he is having a great night. The googly bamboozles SRH batsman.
22:51 hrs IST: Mustafizur is bowling against Shakib. Interesting sub-plot going on there and the senior batsman comes out trumps as he hits the fast bowler for a four at point. SRH 104/4 in 12 overs
22:45 hrs IST: OUT! Manish Pandey c Rohit b Markande 11(8) [4s-1] SRH 89/4 (10.2 Ovs)
The MI have strongly come back into the match and the unheralded Markande is their hero. He charges out for a big hit and is caught by Rohit. That was easy for MI, tough for SRH!!
22:42 hrs IST: Krunal Pandya is back into the attack. He needs to give MI a breakthrough and the match will turn interesting.
22:38 hrs IST: OUT! Dhawan c Bumrah b Markande 45(28) [4s-8] SRH 77/3 (8.5 Ovs)
He is gone! The MI are relieved. And it's Markande again. Last match he dismissed Dhoni and this match he gets the dangerous Dhawan. The SRh batsman took risk and Bumrah takes a good catch.
22:36 hrs IST: OUT! Williamson c Ishan Kishan b Mustafizur 6(4) [4s-1] SRH 73/2 (8.0 Ovs)
The Bangladesh pacer has his revenge. It's the cutter again as the SRH edges to wicketkeeper Kishan.
22:34 hrs IST: Mustafizur Rehman is bowling his first over and is being given the blues for Williamson and Dhawan
22:28 hrs IST: Kane Williamson is the new batsman at the crease.
22:25 hrs IST: SRH takes review for a LBW decision on Saha and he's out! Saha lbw b Markande 22(20) [4s-3]
Markande gives MI a much-needed break.
STRATEGIC TIME-OUT!
22:17 hrs IST: FOUR! After a great over from Krunal Pandya which yielded only four runs, SRH gets back in the groove with Dhawan treating Bumrah with a fabulous cover drive. SRH 56/0 in 6 overs
22:14 hrs IST: FOUR! Saha gets his third boundary as he hist the ball over Cutting's head. SRH 38/0 in 4 overs
22:09 hrs IST: Sangwan is getting hammered here from either end as he gives away 13 runs. SRH 28/0 in 3 overs
22:06 hrs IST: DROPPED! Saha mistimes a shot off Sangwan and Cutting makes a mess of the chance.
22:03 hrs IST: FOUR! Dhawan glances Bumrah's straighter delivery for a four. That was beauty. SRH 15/0 in 2 overs
22:00 hrs IST: FOUR! Dhawan gets a wide delivery and punishes it for a four! SRH 7/0 in 1 over
21:56 hrs IST: Action starts! Shikhar Dhawan and Wriddhiman Saha open for SRH
21:38 hrs IST: Siddharth Kaul bowls the last over and gives away just 10 overs. MI 147-8 in 20 overs
21:32 hrs IST: MI 136/7 (18.4 Ovs) Suryakumar Yadav c Deepak Hooda b Sandeep Sharma 28(31) [4s-2 6s-1]
Sandeep removes Suryakumar as MI's hopes for a big score is slowly evaporating.
21:29 hrs IST: Cutting b Rashid Khan 9(9) [4s-1]
Rashid Khan completes brilliant four overs in which he gave away 13 runs. It's only good that he ended with one wicket
21:20 hrs IST: Yadav is receiving medical attention after he fell on the ground. This is bad for MI. he is up on his feet. MI 129/5 in 17 overs
21:16 hrs IST: SIX! Yadav lofts Shakib over extra cover. MI 121/5 in 16 overs
21:10 hrs IST: Ben Cutting is the new batsman at the crease. MI 111/5 in 15 overs
21:08 hrs IST: OUT! Pollard c Dhawan b Stanlake 28(23) [4s-3 6s-2] MI 110/5 (14.5 Ovs)
Pollard departs. Just wehen he started to fire, Stanlake removes him.
21:04 hrs IST: SIX! Pollard does what he does best as he lifts Shakib over extra cover. MI 100/4 in 14 overs
20:58 hrs IST: FOUR! Kaul was having a great over until Pollard hit him through the third man. MI 87/4 in 12 overs
20:52 hrs IST: Poor bowling! Rashid just invites Pollard to go after him. It was full delivery and the West Indies players list it over the bowler's head for a four. MI 82/4 in 11 overs
20:47 hrs IST: Powerful shot! Suryakumar Yadav punished the short ball from Stanlake with a wild swivel. MI 78/4 in 10 overs
20:45 hrs IST: Kieron Pollard is the nee batsman! MI 72/4 in 9 overs
20:42 hrs IST: OUT! Krunal Pandya c Williamson b Shakib 15(10) [4s-2] MI 72/4 (8.5 Ovs)
Shakib has a great comeback after couple of fours! He gets a leading edge from Krunal as Williamson takes an easy catch at cover.
20:39 hrs IST: Cheeky! Krunal Pandya is using innovative shots. This time he uses the reverse sweep to good use.
20:37 hrs IST: Despite the loss of three wickets, MI have still maintained a steady run-rate over seven. MI 59/3 in 8 overs
20:30 hrs IST: Lewis b S Kaul 29(17) [4s-3 6s-2] MI 54/3 (6.0 Ovs)
That's a brilliant over from Kaul. He used the knuckle ball as Lewis went for a big shot. He missed the line and the stumps were rattled.
20:27 hrs IST: Ishan Kishan c Y Pathan b S Kaul 9(9) [4s-2] MI 48/2 (5.2 Ovs)
Kishan gone, Sandeep must be relieved! Yusuf takes a low catch off Kaul at third man. That was poor shot by Kishan. He started well but could not maintain the momentum and got a poor edge.
20:24 hrs IST: DROPPED! Too many missed chances happening here. This time Sandeep drops Kishan off Rashid. MI 48/1 in 5 overs
20:20 hrs IST: SIX! Lewis creates space for himself and lifts the length ball over extra cover. MI 43/1 in 4 overs
20:17 hrs IST: FOUR! Lewis got the room from Stanlake. He drives hard as the ball races past cover point. And he repeats it again on the fourth ball.
20:15 hrs IST: 25,736 attendance at 8:15pm. Significant rise from the first match which had about 18,000.
20:14 hrs IST: FOURS! Ishan Kishan takes no time to settle down. He was lucky on both occasions as his edges found no fielders. MI 28/1 in 3 overs
20:11 hrs IST: SIX! Lewis gets off the mark with a huge six against Sandeep Sharma. That was a powerfull heave as the ball lands in the stands
20:08 hrs IST: OUT!!! Rohit c Shakib b Stanlake 11(10) [4s-1 6s-1] MI 11/1
The MI captain departs. Again Rohit played the ball a bit too early as it went up and Shakib Al Hasan makes no mistake by catching it at short square leg
20:06 hrs IST: SIX! Rohit gets into the groove with a huge six off Stanlake.
20:02 hrs IST: DROPPED! Deepak Hodda gives a life to Rohit off Sandeep. The Mumbai Indians batsman mistimed his shot. MI 1/0 in 1 over
20:00 hrs IST: Sandeep Sharma bowls the first ball to Rohit Sharma and makes a feeble appeal for LBW. Umpire is not interested.
19:56 hrs IST: We are minutes away from the start of the match!
19:42 hrs IST: After the initial round of matches, Sunrisers are placed second with one win in one match. Mumbai Indians are placed sixth.
19:37 hrs IST: Rohit Sharma at the toss: We are missing Hardik due to injury, so Pradeep Sangwan playing instead of him. We've left out Mitch McCleneghan, and we've included Ben Cutting instead, who has played a lot of cricket here and knows the conditions pretty well.
19:34 hrs IST: Mumbai Indians: Rohit Sharma(c), Evin Lewis, Ishan Kishan(w), Suryakumar Yadav, Pradeep Sangwan, Krunal Pandya, Kieron Pollard, Ben Cutting, Mayank Markande, Mustafizur Rahman, Jasprit Bumrah
19:33 hrs IST: Sunrisers Hyderabad: Wriddhiman Saha (w), Shikhar Dhawan, Kane Williamson(c), Manish Pandey, Deepak Hooda, Yusuf Pathan, Shakib Al Hasan, Rashid Khan, Billy Stanlake, Siddarth Kaul, Sandeep Sharma
19:30 hrs IST: Sunrisers Hyderabad have won the toss and have opted to field
19:10 hrs IST: Both teams are packed with proven performers. And both are former champions too!
18:57 hrs IST: Hello and welcome to the live coverage of the seventh match of IPL 2018!
Sunrisers have the most diverse bowling attack in the competition. They have Bhuvneshwar Kumar with his superb skill sets of seam and swing, Billy Stanlake for raw pace and Siddarth Kaul to hit the deck.
Add to it Rashid Khan's fast leg-breaks and googlies are still a mystery for most batsmen while Shakib Al Hasan with his orthodox left-arm spin is miserly on most days.
Mumbai Indians on the other hand is filled with a galaxy of stars and are often known to be slow starters in a marathon tournament. Skipper Rohit Sharma would be expecting a better effort from his batsmen as 165 on a good batting track wasn't par for the course.
Evin Lewis, who has two T20 hundreds against India, skipper himself and the explosive Kieron Pollard would like to show their big-hitting prowess.
For MI, the biggest gain from the opening game was young leg-spinner Mayank Markande's performance on IPL debut as he accounted for Ambati Rayudu and MS Dhoni.
Mumbai's another concern will be their death bowling as Jasprit Bumrah, Mustafizur Rahaman and Mitchell McLenaghan all missed their length with Dwayne Bravo going on a rampage during the other night at Wankhede.
Hardik Pandya played his heart out but his ankle injury could be a cause of worry for skipper Rohit.
For Sunrisers, it was a good start under new skipper Kane Williamson, who didn't look out of place after David Warner's suspension from the league due to ball tampering charges.
Shikhar Dhawan's blazing form has continued, which is the biggest shot in the arm for the 'Orange Army' apart from a bowling attack that looks potent on any surface.
Close Story
Personalise your news feed. Follow trending topics