IPL 2020 Highlights, CSK vs MI: CSK beat MI by 5 wickets, Rayudu, Du Plessis star with fifties
Hindustan Times, New Delhi |
hindustantimes.com
Sep 20, 2020 07:47 AM IST
CSK vs MI Live Updates: Ambati Rayudu and Faf du Plessis smashed valuable half-centuries as Chennai Super Kings beat Mumbai Indians by 5 wickets to get off to the perfect start in IPL 2020 at Abu Dhabi in UAE. Rayudu scored 71 off 48 balls and du Plessis remained unbeaten on 58 off 44 balls. They had steadied CSK after they lost their openers in the first two overs of the chase. The Mumbai Indians scored 162 for 9 after Chennai Super Kings asked them to bat first. MI got off to a flier with Rohit and de Kock going all guns blazing but CSK came back with two wick wickets. Then Saurabh Tiwary played a very good innings by scoring 42 off 31 balls before Faf du Plessis took two fantastic catches to send back him and Hardik Pandya. Towards the end, Lungi Ngidi picked up three wickets as CSK ran through the MI lower middle-order. Follow IPL 2020 Highlights, CSK vs MI here:
23:22 hrs IST
CSK beat MI by 5 wickets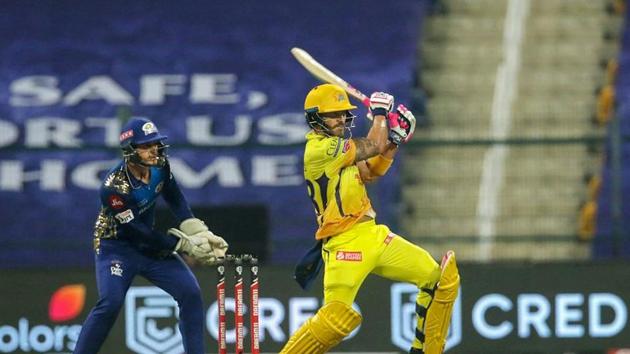 Faf du Plessis finishes it with two fours in the first two balls of the final over. Chennai Super Kings, after losing 5 matches to MI on the trot, have beaten them by 5 wickets to start their IPL 2020 campaign in style.
23:19 hrs IST
Last over
CSK need 5 runs to win the first match of IPL 2020 against MI.
23:18 hrs IST
Dhoni takes DRS and survives
The 'Dhoni Review System' still works fine. It was a short delivery from Bumrah. Dhoni went for the pull, missed it, there was huge appeal and the umpire raised his finger, Dhoni straightaway went for the review and guess what? It was a flat line on the snickometre.
23:15 hrs IST
Fifty for du Plessis
What a fantastic innings this has been by Faf du Plessis. He has got CSK within touching distance of a victory tonight.
23:14 hrs IST
MS Dhoni walks out to bat
The man is finally here. MS Dhoni the finisher walks out to bat at No.7 for CSK. Will he once again finish the job for CSK?
23:12 hrs IST
Bumrah gets Curran
Six and out! He hit three sixes in his innings of six balls and he has been dismissed by Bumrah. This match is still alive. CSK need 10 runs off 8 balls.
23:09 hrs IST
Who needs Dhoni?
SIX, FOUR! Sam Curran has got the it going alright. That's why he's out there, never doubt Dhoni's calls. He hasn't won so many trophies for nothing. What clean striking from the left hander. CSK now need only 16 runs in the last 2 overs.
23:07 hrs IST
Still no Dhoni for CSK
Sam Curran walks out to bat. Still no MS Dhoni, that's a huge surprise, considering the situation of the game.
23:06 hrs IST
Pandya strikes
OUT! LBW! Just what the doctor ordered for MI. Krunal Pandya provides the breakthrough. It was slider and Jadeja missed it altogether and the umpire had no hesitation in his mind.
23:02 hrs IST
last 3 overs in the CSK vs MI match
13 runs of the James Pattion over and CSK are driving home the advantage. Mi need wickets otherwise, it's all too easy for CSK now.
22:59 hrs IST
Jadeja gets off the mark with a four
FOUR! A poor delivery from Pattionson. He drifted down the leg side and Jadeja is too good a player to miss out on that sort of an opportunity. He gets off the mark with a boundary.
22:56 hrs IST
Rayudu departs, Chahar strikes
OUT! A very good catch by Rahul Chahar off his own bowling. He took it upon himself, did not trust his fielders, ran back to hold on to very good catch. It brings an end to a fine innings of 71 by Ambati Rayudu. But has he got out at the wrong time?
22:54 hrs IST
Krunal Pandya drops a difficult one
DROPPED! It was a valiant effort from Krunal Pandya at cover point. These fort of catches have to stick and this time it didn't. Rayudu survives and CSK are motoring along.
22:52 hrs IST
15 overs bowled
11 runs coming from the Jasprit Bumrah over. CSK now need 47 runs in the last five overs with 8 wickets in hand. With Dhoni, Jadhav and Jadeja still in the hut, one would have to say that CSK are firm favourites to win this one.
22:49 hrs IST
Rayudu survives
Hardik Pandya, who was standing at mid-wicket, tried his best but the throw wasn't the best one. Rayudu got back comfortably before de Kock could whip the bails off.
22:42 hrs IST
CSK in front at 2nd strategic time out
End of the 14th over and the umpire signals for the second strategic time out. CSK are at 105 for 2, need 58 runs in six overs to win this match. MI need to break this partnership to get back into the match. Rayudu is the danger man so far.
22:38 hrs IST
Bowling change for MI
Right-arm pacer James Pattionson has been brought back into the attack. Rohit Sharma is kin search of a wicket now. He desperately needs to break this stand otherwise CSK are wining this on a canter.
22:37 hrs IST
Rayudu hits another six
SIX! Rayudu dances down the track and hits Rahul Chahar for his third six. At the end of the 13th over CSK have reached 99 for 2. They now need 64 more runs to win off 42 balls.
22:34 hrs IST
Ambati Rayudu scores first fifty of IPL 2020
FOUR! Smashed down the ground for a boundary and that brings up Rambati Rayudu's fifty off just 33 balls. It has been a brilliant innings from the right-hander.
22:30 hrs IST
11 overs gone CSK's chase
A productive over for CSK. Rayudu seems to be the one who will attack more now. He got a six in Pandya's over and CSK have reached 81 for 2 in 11 overs. The partnership is now 75 off 56 balls.
22:28 hrs IST
Rayudu hits another six
SIX! Brilliant batting from Rayudu. He came down the track, Krunal Pandya saw it, dragged his length down but Rayudu was up to it. He waited and smacked it over mid wicket to collect his second six of the match.
22:26 hrs IST
Back-to-back misfields by MI
Would you believe it. Two misfields have resulted in two boundaries off Rahul Chahar's over. Some sloppy stuff from MI. First Bumrah let one go at short fine leg and then Boult let one slip through in the deep.
22:22 hrs IST
Drop catch by Rahul Chahar
A difficult chance but Rahul Chahar at short mid-wicket knows he should've hold on to it. It was the big fish du Plessis.
22:18 hrs IST
Fifty up for CSK in first strategic time out
Fifty up for CSK at the end of the 8th over. 8 runs came from Chahar's first over. CSK now need 112 runs in 72 balls to win this game. This partnership has to carry on, don't forget they have Dhoni waiting in the wings but Rayudu and du Plessis wouldn't want to leave too much work on their captain. By the looks of it, MI hold the upper hand as of now.
22:15 hrs IST
Double bowling change for MI
Spin from both ends! Leg-spinner Rahul Chahar has been introduced into the attack. Pandya and Chahar have a crucial role in MI's bowling unit.
22:13 hrs IST
CSK vs MI live score: 7 overs bowled in CSK innings
Krunal Pandya starts well, gives away only six runs in his first over. This match is shaping up nicely. Rayudu and du Plessis need to keep and eye on the required rate.
22:10 hrs IST
Rayudu ends powerplay with first six of CSK innings
The new technology comes to use and the third umpire tells the on-field umpire that Bumrah had overstepped. And in the free hit, Rayudu smashed Bumrah over mid wicket for the first six of CSK's innings. End of the powerplay and CSK are 37 for two.
22:09 hrs IST
Rayudu hits Bumrah for a four
FOUR! Cracking shot from Rayudu. Bumrah had bowled four dot balls at the start but his last two deliveries went for 7 runs.
22:06 hrs IST
Bowling change, Bumrah in
Jasprit Bumrah has been introduced into the attack. He is one of their key weapons and will be look to prove a point right at the start.
22:05 hrs IST
5 overs done in CSK's innings
Trent Boult has finished his third over on the trot and has given away only 15 runs with the important wicket of Shane Watson to show. CSK are 23 for 2 and are in desperate need of a partnership. Du Plessis and Rayudu will have to keep an eye on the asking rate too.
22:00 hrs IST
End of the 4th over
Rayudu hit a boundary off Pattinson in the first ball but the big Australia came back well and finished the over conceding just 7 runs.
21:56 hrs IST
MI vs CSK live score: 3rd over ends in CSK innings
That's the end of the 3rd over, another testing one from Trent Boult. He is getting that inward movement and whenever he does that, he becomes very dangerous to deal with. CSK need to weather this storm from the MI new-ball bowlers.
21:51 hrs IST
Pattinson strikes, CSK lose 2nd
OUT! This time the umpire raises his finger. James Pattionson has got the wicket of Murali Vijay. It did look to be sliding down the leg side, du Plessis in fact tried to tell Vijay that but he was convinced and decided to take the long walk back. Replays show, the ball would've missed the stumps.
21:47 hrs IST
No Bumrah, Pattinson gets the 2nd over
James Pattinson starts the 2nd over, he will share the new-ball with Boult and Bumrah. That's a big decision by Rohit Sharma. Bumrah might be used at the back end of the innings then.
21:44 hrs IST
IPL 2020, MI vs CSK: GONE!
Shane Watson has been rapped on the pads by Trent Boult and he is not convinced, but he consults his partner and decides against taking the review. He is walking back. First blow for CSK, CSK 5/1.
21:37 hrs IST
Shane Watson, Murali Vijay start chase
Shane Watson, Faf du Plessis out to bat for CSK as the 163-run chase begins. Mumbai Indians start the attack with Trent Boult. HERE WE GO!
21:25 hrs IST
IPL 2020 Live Score, MI vs CSK: End of Mumbai Indians Innings
Mumbai Indians set CSK 163-run target. Saurabh Tiwary top-scored with 42 off 31 balls. MI lost their way after he got out. CSK made a strong comeback through Ngidi, who picked up three wickets in his last two overs. Considering the size of the ground and MI's bowling attack 162 may not be a bad total at all.
21:22 hrs IST
BOWLED
OUT! Chahar cleans up Trent Bout. MI lose their 9th wicket now. Did Chahar hurt his calf here? He is grabbing on to it. CSK would hope it's just a cramp.
21:20 hrs IST
Last over coming up
Deepak Chahar will bowl the last over. MI are at 156 for 9. How many can they get? They'll do a good job if they can cross 160.
21:18 hrs IST
Ngidi gets another
OUT! What a comeback this is for Lungi Ngidi. He was hit to all parts of the ground in the first two overs but in the next two he has taken three. This time he gets James Pattinson, du Plessis the man again, who has taken his third catch of the evening.
21:14 hrs IST
Ngidi gets Pollard
OUT! Edged and taken. What a big wicket that is for CSK. Pollard swung across the line but got an outside edge and Dhoni made no mistake behind the stumps.
21:09 hrs IST
Last 3 overs of the MI innings
Sam Curran has been brought back into the attack. Pollard holds the key now. If he gets out now, then MI won't get more than 160.
21:04 hrs IST
Dhoni takes a diving catch, Ngidi gets Pandya
OUT! Dhoni dives towards his left and takes a very good catch. It was a strangle down the leg side, Krunal Pandya got a tickle and Dhoni did well behind the stumps. Ngidi needed that, MI now have lost six wickets.
21:01 hrs IST
Strategic Time out, Pollard on the move
16 overs have been bowled in the MI vs CSK IPL 2020 opener. Kieron Pollard has just started to make his intentions clear. He hit a six off Jadeja in this over. If he carries on till the 20th over then MI can easily cross 180.
20:57 hrs IST
MI vs CSK live: 15 overs bowled
We are officially into the death overs now. 15 overs have been bowled and MI are 126 for 5 now. They did lose couple of important wickets but Pollard is there. Our prediction for MI's first innings score will be around 175-180.
20:55 hrs IST
Du Plessis another brilliant catch
OUT! Another stunning catch from Faf du Plessis and this time it sends back the danger-man Hardik Pandya. Jadeja has got two wickets now. But he must thank du Plessis. He once again stationed himself nicely and timed his jump to perfection. boy did he make that catch look easy.
20:51 hrs IST
Pollard walks in
Kieron Pollard walks in to bat at No.5 for Mumbai Indians. This is a big moment in the game. Pollard can make a difference of 15-20 runs in the final total.
20:50 hrs IST
du Plessis takes a fantastic catch
OUT! Ravindra Jadeja gets the big wicket. A fantastic catch by Faf du Plessis. He held his nerve and timed his jump to perfection to hold on to a very good catch at long on. Tiwary departs after playing a good hand of 42 off 31 balls.
20:47 hrs IST
CSK lose DRS - Dhoni gets it wrong
Wickets missing! Dhoni gets a DRS wrong. Boy, we don't see that often. Chawla in fact was the one who did not look that confident but the CSK captain went for it. The replays showed that the googly would've taken the ball away from the off stump. Tiwary survives.
20:46 hrs IST
Dhoni takes first DRS of IPL 2020
A huge appeal from Piyush Chawla, Tiwary misses and hits his pad but the umpire shakes his head. CSK captain opts for DRS, we know what happens when Dhoni does that.
20:43 hrs IST
CSK vs MI live score: 13 overs bowled
11 runs off Ngidi's second over. He is having a torrid time tonight. His 2 overs have leaked 29 runs. MI's Tiwary looks in absolute golden touch, what an inspired selection this has been.
20:39 hrs IST
Bowling change again
Lungi Ngidi has been brought back into the attack. His first over was a disaster. He leaked 18 runs. Can he make a comeback in his second spell?
20:37 hrs IST
Pandya hits two sixes in a row
SIX, SIX! Kung fu Pandya. He doesn't take much time to go for his shot, never ever. One over mid wicket, the next one over square-leg. Hardik Pandya has launched into an attack against Ravindra Jadeja.
20:36 hrs IST
Hardik walks in
Hardik Pandya walks out to bat at No.5 and Dhoni has introduced Ravindra Jadeja into the attack. This will be an interesting contest.
20:34 hrs IST
Chahar strikes, MI lose 3rd wicket
OUT! Deepak Chahar redeems himself in the second spell. It seemed it was a slower ball, Suryakumar Yadav did not make the best connection and he was caught in the deep by Sam Curran. Yadav goes for 17 off 16 balls.
20:29 hrs IST
Bowling change from Dhoni
CSK captain MS Dhoni brings Deepak Chahar back into the attack. The right-arm seamer was expensive in his first spell, let's see how he fares in the second spell.
20:27 hrs IST
10 overs bowled, halfway through
Brilliant over by Piyush Chawla, only 3 runs from it. The experienced leg-spinner is rising to the occasion. MI are now at 86 for 2 after 10 years. At this rate they should get over 170 but we're gonna be a bit brave here and predict MI's score of 180-185 considering they have Pollard and the Pandya brothers.
20:21 hrs IST
End of 9th over, time out
MI have reached to 83 for 2 after 9 overs. They have maintained a good run rate despite losing their openers in quick succession. Dhoni will now operate with spin from both ends.
20:19 hrs IST
First Six of IPL 2020 by Saurabh Tiwary
SIX, FOUR - Saurabh Tiwary on fire against Ravindra Jadeja. That was the first six of IPL 2020 and it came from the big left-hander's bat. He then followed it up with a couple and boundary.
20:16 hrs IST
8 overs bowled, MI regaining control
8 runs from the Sam Curran over. A boundary was hit by Suryakumar Yadav and MI are once again looking in control.
20:13 hrs IST
End of 7th over in MI vs CSK IPL 2020 match
Suryakumar Yadav did hit one boundary off Ravindra Jadeja to make it a productive over for MI. 9 runs came from it. This is an important period in the game. If MI can get a partnership then they will once again be back on top.
20:10 hrs IST
CSK vs MI live score: End of 6th over
Avery good over from Sam Curran to end the powerplay He got the important wicket of de Kock in it and gave away only 3 runs. Some rebuilding to do for MI's pair of Saurabh Tiwary and Suryakumar Yadav
20:05 hrs IST
Curran gets de Kock, CSK fight back
OUT! CSK make a roaring comeback after a flying start from MI. A slower delivery from Sam Curran and de Kock mistimes it, Watson takes a simple catch.
20:02 hrs IST
Chawla gets Rohit
OUT! The leg-spinner gets the breakthrough for CSK. In our pre-match analysis we did point out that it will be good move to bowl a spinner against Rohit early on. The MI captain was watching de Kock attack from the other end, he this tried to play the lofted shot off Piyush Chawla but fails to make good contact and gets out caught at mid-off. Rohit gors for 12 off 10 balls. MI 46/1 after 4.4 overs.
19:57 hrs IST
End of 4th over: De Kock smashes Ngidi
Three boundaries, 18 runs coming from Lungi Ngidi' s first over. Boy Mumbai Indians are off to some start today. The seamers have been wayward for CSK. Ngidi bowled two wides in this over but MI won't complaint. They are up and running very early in IPL 2020.
19:51 hrs IST
End of 3rd over in CSK vs MI IPL 2020 match
Another boundary in this over and it came from de Kock's bat. Chahar did start well in this over but de Kock scoed six runs in the last two deliveries to once again make it a good over for MI.
19:47 hrs IST
End of 2nd over, MI off to great start
Sam Curran's first over yields 7 runs. De Kock looks in fine fine touch. He hit another boundary in this over off the left-arm seamer. MI are 19/0 after 2 overs.
19:42 hrs IST
End of first over, MI 12/0
After Rohit, de Kock too hit a fantastic shot to the fence. Two boundaries in the first over for MI, a perfect start for the defending champions but not so much for CSK and Chahar.
19:38 hrs IST
What a start by Rohit
FOUR! A cracking punch off the back foot and the ball races away through the cover region for a boundary. FIrst ball and it's four. Who said the batsmen will be rusty? Rohit looks in sublime touch straightaway. Something to think about for Chahar.
19:35 hrs IST
Rohit on strike
Deepak Chahar has the new ball and it will Rohit Sharma who will face it. There is a slight delay as Rohit is having some issues with the sight screen.
19:30 hrs IST
CSK and MI players make their way into the centre
The Mumbai Indians openers Rohit Sharma and Quinton de Kock have made their way into the centre. Dhoni looks sharp as ever, leading his troops in the middle. It's going to be cracker of a contest or so we hope so. We are minutes away from the start.
19:26 hrs IST
Some records to look forward to in IPL
102: Rohit Sharma is 102 runs away from completing 5,000 runs in IPL. He can become the 3rd player after Virat Kohli and Suresh Raina. He is 6 sixes away from completing 200 sixes in IPL. He can become the 4th player in IPL after Chris Gayle, AB de Villiers, and MS Dhoni.
100 & 50: Saurabh Tiwary is 7 fours and 5 sixes away from completing 100 fours and 50 sixes in IPL.
50: Suryakumar Yadav is 3 sixes away from completing 50 sixes in IPL.
5: Deepak Chahar is 5 wickets away from completing 100 wickets in T20s.
74: Piyush Chawla is 74 balls away from completing 5,000 balls bowled in T20s. He can become the 15th bowler to achieve this feat in T20 cricket. He will become the 2nd Indian bowler after Harbhajan Singh in this list.
5: MS Dhoni is 5 sixes away from completing 300 sixes in T20 cricket. He can become the 3rd Indian to hit these many sixes in T20s after Rohit Sharma (361) and Suresh Raina (311).
19:20 hrs IST
Saurabh Tiwary a real surprise
Saurabh Tiwary over Ishan Kishan? I must say that's a real surprise and a blow to a lot of those who had picked young wicket-keeper-batsman in their fantasy teams. But the experienced Tiwary will look to make full use of this opportunity.
19:12 hrs IST
MI playing XI against CSK for first match in IPL 2020
Mumbai Indians (Playing XI): Rohit Sharma(c), Quinton de Kock(w), Suryakumar Yadav, Saurabh Tiwary, Krunal Pandya, Hardik Pandya, Kieron Pollard, James Pattinson, Rahul Chahar, Trent Boult, Jasprit Bumrah
19:10 hrs IST
No Bravo in CSK playing XI for IPL 2020 match against MI
Chennai Super Kings (Playing XI): Murali Vijay, Shane Watson, Faf du Plessis, Ambati Rayudu, Kedar Jadhav, MS Dhoni(w/c), Ravindra Jadeja, Sam Curran, Deepak Chahar, Piyush Chawla, Lungi Ngidi
19:07 hrs IST
Rohit Sharma speaks at the toss
Rohit Sharma at the toss: Would've bowled first as well, gets better under lights. Have been here few weeks, so understand conditions better. Before coming here, we had a camp in Mumbai. Also had quality practice out here in Abu Dhabi. Key here will be to understand conditions. Pitches for the practice matches will be similar to what we'll get here. Ready to go. Way we've been playing cricket for the last couple of years has been good. All in all we've had good preparation. Now all about execution. Four overseas - Quinton, Pollard, Pattinson, Boult. NCN still not quite match fit with some niggles. Good opportunity for Pattinson who's been bowling well for Australia.
19:05 hrs IST
MS Dhoni speaks at the toss
MS Dhoni at the toss: "Wanted to know if we can have a slip (in line with social distancing). Will bowl first. Late evening you get dew. Also to keep wicket in good condition they water it, so it tends to be tacky at the start. Have the liberty during lockdown to spend time on yourself to keep fit. Have to applaud every member of the squad. First six days in quarantine is very difficult. Felt each individual used that time well and nobody was disappointed or frustrated. The practice facilities were very good. After the first 14 days it was nice to get out. Being a gentleman's game you don't think about revenge (against MI). You think about the mistakes you made. Four overseas - Watto,Faf, Sam, Lungi."
19:00 hrs IST
TOSS!
Chennai Super Kings win toss, elect to bowl against Mumbai Indians in the opening game of Indian Premier League.
18:52 hrs IST
MI vs CSK pitch report
There's an even covering of grass.There is another pitch which is very different from this one, which may be used later. A carpet like ground, expect this to be a high-scoring encounter. But the wind and the big boundaries will be a factor: Kevin Pietersen and Michael Slater with the pitch report for today's MI vs CSK clash.
18:50 hrs IST
What about Rohit Sharma?
The Mumbai Indians fans might not spare us if we don't talk about Rohit Sharma after spending good 10 minutes on Dhoni. So the MI captain was actually the first to walk up to the pitch today along with coach Mahela. He will know this is a big game for his side. And it is safe to say, if the bats a large part of the 20 overs, then MI will have very good chance of wining this.
18:47 hrs IST
Dhoni bowling leg spin
MS Dhoni is seen rolling his arms over minutes before the toss and guess what? He is bowling leg spin. While we are not suggesting that he will bowl today but who knows with Dhoni? Did that one turn? Karan seems very excited seeing Dhoni bowl leg-spin, these fans I tell you.
18:44 hrs IST
First glimpse of MS Dhoni
Even as we speak about Dhoni being the key, we are getting the first visuals of MS Dhoni ahead of today's big-ticket clash. Footage shown by the official broadcasters show CSK captain having a chat with MI bowling coach Zaheer Khan. He has a big smile on his face, if that is any sign for his fans maybe?
18:40 hrs IST
Players to watch out for in the CSK vs MI clash
For Mumbai Indians it will be Rohit Sharma, Quinton de Kock, Kieron Pollard, Hardik Pandya and Jasprit Bumrah.
For Chennai Super Kings it has to be MS Dhoni, Shane Watson, Dwayne Bravo, Ravindra Jadeja and Imran Tahir.
18:35 hrs IST
Will Raina and Harbhajan's absence hurt CSK?
Suresh Raina and Harbhajan Singh had pulled out of IPL 2020 citing personal reasons while Harbhajan's absence may not hurt them much as they have the likes of Imran Tahir, Piyush Chawla, Ravindra Jadeja to take care of the spin department, Raina not being there is sure to hurt their batting department. Rayudu is set to open and du Plessis might bat at 3 but after that it is Dhoni and the all-rounders.
18:30 hrs IST
Hardik Pandya to be MI's key
Most of the mainstays of Mumbai's batting department were part of IPL 2019. Among them, Hardik Pandya was the stand-out player with his average and Strike rate being the best. Pandya had scored 402 runs at an average of 44.66 and a strike rate of 191.2.
18:20 hrs IST
How will the pitch behave in MI vs CSK IPL 2020 opener
Here are some numbers that might help us get an idea of the Abu Dhabi pitch on offer for today's CSK vs MI match. However, let's not forget that all these matches were played some time ago.
Abu Dhabi is one of those venue where 21 matches of ICC World T20 Qualifier 2019 were played.
• Abu Dhabi hosted 4 matches of PSL 2019. Among pacers, left-armers did better; while among spinners, left-arm orthodox were the best. Notably, there was no chinaman bowler throughout that tournament at Abu Dhabi and only one right-arm off-break/orthodox — Chris Green.
• Going by the result pattern at Abu Dhabi in 2019 PSL, MI and CSK both are suited to that.
• MI had the 2nd best win%, while CSK had the 3rd best in chases during IPL 2019.
16:10 hrs IST
Abu Dhabi venue insights
How will the Abu Dhabi pitch behave? What's a good score? What should the captain winning the toss do? There are a lot of questions. We can't answer all of them with certainty but Karan has got some numbers which may help get an idea. Over to you Karan.
Karan: Thanks Aritra! So here are the numbers of the matches played in Abu Dhabi in IPL 2014, when the first half of the tournament was held in UAE.
Highest Team Total: 206/4 By Kings XI Punjab Against Chennai Super Kings
Lowest Team Total: 70 By Royal Challengers Bangalore Against Rajasthan Royals
Highest Individual Score: 95 By Glenn Maxwell (Kings XI Punjab) Against Chennai Super Kings
Best Bowling Figures: 4/20 By Sunil Narine (Kolkata Knight Riders) Against Mumbai Indians
Highest Partnership: 131 By Jacques Kallis And Manish Pandey (Kolkata Knight Riders) For 2nd Wicket Against Mumbai Indians
Win Rate Batting First: 42.86% (3 Won; 4 Lost)
18:00 hrs IST
The countdown has begun
What should the captain winning the toss do?
One hour to toss time ⌛️⏲️

Ready?#MIvCSK #Dream11IPL pic.twitter.com/HBV2Hc7h9O

— IndianPremierLeague (@IPL) September 19, 2020
17:59 hrs IST
CSK Predicted XI
Don't worry CSK fans, how can we forget your predicted XI? Can't ever make that mistake with the most-supported franchise. So here is the Chennai Super Kings 1 Shane Watson, 2. Ambati Rayudu, 3 Faf du Plessis, 4 MS Dhoni (capt, wk), 5 Kedar Jadhav, 6 Dwayne Bravo, 7 Ravindra Jadeja, 8 Piyush Chawla, 9 Deepak Chahar, 10 Shardul Thakur, 11 Imran Tahir
17:52 hrs IST
Mumbai Indians Predicted XI
All the fantasy cricket league buffs out there, this might help you a lot. Here is out Predicted XI of Mumbai Indians for today's match against Chennai Super Kings - 1 Rohit Sharma (capt), 2 Quinton de Kock (wk), 3 Suryakumar Yadav, 4 Ishan Kishan, 5 Kieron Pollard, 6 Hardik Pandya, 7 Krunal Pandya, 8 Mitchell McClenaghan, 9 Rahul Chahar, 10 Trent Boult, 11 Jasprit Bumrah
17:47 hrs IST
MI vs CSK head-to-head
MI and CSK have faced each other 28 times in the IPL. It won't be an exaggeration to state that MI have dominated CSK - the only side to do so - if we take a look at their win ration. Rohit's side has beaten CSK 17 times - four of those were in last year itself - while CSK have won on 11 occasions. In their last five encounters, MI have taken an unprecedented 5-0 lead registering wins in all matches of IPL 2019 and Match No 27 of IPL 2018. No other active team has a win percentage of more than 40 against CSK other than MI. (For more interesting MI vs CSK stats, click here)
17:40 hrs IST
How is this year's IPL different?
First of all, it's not happening in India and taking place in UAE. While in 2009 and 2014, the tournament did move out of the country but that was because of the general elections in India and not because of some pandemic. Secondly, there will be no crowd, no media from India (yeah let that sync in) and the players will be in a bio-secured bubble to minimize the affects of the virus. And last but not the last least, the IPL is being played in September - the first time it is being hosted so late, again blame the pandemic for it.
17:31 hrs IST
What exactly do the experts say?
Sachin Tendulkar: For any tournament to succeed you need rivalries. Mumbai Indians, as well as Chennai Super Kings, have a very very strong fan base. Both are extremely competitive.
👀 An #MI Matchday is incomplete without Sachin!

Here's the Master's take on the #MIvCSK rivalry 👇#OneFamily #MumbaiIndians #MI #Dream11IPL @sachin_rt pic.twitter.com/HJGD79nypZ

— Mumbai Indians (@mipaltan) September 19, 2020
17:25 hrs IST
IPL 2020 big clash, CSK vs MI - Who is the favourite??
Aritra: Well, I won't put my money on anyone but I do think for some weird reasons (don't ask me what they are) that this is going to be a one-sided encounter. I know both of them have produced some of the most memorable matches of the IPL but just a hunch, it will largely be one-sided this time around.
Karan: Look, Aritra, I feel Mumbai Indians have the edge going into the match. They beat Chennai four times... FOUR TIMES last year. CSK had a nervy pre-season, and there are players who are returning to cricket after a long break. So, their backs are certainly against the wall going into this. But you know, what happens when MS Dhoni's back is against the wall? He stuns the world and wins the contest. So, who knows, it could go either way. I would put my money on MI, but I would not be surprised if I lose the bout.
17:15 hrs: IST
What's so special about MI vs CSK match?
Well they don't call it the 'El Classico' of IPL for no reason. These two teams have won the IPL seven times - MI a record 7 times and CSK 3 times. They have faced each other 28 times in the IPL, the most that two teams have squared off against each other in IPL. And of course, MI have Rohit Sharma, who is one of the biggest white-ball cricketers in the world and CSK have MS Dhoni, what more do you want?
17:05 hrs IST
IPL 2020, match 1: MI vs CSK
Hello and welcome to the live coverage of Mumbai Indians vs Chennai Super Kings - the tournament opener of IPL 2020. This will be a bit different considering the match is being played in Abu Dhabi, that too in front of empty stands but that doesn't mean there will any shortage of excitement. I'm Aritra Mukherjee and with me is my colleague, Karan Prashant Saxena, we'll be with you throughout this epic encounter.