IPL auction: Rahul Dravid urges Indian team to focus on ICC U-19 Cricket World Cup
Updated on Jan 25, 2018 04:19 PM IST
Rahul Dravid, coach of the Indian team at the ICC U-19 Cricket World Cup, says his team must not be distracted by the IPL auction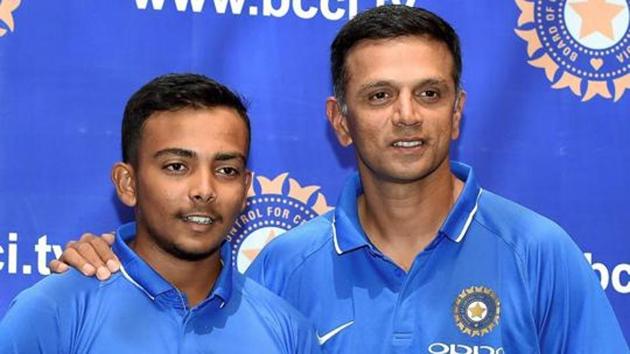 The Indian U-19 cricket team in New Zealand is gearing up for the latter stages of the ICC U-19 Cricket World Cup and will take on Bangladesh in the quarterfinal clash on Friday. Hence, it is quite significant that distractions of all sorts are buried down the drain, including that of the upcoming Indian Premier League (IPL) auction, which gets underway in Bangalore on Saturday.
A few young colts have already earned names for themselves and the cash-rich league is a perfect platform to further enhance on those reputations. However, with former India batsman Rahul Dravid at the helm of affairs of the team, it is difficult to breach through the discipline of being part of a World Cup. And the coach admitted that he has spoken to the players regarding the issue, only to keep the excitement under check.
Speaking to ESPNCricinfo, Dravid said: "There's no point hiding from the fact that it is there. It is around the corner. There's no point living in the bubble and pretending it doesn't exist. We do discuss it. We've spoken about what their focus should be and what their long-term goals are as compared to their short-term goals."
Skipper Prithvi Shaw, Shubman Gill, Himanshu Rana, Abhishek Sharma, Riyan Parag, Kamlesh Nagarkoti, Shivam Mavi, Arshdeep Singh and Harvik Desai are the nine players who will go under the hammer and can be options for the 'uncapped' category. While Shaw has taken the cricketing world by storm through his batting prowess, the stellar pace with which Mavi and Nagarkoti bowled in the first game has been a revelation for many.
Dravid, who was part of the winning squad of the inaugural IPL with Rajasthan Royals, stated that he understood the pulse of the situation. While not all the players would end up with millions against their name, there can also arise a situation where a few may go unsold. "The auction is not something the boys can control," Dravid was quoted as saying to ESPNCricinfo. "One or two auctions won't really have a long-term impact on their careers. There is an auction every year, but not every year will they have an opportunity to play for India in possibly a World Cup semi-final. That doesn't come very often."
Dravid, himself a perfect example of what discipline means to a sportsperson, however, sounded positive about getting the focus back on the field rather than on what's happening away from it. "I don't feel worried about it. I think this group of guys are really focused on playing good cricket here," he further went on to add. "I like the energy and the spirit in this team. We've been here for three weeks and we couldn't have asked for better preparation from the boys. They've been superb. We talked about the auction once and we said let's keep that out of our minds."