Joginder Singh Rao: The forgotten double hat-trick hero
War veteran Joginder Singh Rao is the only cricketer to have taken three hat-tricks in his first two games and only the second to take two hat-tricks in the same innings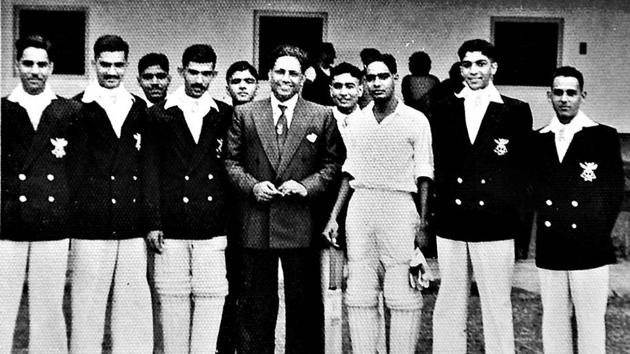 Updated on Oct 16, 2018 05:30 PM IST
Hindustan Times, New Delhi | By Gulu Ezekiel
Today marks the 80th birth anniversary of a cricket legend and war hero the country has forgotten; his feats on the cricket field and battlefield should be etched in letters of gold but remain largely unknown.
His name: Major General Joginder Singh Rao who fought in two wars (1965 and 1971) as a crack paratrooper, won a medal for gallantry and in the 1963-64 Ranji Trophy season set amazing records for the Services team with his medium pace bowling, records which are highly unlikely ever to be matched.
Rao passed away in 1994. He was an avid golfer and represented the country in that sport later in life. It is quite likely he would have played Test cricket too had his playing career not been curtailed.
His records are a footnote in cricket history and statistical books and websites and yet are so amazing that even 55 years later they are scarcely believable!
In his first and only season, Rao became only the second Indian till then to claim a hat-trick on first-class debut (against Jammu and Kashmir) and then in his second match, grabbed not one but TWO separate hat-tricks in the second innings against Northern Punjab at Amritsar! And all this in the span of one incredible week in November 1963.
Only one cricketer before (Anglo-Australian legend Albert Edwin Trott in 1907) and none since have taken two hat-tricks in the same innings and only eight have taken two in the same match (separate innings).
But no bowler in the history of first-class cricket going back over 200 years has the distinction of three hat-tricks in the first two matches of their career as Rao accomplished.
So who was JS Rao? What is the story behind the war hero and these world records? And why did his career end after just five Ranji Trophy games and one season?
To get to the bottom of these long-standing mysteries that have for decades baffled the cricket world --- his photo has never been published in a cricket book or publication or website worldwide --- I got in touch with his widow Mrs Nandita Rao in New Delhi.
My first question to Mrs Rao, an accomplished golfer herself and chairperson, Ladies Committee, the Indian Golf Union was how someone born in Gurgaon, Haryana could have Rao for a surname? Mrs Rao explained with a chuckle that her late husband's real name was Rao Joginder Singh but that was switched when he joined the NDA (National Defence Academy) in Khadakwasla, near Pune as a 17-year-old --- and it stuck ever since!
It was a para training accident in 1964 in which he fractured his ankle that ended his brief, but brilliant cricket career --- that and the call of duty with war on the horizon. He saw action in the two wars against Pakistan and received the VSM (Vishisht Seva Medal), for "distinguished service of an exceptional order". He commanded the 411 Parafield Company of the Bombay Sappers from 1967 to 1969.
Maj Gen Rao is credited with redesigning the army golf courses at Delhi Cantonment and Dehradun. In 1984 in Paris and then in 1992 at Islamabad he represented India in amateur golf tournaments under the captaincy of former Test cricketer and well-known golfer and administrator Prakash Bhandari.
Married in 1969, their two sons Probir and Rahul followed their father into golf rather than cricket. Rahul in fact was sub-junior and junior national champion.
Rao's first match in the 1963-64 season at the Army HQ ground in Delhi was against domestic minnows Jammu and Kashmir. Services on the other hand were among the strongest in North Zone. J&K folded for 47 and 81 to lose by an innings and 68 runs inside of two days while Services, led by late Test player HT 'Bal' Dani declared with just one wicket down!
Rao, opening the bowling in tandem with Test player Raman Surendranath had figures of 6 for 24 from 13 overs in the first innings and 2 for 11 in the second. J&K lost six wickets with the score on 31 for two in the first innings with Rao getting the first three of those in a row.
The real sensation came at Amritsar's Gandhi Sports Complex ground on Nov 29, 30. Northern Punjab collapsed to 108 in their first innings, Rao going wicketless. Services scored 308 and then came the shocks of the second innings.
Facing a deficit of 200 runs, Northern Punjab lost batsmen nos. 2, 3, and 4 (Suresh Sharma, Brij Mohan Khanna and Bhupinder Singh) in succession to Rao and had staggered to 46 for 6 before captain Chamanlal Malhotra and wicket-keeper Rajinder Kumar Kale added 81 runs for the seventh wicket.
Now Rao came roaring back to prise out Kale, Ramnath Paul and 17-year-old Bishan Singh Bedi and the innings subsided to 132 all out; victory again in two days by an innings and 68 runs with Rao finishing with 7 for 30 from 12 overs.
Trott, a tragic figure who took his own life in 1914 is the only cricketer to play for both Australia and England in Test cricket. In 1907 at Lord's playing for Middlesex v Somerset he in fact took four wickets in four balls as part of his first hat-trick. Rao almost emulated that extremely rare feat, taking four wickets in five balls as part of his first hat-trick.
Even after 55 years, the legendary Bedi vividly recalled the match, reeling off details in an amazing display of memory. I opened by asking him: "what does the name JS Rao mean to you?" Pat came the reply: "double hat-trick".
Many of the participants of the historic match have passed away. Bedi is the youngest of the survivors; others I contacted were either unwell or could not jog their memories after all those years.
Rao played three more matches, against Southern Punjab, Delhi (who were the only team to qualify for the knockout stage from the zone) and Railways and though he could only take six more wickets in those remaining games, his first-class career record is brief but amazing (see box).
Maj Gen Rao passed away in New Delhi on October 3, 1994 after a brief illness. Today on his 80th birth anniversary its time the nation saluted this remarkable persona.
Disclaimer: Gulu Ezekiel is an independent sports journalist based in New Delhi and author of numerous cricket books
Close Story