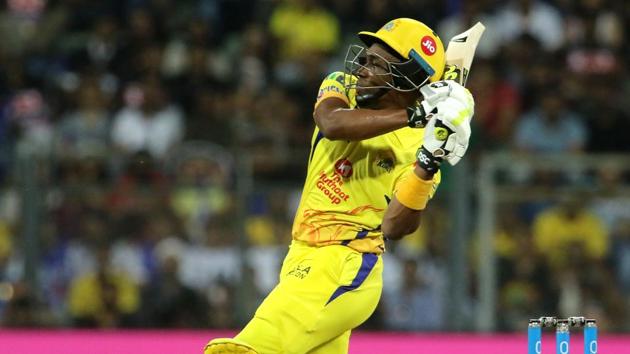 IPL 2018, highlights: Dwayne bravo scripts Chennai Super Kings' thrilling win vs Mumbai Indians
Get highlights of Mumbai Indians vs Chennai Super Kings, IPL 2018, Wankhede Stadium here. Dwayne Bravo's 68 and Kedar Jadhav's cameo helped Chennai Super Kings beat Mumbai Indians by one wicket.
UPDATED ON APR 08, 2018 12:07 AM IST
Chennai Super Kings looked dead and buried in the chase of 166 when Mayank Markande took three wickets. However, Dwayne Bravo played the knock of the ages as he blasted 68 off 30 balls to revive Chennai Super Kings against Mumbai Indians. When Dwayne Bravo fell, Chennai Super Kings needed 7 off the last over with Kedar Jadhav unable to run due to a hamstring injury. However, Jadhav held his nerve and slammed a six and a four off Mustafizur Rahman to seal a one-wicket win. Get highlights of Mumbai Indians (MI) vs (CSK) Chennai Super Kings, IPL 2018, Wankhede Stadium here (SCORECARD |STREAMING INFO)
00:06 hrs IST: Dwayne Bravo, Man of the Match: Want to dedicate this win to CSK fans. They waited so long for this moment. I'm happy. CSK have shown lot of faith in me. Wanted to give myself the best opportunity to start well. Here at Wankhede, once you bat deep, chances are you'll win the game.
00:05 hrs IST: MS Dhoni: CSK-MI is one game that people wait to watch. We're coming back after two years, that's also the reason that people are eager to watch us in action. I'm a practical person, so I was hoping in the dressing room that the quantum of defeat wasn't too big. The way Bravo batted, it was really good to see him take the responsibility. Don't think we batted well as a team. The kind of players we have got, our selection will be based on horses for courses.
23:59 hrs IST: Rohit Sharma: Feeling low at the moment. Credit to Dwayne Bravo, he played well, hit the right pockets. There was some dew and that didn't help us, but they played well. We need to improve our death bowling, we were in the game till the 17th over, the last three overs didn't go our way. We knew with 165 on the board, we needed to bowl very well, but I think we will 10-15 runs short. Bravo bowled very well in the end, we have got a great bunch of guys, we need to look into the positives and learn from it.
23:56 hrs IST: At 118/8 in 16.3 overs, the game seemed firmly in Mumbai Indians' grasp but Dwayne Bravo's epic knock helped CSK recover in stunning style and clinch the match on the final ball. Let us not forget Kedar Jadhav's role. Bad hamstring and all, he played two great shots to ensure CSK got over the line against MI.
23:48 hrs IST: Brilliant Kedar Jadhav as he creams a full ball past extra cover to seal a memorable win for Chennai Super Kings over Mumbai Indians. It has been a magnificent match. CSK looked dead and buried but Dwayne Bravo, the champion, played a knock for the ages to give CSK this win. What a return for the men in yellow after two years.
23:44 hrs IST: SIX! Kedar Jadhav, you beauty. Mustafizur bowls it short on leg stump, Jadhav bends down and shovels it over fine leg for a crucial six. Scores tied.
23:41 hrs IST: WICKET! Bravo miscues a full toss to extra cover and falls for a brilliant 68. Kedar Jadhav will come out to bat. Dwayne Bravo c Rohit b Bumrah 68 (30).
23:39 hrs IST: Almost rolls back onto the stumps, Bravo stops it with his bat and next ball, he hammers a low full toss over deep mid wicket for yet another six.
23:36 hrs IST: SIXES - Two back to back sixes by Dwayne Bravo and he blasts a magnificent fifty. What a knock this is turning out to be for CSK.
23:28 hrs IST: WICKET - Mumbai Indians near a win. Short ball from Pandya and Wood top-edges the pull to fine leg. CSK dug-out is mighty disappointed. Mark Wood c Mustafizur b Hardik Pandya 1 (3).
23:16 hrs IST: WICKET - CSK are collapsing in a heap. Short ball outside off, Harbhajan tamely upper-cuts to third man where he finds the fielder. Harbhajan Singh c Bumrah b McClenaghan 8 (5).
23:11 hrs IST: Bravo gets a four but the asking rate is now 12 per over, basically two per ball.
23:05 hrs IST: WICKET - Markande gets his third as Deepak Chahar dances down the track and looks to slog a legbreak but misses it and is stumped by a long way. Ends an impressive debut by the youngster. Deepak Chahar st Ishan Kishan b Mayank Markande 0 (1).
23:03 hrs IST: There is some concern regarding Jadhav's hamstring. Let us hope it is not that serious. In fact, it is serious. Jadhav is retiring hurt due to a hamstring issue.
23:00 hrs IST: Bravo breaks the shackles by dancing down the track and mauling Markande over long on for a big six. CSK need plenty of such hits.
22:57 hrs IST: WICKET - Chennai Super Kings sink further. Short of a length ball, the cutter from the Fizz, Jadeja skips down the track and mistimes the slog across the line, Suryakumar takes the catch at mid off. Ravindra Jadeja c Suryakumar b Mustafizur 12 (13).
22:52 hrs IST: Kedar Jadhav breaks the shackles with a big six over long on but the asking rate has touched 11. CSK need plenty of big hits.
22:49 hrs IST: Pandya and Markande are really putting CSK under pressure. The young legspinner in particular has been very impressive. His flattish googly in particular has been very hard to pick.
22:41 hrs IST: WICKET - That is a massive wicket and Mumbai Indians are delirious. Mayank Markande, remember the name. A flat googly on off stump, Dhoni hangs back and is trapped in front. MI appeal but umpire Chris Gaffaney does not give it out. Rohit reviews and replays show that the ball was hitting the stumps. MS Dhoni LBW Markande 5 (5).
22:34 hrs IST: Had Mumbai Indians gone for the review against Kedar Jadhav, he would have been out. He was out LBW. CSK fail to capitalise on a no-ball from Bumrah as they fall behind the run-rate.
22:28 hrs IST: WICKET - Mayank Markande strikes in his debut game. A googly from the young Mumbai legspinner, Rayudu attempts a pre-meditated sweep and is trapped in front. Ambati Rayudu LBW Markande 22 (19).
22:26 hrs IST: WICKET - Hardik Pandya strikes again. His brother helps him too in this case. Suresh Raina makes room and Pandya follows him with the short ball on leg stump, Raina miscues the pull and Krunal takes a good leaping catch at widish mid-on. Suresh Raina c Krunal Pandya b Hardik Pandya 4 (6).
22:21 hrs IST: Rayudu is looking in great touch. CSK's run-rate is close to eight but they will have to sustain the momentum.
22:14 hrs IST: Hardik ends the over poorly as Rayudu caresses a drive wide of the extra cover fielder for a boundary. 12 runs in Hardik Pandya's first over.
22:12 hrs IST: WICKET - Pandya gets his revenge. Short of a length slower ball on the pads, Watson looks to hoick it over deep mid wicket but miscues it totally and Evin Lewis takes the catch near the boundary. Shane Watson c Lewis b Pandya 16 (14).
22:10 hrs IST: SIX - Awesome shot from Watson as he creams a full ball outside off over deep extra cover for the first six of the Chennai Super Kings innings.
22:08 hrs IST: Good start from Jasprit Bumrah as only three runs are conceded in the third over. Watson looking in great touch.
22:02 hrs IST: Not a great start for Mustafizur Rahman in Mumbai Indians colours. Watson drills him past extra cover for two boundaries and Chennai Super Kings start well.
21:58 hrs IST: We are back for the Chennai Super Kings run chase. Mitchell McClenaghan starts proceedings and Ambati Rayudu gets going with a lofted boundary over extra cover.
21:42 hrs IST: Another great over from Dwayne Bravo and Mumbai Indians have ended on 165/4 after 20 overs. However, the innings has ended on a sore note with Hardik Pandya getting injured. As he turned back for the second, he jammed his ankle while colliding with Bravo and he had to be carried off the field. Let's hope that he is alright.
21:33 hrs IST: Two fours, followed by a big six by Krunal Pandya and Mark Wood has finished with figures of 4-0-49-0. Not a great start on his debut though. Mumbai Indians go past 150.
21:29 hrs IST: Just three runs in the 18th over. Superb bowling from Dwayne Bravo. Now, Wood has to step up from the other end and restrict the batsmen.
21:25 hrs IST: 19 runs in the 17th over bowled by Mark Wood. This will hurt CSK if they have to end on a good note.
21:20 hrs IST: Good 16th over from Dwayne Bravo as he gives away just four runs but Krunal Pandya blasts a six off Mark Wood over deep mid wicket. More big hits needed.
21:13 hrs IST: Krunal Pandya immediately get going with a boundary. It is upto the Pandya brothers to boost Mumbai Indians to a good score.
21:10 hrs IST: WICKET - The other set batsman is gone. Mindless swipe across the line and Ishan Kishan departs. Googly on off stump, Ishan Kishan toe-ends the slog sweep and holes out to short third man. Ishan Kishan c Mark Wood b Imran Tahir 40 (29).
21:07 hrs IST: Hardik Pandya gets going with two boundaries off Mark Wood. He will be the key if Mumbai Indians are to reach a score in excess of 170-180.
21:00 hrs IST: WICKET - Finally Chennai Super Kings break this stand. Good bowling from Watson. Short ball and climbing up on off stump, Suryakumar Yadav top edges the pull and is caught at deep backward square leg. Suryakumar Yadav c Harbhajan Singh b Watson 43 (29).
20:57 hrs IST: Three consecutive fours by Suryakumar off Dwayne Bravo. Mumbai Indians are capitalising against some loose bowling from Chennai Super Kings in the middle overs.
20:49 hrs IST: The partnership between Suryakumar and Ishan Kishan has gone past fifty. The run rate is approaching close to eight. This is good stuff from Mumbai Indians. Ishan, in particular, takes Imran Tahir to the cleaners with two fours and a six.
20:48 hrs IST: For the first time in the IPL, Mark Wood, the England pacer comes on to bowl. Starts off well and gives away just two runs.
20:41 hrs IST: Suryakumar Yadav and Ishan Kishan have stitched a solid partnership that has put Mumbai Indians on the right track. CSK need wickets after the end of the strategic time-out.
20:37 hrs IST: Ishan Kishan strikes two boundaries in Ravindra Jadeja's first over, one through mid wicket and other a late guide past Dhoni for a four to third man. Mumbai Indians have crossed 50.
20:33 hrs IST: For the first time in his IPL career, Harbhajan Singh bowls against Mumbai Indians. Surreal sight this as he dons the yellow jersey and concedes just four runs in his first over.
20:30 hrs IST: Suryakumar caresses a lovely boundary through extra cover and hoicks a length ball over deep mid wicket for a big six. 13 runs in the sixth over and Mumbai Indians are 39/2 after the end of the powerplay.
20:26 hrs IST: Suryakumar Yadav begins with a boundary but Chennai Super Kings will be incredibly happy with the wicket o Rohit Sharma. However, Mumbai Indians bat deep. After five overs, they are 26/2.
20:20 hrs IST: WICKET! Big wicket this for Chennai Super Kings. Shane Watson floats this full ball and it swings away slightly outside off stump, Rohit looks to muscle the lofted shot but gets a big top edge that is taken at backward point by Ambati Rayudu. Rohit Sharma c Ambati Rayudu b Shane Watson 15 (18).
20:18 hrs IST: Rohit Sharma holds the key for Mumbai Indians and he blasts an inside out lofted six over deep extra cover. Rohit has hit the first boundary and first six of the IPL 2018.
20:12 hrs IST: WICKET - a duck on debut for Evin Lewis. Full ball from Deepak Chahar and it swings back in, Lewis plays down the wrong line and is given out LBW. However, he reviews - the first time that the DRS has been used in the IPL. Pitching in line and clipping leg stump. Evin Lewis LBW Deepak Chahar 0 (2).
20:09 hrs IST: Shane Watson's first over of the game is an economical one, conceding just two runs. MI are 7/0 after two overs.
20:04 hrs IST: FOUR! Rohit plays out three dot balls before getting things started with a wonderful boundary on the fourth ball. He takes a single off the next ball before Evin Lewis plays out a dot ball. MI are 5/0 after the first over.
20:00 hrs IST: Rohit Sharma and Evin Lewis to open for MI; Deepak Chahar to bowl the first over for CSK.
19:58 hrs IST: This is it. The players emerge onto the field and the start of the game is mere moments away at this point.
19:52 hrs IST: Rohit Sharma at the toss: "We have prepared very well, we have come together as a group. It's time to perform."
19:47 hrs IST: Mumbai Indians have won both their opening game encounters against Chennai Super Kings. Will Rohit Sharma's side achieve a hat-trick or will MS Dhoni break the jinx?
19:41 hrs IST: Here are the playing XIs of both sides
Mumbai Indians: Evin Lewis, Ishan Kishan(w), Rohit Sharma(c), Hardik Pandya, Mayank Markande, Kieron Pollard, Suryakumar Yadav, Krunal Pandya, Mitchell McClenaghan, Mustafizur Rahman, Jasprit Bumrah
Chennai Super Kings: Shane Watson, Ambati Rayudu, Suresh Raina, Kedar Jadhav, MS Dhoni(w/c), Dwayne Bravo, Ravindra Jadeja, Harbhajan Singh, Deepak Chahar, Imran Tahir, Mark Wood
19:34 hrs IST: Mark Wood has been handed a debut for Chennai Super Kings while Mustafizur Rahman will play for Mumbai Indians for the first time.
19:31 hrs IST: Chennai Super Kings have chosen to bowl against Mumbai Indians in the opening game.
19:22 hrs IST: Right, we are only 10 minutes away from the toss. It is Dhoni vs Rohit, Captain Cool vs Hitman. Pollard vs Bravo, the battle of the two T&T guys
19:11 hrs IST: The opening ceremony is done. It is time for the action. This time, the IPL is different. There is no Thoko thali, no cheerleaders and no bollywood music from the studios. It is just a cricket discussion. Well, new broadcasters, new era.
19:02 hrs IST: Just getting news that Faf du Plessis will not play this match for CSK, so will Pat Cummins for Mumbai Indians. So, this throws the door open for either Mark Wood, Lungi Ngidi or Sam Billings to make their IPL debuts for CSK.
18:54 hrs IST: Even Mumbai Indians have a problem of plenty. However, they will witness a strange sight. Harbhajan Singh, who was part of Mumbai Indians for a long time, will be on the opposing camp and it will be interesting to see how he operates in the powerplay.
18:50 hrs IST: Chennai Super Kings have retained most of their core players, barring Ravichandran Ashwin. It will be interesting to see the overseas composition of the side. With Dwayne Bravo a certainty, maybe the other three foreign players will be Shane Watson, Imran Tahir and Faf du Plessis. However, they also have the likes of Mark Wood and Lungi Ngidi. They also have Sam Billings but they will be dented slightly by the unavailability of Mitchell Santner.
18:44 hrs IST: Before their suspension following the end of the 2015 IPL, Chennai Super Kings had won two titles while Mumbai Indians equalled their feat by winning the 2015 final in Kolkata. Rohit Sharma's side won the title yet again in 2017 when they defeated Rising Pune Supergiant by one run to become the most successful IPL team.
18:33 hrs IST: For all Chennai Super Kings fans, it will be an emotional moment when MS Dhoni leads the Men in Yellow out on the Wankhede stadium. The team is returning after two years and they will be determined to get their campaign off to a winning start.
18:24 hrs IST: A warm welcome to IPL 2018. It is time for the seven-week carnival of slam-bam, thank you ma'am cricket. The first match is a cracker, featuring the three-time champions Mumbai Indians and two-time champions Chennai Super Kings. However, before the match begins, there is a gala opening ceremony at the Wankhede stadium. You can catch all the updates here.
Chennai Super Kings will look to begin their campaign with a bang against MI in the latter's backyard. To give an extra dimension to the contest will be the sight of Harbhajan Singh turning out in CSK yellows against a side which he served with distinction for ten long years.
Mumbai Indians will bank on their skipper Rohit, who has kept the number of his batting position under wraps for this game, but his role will be crucial. Apart from him, they have the likes of Evin Lewis, Kieron Pollard, Ishan Kishan, Suryakumar Yadav and Pandya brothers.
CSK, on the other hand, have a pretty settled team as they have retained their core players like Dhoni, Suresh Raina and Ravindra Jadeja.
They also have Murali Vijay, Kedar Jadhav, Dwayne Bravo, Faf du Plessis, Sam Billings and Shane Watson to share the burden. On the bowling front, Harbhajan, Karn Sharma and Shardul Thakur are well versed with the conditions at the Wankhede.
Close