MI vs CSK IPL Final 2019 Highlights: Mumbai beat Chennai by 1 run to lift fourth title
Highlights: Lasith Malinga redeemed himself as he dismissed Shardul Thakur on the last ball of the match and with that Mumbai beat Chennai by 1 run to claim the title. This is Mumbai Indians' fourth crown and they became the first team to do so. Earlier, Kieron Pollard's 41* helped Mumbai Indians to 149/8 in 20 overs. As for CSK, Deepak Chahar finished with outstanding figures of 3/26. Imran Tahir and Shardul Thakur scalped two wickets each. Earlier, Mumbai Indians won the toss and skipper Rohit Sharma elected to bat first against Chennai Super Kings.
Follow IPL Final, MI vs CSK Highlights below -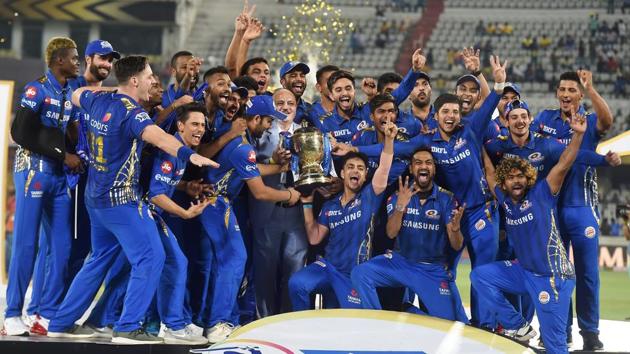 Updated on May 13, 2019 01:57 AM IST
00:26 hrs IST
Captains corner
MS Dhoni: I think the bowlers did very well for us. It wasn't a 150 wicket but they managed to do so. Nothing agains the bowlers but batting could have been better.
Rohit Sharma: We have a squad of 26 players and everyone came in chipped in for us. Our bowling this season was excellent. Bowlers brought up back in the tournament and today also.
00:23 hrs IST
Cap holders
Orange Cap: David Warner (SRH) - 692 runs
Purple Cap: Imran Tahir (CSK) - 26 wickets
MVP: Andre Russell (KKR) - 510 runs and 11 wickets
00:18 hrs IST
More awards
Subhman Gill (KKR): Emerging player of the year
Sunrisers Hyderabad (SRH): Playing in right spirit award
Hardik Pandya (MI): Fastest fifty of the season
Andre Russell (KKR): Super striker of the season
KL Rahul (KXIP) : Stylish player of the season
Rahul Chahar (MI): Gamechanger of the season
4 CHAMPIONS OF THE 4-TIME IPL CHAMPIONS 🏆🏆🏆🏆#OneFamily #CricketMeriJaan #MumbaiIndians #IPL2019Final #MIvCSK @rdchahar1 @KieronPollard55 @Jaspritbumrah93 @hardikpandya7 pic.twitter.com/CdUvYgolcZ

— Mumbai Indians (@mipaltan) May 12, 2019
00:14 hrs IST
Man of the match: Jasprit Bumrah
'It was one of those day when everything fell into place for me. I was very clear in my mind regarding every ball and am very happy to have contributed in the team's success."
00:10 hrs IST
Award ceremony
Shardul Thakur wins the award for the best catch of the night. Faf du Plessis wins the award for most sixes on the night. Rahul Chahar wins game changer award of the match. Jasprit Bumrah has been named the man of the match for his outstanding figures of 4/14.
23:55 hrs IST
Who said what
What a game 😯😯. @IPL final at its best. Congrats @ImRo45 & @mipaltan 💪💪

— JP Duminy (@jpduminy21) May 12, 2019
Speechless! What a way to become champion. It was absolutely thriller! Top class bowling from @Jaspritbumrah93 & Malinga was brilliant in the last over! Congratulations to @ImRo45 & @mipaltan for yet another crown! #IPL2019 #IPLFinal

— Mustafizur Rahman (@Mustafiz90) May 12, 2019
Akash Ambani: We are #OneFamily. We back everyone to the tee. Right from the players to the champions.
#CricketMeriJaan #MumbaiIndians #IPL2019Final #MIvCSK

— Mumbai Indians (@mipaltan) May 12, 2019
Mumbai win!!!
Congratulations @mipaltan 💙💙💙💙 #IPL2019Final
Hard luck #CSK. Very well played.

— Abhishek Bachchan (@juniorbachchan) May 12, 2019
23:45 hrs IST
Key moments of the match
Sachin Tendulkar after the end of the match points out that MS Dhoni's run-out was the turning point of the match. He also lauded Jasprit Bumrah for turning the match in favour of his team after an expensive over from Lasith Malinga.
23:40 hrs IST
MI hold their nerves
Mumbai held their nerves in the final over while Chennai couldn't do so and perished. Shane Watson's run-out effectively cost them the game in the end as Shardul Thakur was trapped LBW on the last ball of the match. Mumbai once again recorded a comeback win in the final, same as they did against Rising Pune Supergiant couple of years ago.
#OneFamily, Champion Family 🏆🏆🏆🏆#OneFamily #CricketMeriJaan #MumbaiIndians #IPL2019Final #MIvCSK pic.twitter.com/NQKZ0g9Bxc

— Mumbai Indians (@mipaltan) May 12, 2019
23:34 hrs IST
Mumbai Indians win
Lasith Malinga redeems himself as he dismisses Shardul Thakur on the last ball of the match and with that Mumbai beat Chennai by 1 run in the end. Chennai fans cannot believe their luck as Mumbai lift the historic fourth title. They are now officially the most illustrious team in the history of the competition.
23:27 hrs IST
Watson falls for 80
Poor piece of running between the wickets by the two batsmen and it has resulted in the wicket of Shane Watson at the non-striker's end. Chennai now need 4 runs off 2 balls as Shardul Thakur comes out to bat.
23:23 hrs IST
de Kock fluffs his lines
Wicket-keeper Quinton de Kock lets the ball go in between his gloves for a boundary and bowler Jasprit Bumrah can't believe his luck and nor could Rohit Sharma. de Kock hangs his head in shame as this should have been a dot ball. Chennai need 9 off the last over now.
23:18 hrs IST
Bumrah strikes!
Jasprit Bumrah once agains turns the match in favour of Mumbai as he gets rid of Dwayne Bravo on the second ball of the penultimate over. CSK need 17 off 10 as Jadeja joins Watson in the middle.
23:14 hrs IST
What an over for CSK!
Shane Watson is simply unstoppable at the moment as he hits Krunal Pandya for three massive sixes in the 18th overs. The first one went over extra cover, second flew straight down the ground and the third me muscled over deep mid wicket. 20 runs came from that over as CSK neeed 18 off last two overs.
23:09 hrs IST
Excellent over from Bumrah
Jasprit Bumrah keeps things super tidy as he bowls a four-run 17th over to pile on the pressure on the batsmen. Chennai now need 38 runs off 18 deliveries with Watson and Bravo look to up the ante in the final three overs. The match has gone right down the wire. Fasten your seatbelt folks as it is not going to an easy ride.
23:05 hrs IST
Chahar drops Watson
Rahul Chahar may just have dropped the IPL trophy as he drops a sitter at mid-wicket ropes. Watson top edged the ball straight down his throat but somehow he spilled it. MI players can't believe their luck as Watson survives on 56.
23:00 hrs IST
Fifty for Watson
Shane Watson seems to have upped the ante in just the right moment as he hits Lasith Malinga for three boundaries in the over after Dwayne Bravo hit him for a huge six off the first delivery. Watson completes his half-century as Malinga concedes 20 runs off the over. Chennai are right in the game as the match heads for a close finish.
22:54 hrs IST
Chennai need a big over
Another good over for MI as Mitchell McClenaghan concedes just 3 runs off the over. Chennai now need 62 off 30 deliveries and one would feel that Mumbai are firmly on top of the match at the moment. Three wickets in quick succession have put MI in front in the match.
22:47 hrs IST
Dropped
Rahul Chahar had the chance to inflict further damage on CSK he drops a Shane Watson catch off his own bowling. Watson survives on 42 and this may just come back to haunt Mumbai Indians. Chennai need a partnership now to bail them out of trouble.
22:41 hrs IST
Dhoni adjudged out
Ishan Kishan hit the stumps directly from long-off after a mix-up between the fielders. Replays showed that Dhoni was just a metre out of the crease when the ball crashed into the stumps. Two angles were shown to the third umpire and it seemed inconclusive. Third umpire gave it as out after looking at the front angle which showed Dhoni was out of the crease. Chennai are four down now as Mumbai are on top at the moment.
22:34 hrs IST
Dhoni starts steady
MS Dhoni takes seven balls to get off the mark as he was content with keeping Bumrah and Chahar at bay. On the last ball of the Chahar over, Watson hits a boundary towards fine leg to release some of the pressure.
22:29 hrs IST
Rayudu departs now
Jasprit Bumrah has done the trick for MI yet again as he gets rid of Ambati Rayudu for 1. Rayudu with a poor attempt to a pull shot and ends up giving an easy catch to de Kock. Chennai have lost their third of the night as MS Dhoni comes out in the middle.
22:26 hrs IST
Stat attack
Suresh Raina departs for 8 (14) and this is the third consecutive times that he has been dismissed by a spinner. Fifth single digit score for him in this IPL. His four innings vs MI this IPL: 8 (14), 5 (7), 2 (4), 16 (15)
22:23 hrs IST
Raina wastes the review
Rahul Chahar trapped Suresh Raina in front of the wicket and he was adjudged out by the umpire. Raina went for the DRS but replays showed that he was plumb. Chennai have lost their second wicket in chase as Raina departs for 8 off 14.
22:19 hrs IST
Malinga drops Watson
Shane Watson survives on 31 as Lasith Malinga drops a tough high catch at square leg. McClenaghan produced a top edge off Watson and it went towards Malinga but he couldn't read the line of the falling delivery and was some distance off it in the end. 10 runs off the over from McClenaghan.
22:15 hrs IST
Chahar keeps things tight
Rahul Chahar piles on the pressure on CSK batsmen as bowls a three-run over. Mumbai need wickets because CSK are taking singles and doubles for run with an occasional boundary.
22:11 hrs IST
Good over from McClenaghan
McClenaghan may not have picked up a wicket in the over but it was good one for MI. He gave away just four runs and kept the batsmen on their toes. MI need wickets to have any chance of winning the title tonight.
22:05 hrs IST
Raina survives on 4
Mitchell McClenaghan bowled the ball short and Suresh Raina poked at it. All the players went up in air and the umpire said out. Raina went for the DRS and it showed there was no edge. Mumbai players aren't happy as they were confident that the ball had hit Raina's glouves.
21:59 hrs IST
Watson shows his power
Shane Watson is on the attack now and he hammers Lasith Malinga for 15 runs in the over. He hit two boundaries and a huge six to put the pressure on the bowler. Chennai have also gone past the 50-run mark in great style.
21:54 hrs IST
Good over from Bumrah
Shane Watson and Suresh Raina are just trying to take singles and doubles at the moment without taking too many risks after the fall of Faf du Plessis. Five runs came from that over off Jasprit Bumrah. Lasith Malinga to bowl his second over now.
21:48 hrs IST
4,6,4,0,Out
Faf du Plessis hit Krunal Pandya all over the park in the over but on the last ball he gets rid off him as the South African is stumped by Quinton de Kock for 23 off 13. Mumbai pick their first wicket of the night as CSK are 33/1 in four over.
21:43 hrs IST
Four bonus runs
Lasith Malinga had bowled a good over until them but on the last ball, CSK get 5 runs as Ishan Kishan throws the ball for a boundary at the non-striker's end in trying to run-out Faf du Plessis.
21:38 hrs IST
Half-chance
Krunal Pandya produced a leading edge off Shane Watson's bat and dove full length to his left but couldn't get near the ball. It was tough chance but a chance none the less. Watson then hits a boundary towards covers to make it 5 runs from the over.
21:34 hrs IST
First four of the innings
McClenaghan bowled wide and short and du Plessis slapped the ball past the cover fielders for a boundary. Seven runs from the first over of the innings as CSK are off to a fine start in the chase.
21:27 hrs IST
Chase begins
Faf du Plessis and Shane Watson are opening the innings for Chennai while Mitchell McClenaghan has the new ball in his hand and he will bowl the first over of the innings. If Mumbai are to win this match, this powerplay remains crucial for them.
21:21 hrs IST
Stat attack
Mumbai Indians finish the first innings for 149/8. This is now the 4th lowest first innings total in IPL finals. Mumbai Indians: 129/8 in 2018 against Rising Pune Supergiant take the top spot in this unwanted list.
21:16 hrs IST
Innings over
Kieron Pollard hits a boundary on the last ball of the over as Mumbai Indians finish at 149/8 in 20 overs. Kieron Pollard remains not out on 41 and top scored for them. As for CSK, Deepak Chahar finished with outstanding figures of 3/26. Imran Tahir and Shardul Thakur scalped two wickets each.
21:11 hrs IST
Flashpoint in last over
Dwayne Bravo bowled the ball outside the wide line but it was given as a wide. On the next delivery, Pollard walked off the pitch, so as to revolt against the previous delivery not given as a wide. The umpires are now having a chat with Pollard.
21:06 hrs IST
Chahar gets Chahar!
Deepak Chahar now accounts for the wicket of his brother Rahul as the right hander hits the ball into the hands of Faf du Plessis as mid-off. Deepak Chahar picks his third wicket of the night as he ends the 19th over with two wickets and just four runs.
21:03 hrs IST
Chahar gets Hardik
Deepak Chahar bowls a yorker and Hardik Pandya missed it completely and got wrapped on his pads. The umpire raised his finger but Hardik went for the DRS. Replays showed that there was no inside egde and he was adjudged LBW by the third umpire. Hardik departs for 16.
20:57 hrs IST
Raina drops Hardik
Hardik Pandya (4) top-edged a Shardul Thakur delivery and the ball was going towards the covers boundary. Suresh Raina got to the pitch of the delivery but dropped the ball. Kieron Pollard and Hardik Pandya both hit huge sixes in the over to make it 16 runs from the over. Raina may just have dropped the title there!
20:54 hrs IST
Huge hit from Pollard
Imran Tahir drops the ball short and Kieron Pollard rocked on the back foot and pulled the ball over mid wicket boundary for a huge six. 10 runs from the over from Tahir as Pollard is looking to finish the innings on a high.
20:49 hrs IST
Pollard shows his power
Kieron Pollard hits the ball towards extra cover and Deepak Chahar came in to catch the ball. But the ball landed just in front of him and went for a boundary. 8 runs from the over from Jadeja as MI look to get a move on in the final few overs.
20:45 hrs IST
Tahir picks his second
Imran Tahir has struck for the second time in the match as he gets rid of Ishan Kishan for 23. The southpaw went for the slog sweep but top edged it. Suresh Raina took an easy catch at point to send back Kishan. Mumbai are five down now.
20:42 hrs IST
Mumbai cross 100
HT's Somshuvra Laha from Rajiv Gandhi International Stadium in Hyderabad: Kieron Pollard launches into Tahir for a towering six. Giant screen flashes 'K-Iron Man'. With that, Mumbai have also crossed the 100-run mark.
20:37 hrs IST
Jadeja keeps things tidy
Ravindra Jadeja comes into the attack and he keeps things tight as well. The left-arm spinner gives away just four singles off the over as MI are struggling for boundaries at the moment. CSK are firmly on top of their opponents at the moment.
20:32 hrs IST
Shardul takes a stunner
Shardul Thakur picks his second wicket of the night as he gets rid of Krunal Pandya for 7. He produced and edge off the bat of Krunal and ran towards leg slip and picked up a great juggling catch before falling on the ground. Mumbai have lost their fourth wicket now and are staring down the barrel.
20:28 hrs IST
Tahir strikes
Nobody can keep Imran Tahir out of the match as he comes into the attack and strikes in his first over itself. Suryakumar Yadav inside edges the ball on to the stumps as Mumbai have lost their third wicket. Also, Tahir is now at the top spot in the list of most wickets this season along side Kagiso Rabada with 25 wickets.
20:24 hrs IST
Four and four
Another expensive over for CSK as Harbhajan Singh concedes 10 runs from the over and couple of boundaries as well. Suryakumar Yadav hit the ball towards long on where Ravindra Jadeja made an excellent attempt to catch it but the ball was too far. Kishan then hit the ball towards long-on for a boundary as well.
20:20 hrs IST
Four and four
Ishan Kishan seems to have had enough as he takes the attack to Dwayne Bravo and hits him for couple of boundaries in the over. The first one he hit down the ground while the second he flicked past the fine leg fielder. 12 runs off the over from Bravo as MI look to get a move on after a slow few overs.
20:17 hrs IST
Players take a break
HT's Somshuvra Laha from Rajiv Gandhi International Stadium in Hyderabad: First timeout taken after nine overs. Dhoni forms huddle knowing the rampage has been nipped. MI were 30/0. They are now 58/2. Hardik Pandya and the thinktank comprising Mahela Jayawardena, Robin Singh and Zaheer Khan go the field.
20:13 hrs IST
Bhajji on the money
MI batsmen are currently struggling for boundaries as CSK bowlers are right on the money. Harbhajan Singh now gives just 5 runs off his over as Mumbai Indians are moving along a very slow pace.
20:10 hrs IST
Excellent first over from Bravo
Dwayne Bravo keeps things tight as he concedes just three singles off his first over of the innings. MI batsmen are looking to just take singles at the moment as losing a wicket here will put even more pressure on them. The two batsmen are just looking to weather the storm.
20:05 hrs IST
Mumbai cross 50
Harbhajan Singh keeps things tidy and gives away just 5 singles in his second over of the innings. This is the perfect time for the spinners to operate as MI are trying to rebuild after the loss of two wickets. Suryakumar Yadav and Ishan Kishan are looking to steady the ship.
20:00 hrs IST
Rohit falls now
Deepak Chahar returned into the attack he gets rid of dangerman Rohit Sharma. The right hander edges the ball into the hands of MS Dhoni and have lost two wickets in quick succession. Rohit departs for 15. CSK have hit back strongly in the match after a poor start. A wicket maiden from Deepak Chahar after an abysmal start. He now becomes on the 2nd bowler after Jofra Archer to have bowled 2 maiden overs in this IPL.
19:55 hrs IST
First wicket of the match
Shardul Thakur was hit for a massive six down the ground by de Kock down the ground but the medium pacer hit back by getting rid of him for 29. de Kock top edged the delivery into the hands of keeper Dhoni and gave him a send off as well. 8 runs and a wicket from that over from Shardul.
19:50 hrs IST
First four of the innings
MS Dhoni introduced Harbhajan Singh into the attack in order stop the flow of runs. He gave away just three singles of the first five deliveries but Rohit swept the ball for a boundary towards square leg. Seven runs from the over from Bhajji as MI motor on.
HT's Somshuvra Laha from Rajiv Gandhi International Stadium in Hyderabad: Chahar taken out of the attack. Rohit faced just 1 ball from Chahar. de kock hit 21 runs off the remaining 11 deliveries
19:45 hrs IST
SIX, SIX and SIX
Quinton de Kock now flexes his muscle and hits two sixes of Deepak Chahar. The southpaw pulls one over mid wicket and then hits one over the third-man. We have seen three boundaries tonight and all three have been sixes. On the penultimate delivery, de Kock hits the ball over long-off for the third six of the over. 20 runs from the over from Chahar.
HT's Somshuvra Laha from Rajiv Gandhi International Stadium in Hyderabad: Quinny on the money! flashes the giant screen.
20:40 hrs IST
First six of the final
Shardul Thakur drops the ball a bit short and Rohit Sharma plays the pull shot for the first six of the innings. The ball seems to be lost in the crowd as umpires have called for a spare ball. 8 runs came from the second over as MI are off to a steady start in the match.
HT's Somshuvra Laha from Rajiv Gandhi International Stadium in Hyderabad: Rohit hits the first six and the ball can't be located. the lower stand is being combed but umpires have decided to take another ball.
20:35 hrs IST
Good first over for CSK
Deepak Chahar sets the tone for Chennai early on in the innings as he gives away just 2 singles off it. Rohit Sharma and Quinton de Kock are looking to get their eye in before taking the attack to the bowlers. Shardul Thakur to bowl the second over.
19:28 hrs IST
Match begins
The players are making their way into the middle and we are about to get underway here in Hyderabad. MS Dhoni has called his team into a huddle and is issuing a rallying cry to spur them on. Quinton de Kock and Rohit Sharma will be opening the innings for MI. Deepak Chahar will bowl the first over of the match.
📸📸

🧡#IPLFinal2019 pic.twitter.com/Jah83tbDhj

— IndianPremierLeague (@IPL) May 12, 2019
19:21 hrs IST
Stat attack
4: The winner in this match will be IPL champion for the 4th time, most times a franchise has won the IPL championship
1: Chennai is the only team to the IPL finals in consecutive seasons
3: Number of finals Mumbai has won since 2013, all in odd years (2013, 2015,2017)
52: Runs required by Suresh Raina to surpass Virat Kohli as the top run scorer in the IPL
117: Runs required by Rohit Sharma to complete 5000 IPL runs. He may become the 3rd player to score 5000 IPL runs after Kohli and Raina
42.59: MS Dhoni's average of 42.59 is the 5th best in the league. His average of 44.83 is the best for CSK in the IPL o His average of 103.50 is the best this season
39: 50+ scores Suresh Raina has in the IPL, 3rd most after David Warner and Virat Kohli. His 33 fifty plus scores for Suresh Raina while playing for CSK is the most by a CSK player
19:15 hrs IST
Last-minute practice for CSK
HT's Somshuvra Laha from Rajiv Gandhi International Stadium in Hyderabad: Last minute wicket to wicket bowling practice for CSK bowlers. Off stump and leg stump on both ends have been tied by a tape across the pitch as a marker for bowlers. All players have left the ground but deepak chahar only person still bowling. much will depend on him if CSK need early breakthroughs
19:08 hrs IST
Playing XIs
Mumbai: Rohit Sharma(c), Quinton de Kock(w), Suryakumar Yadav, Ishan Kishan, Krunal Pandya, Hardik Pandya, Kieron Pollard, Rahul Chahar, Mitchell McClenaghan, Jasprit Bumrah, Lasith Malinga
Chennai: Faf du Plessis, Shane Watson, Suresh Raina, Ambati Rayudu, MS Dhoni(w/c), Dwayne Bravo, Ravindra Jadeja, Harbhajan Singh, Deepak Chahar, Shardul Thakur, Imran Tahir
19:01 hrs IST
Toss update
Mumbai Indians have won the toss and elected to bat first against Chennai Super Kings. CSK skipper MS Dhoni reveals during the toss that they were looking to bowl first anyway so it changes nothing for them.
18:25 hrs IST
Good news!
HT's Somshuvra Laha from Rajiv Gandhi International Stadium in Hyderabad: It takes almost 30 mins to get into the stadium from the metro station. This is a special day for Hyderabad. Since the IPL final will may stretch till 11:30 PM, the good folks of Hyderabad Metro have decided to extend services till 1 am. They are also asking commuters to buy return tickets before they head out to the stadium.
18:50 hrs IST
Fan shares 'how to tackle CSK' plan
Pundits have given the favourites tag to MI ahead of the IPL 2019 final at Hyderabad on Sunday. But that hasn't stopped a fan from drafting a plan for MI on how to tackle CSK in the IPL final.In a letter shared on social media, the fan listed out eight points to get the better of CSK.
Fan made plan to tackle the #Yellove Brigade tomorrow! Bringing the infor-MI-tion to your notice, Super Coach @SPFleming7! 🧐 #WhistlePodu 🦁💛 https://t.co/dDts0U3Rlg

— Chennai Super Kings (@ChennaiIPL) May 11, 2019
18:45 hrs IST
Vaughan picks his winner
Former England skipper Vaughan still believes that CSK will come out victorious and successfully defend their crown. Vaughan's social media post read: "Rattler time to London ... #IPL Final ... @ChennaiIPL to win me thinks.
The #Yellove sun shines, making way for the super kings into the #IPL2019Final! #WhistlePodu #CSKvsMI 💛🦁 pic.twitter.com/QC9SlxUS1r

— Chennai Super Kings (@ChennaiIPL) May 12, 2019
18:40 hrs IST
Predicted XIs
Mumbai: Quinton de Kock, Rohit Sharma, Suryakumar Yadav, Ishan Kishan, Krunal Pandya, Hardik Pandya, Kieron Pollard, Rahul Chahar, Mitchell McClenaghan, Lasith Malinga, Jasprit Bumrah
Chennai: Shane Watson, Faf du Plessis, Murali Vijay, Suresh Raina, Ambati Rayudu, MS Dhoni, Ravindra Jadeja, Dwayne Bravo, Harbhajan Singh, Imran Tahir, Deepak Chahar
18:35 hrs IST
Game-changer in this clash
For Dhoni, his instincts and feel of the game have always trumped the trusted methods, but if we are to take a look at the numbers this season, there is a trend which cannot be ignored. CSK have struggled to get going in the powerplays, the openers have just not been to fire which reflects in the numbers. The yellow brigade have only managed to score 581 runs at an average of 20.03 and with a strike rate with 100.35. In comparison, Mumbai Indians have dominated this phase and have managed to score 705 runs at an average of 47 and with a strike rate of 137.07.
Hitman's blue brigade will take on MS Dhoni's yellow army in the Final of #VIVOIPL 2019.

What is your prediction for the game?

💙 vs 🧡 pic.twitter.com/khYasw83ik

— IndianPremierLeague (@IPL) May 12, 2019
18:30 hrs IST
Player battle - de Kock vs Harbhajan
Quinton de Kock has been very dangerous at the top of the order for Mumbai Indians. He has a simple approach of going after the bowling in the Powerplay. He is the main reason why MI have scored 705 runs in the Powerplay, 3rd highest this season. CSK will count on Harbhajan Singh to put the brakes on de Kock. The veteran off spinner got the better of de Kock in the Qualifier 1 a few days ago and the kind of form he is in; there is every possibility of a reoccurrence of the event on Sunday in the final.
18:23 hrs IST
Player battle - du Plessis vs Malinga
We will stick our neck out and say this could determine the winner of the IPL final. Such has been the impact of du Plessis in the last few matches of the season that it has become imperative to dismiss him early for any side wishing to beat CSK. MI has to bank on the experience of Lasith Malinga for that. Du Plessis has a horrible record against the Sri Lankan legend. He only has a strike rate of 54.84 – the lowest for du Plessis against any bowler in IPL – and has been dismissed twice by Malinga.
18:17 hrs IST
Player battle - Watson vs Bumrah
CSK have had a set pattern of building a strong foundation for big hitters like Dhoni and Bravo. Shane Watson has been in the centre of that plan with opening partner Faf du Plessis. MI have somehow got to find a way to separate Watson and du Plessis early and who better than Jasprit Bumrah to do it. Bumrah has a very good record against Watson. Not only has he dismissed the Australian twice but he also concedes less than a run-a-ball.
18:11 hrs IST
Player battle - Dhoni vs Krunal
Dhoni has been an adhesive between the top and lower order of CSK. Take out Dhoni and the CSK batting looks pale, weak. Dhoni has been at his best in the last 5 overs of the innings. The CSK captain has scored the most runs in the last 5 overs of IPL than anybody else. He has a set approach for that, he takes time to settle in, assesses the conditions and then goes for the onslaught towards the end. But that might not be easy against MI in the final of IPL 2019. Mumbai Indians have two very good spinners in Krunal Pandya and Rahul Chahar who can stop Dhoni on his tracks. Krunal in particular has given Dhoni a hard time. Dhoni may not have got out but he only has a strike rate of 89.47 against Krunal. And in the final, he might not have the luxury to play Krunal out as leggie Chahar would be operating from the other end with his own set of tricks.
Roar whistles if you can't wait to watch this super #Thala warm-up routine! #WhistlePodu #Yellove #IPL2019Final #CSKvMI 💛🦁 pic.twitter.com/3Cwmfx5Vak

— Chennai Super Kings (@ChennaiIPL) May 12, 2019
18:05 hrs IST
Reason for MI's sustained success
"Our preparation, not just before IPL but right after the tournament, is the key factor. Right after the tournament last year where we didn't qualify, we started deciding which players to target at the auctions. For this, the scouting team has to be given a lot of credit. "We have spoken to the guys about not getting too emotional about the final and not think too far ahead. That has helped too," Rohit said on the eve of the clash.
17:59 hrs IST
Dhoni on cusp of multiple records
With 414 runs, this has been Dhoni's best IPL season and for long it looked like he was carrying the weight of the Super Kings batting on his own. He averages 103.50 this season, which is the best. If he scores 48 more runs, this season will become his most prolific. Also, if he walks in early and has enough time to score 86 runs, he will breach the 500-run mark for the first time in his IPL career. Also, he needs to smack four sixes to overtake AB de Villiers as the second-highest six-hitter in the league. As far as wicket-keeping is concerned, Dhoni needs just two more to overtake Dinesh Karthik as the keeper with most dismissals in the IPL.
17:52 hrs IST
Pitch report
The man responsible for preparing the strip for IPL final, BCCI curator YL Chandrasekhar Rao promises a sporting wicket for the title clash. "I want to succeed once again and we are working on the wicket and also the ground to meet the best of the standards. It's going to be a good wicket. We already have two wickets ready and the third one is being readied," Rao told TOI ahead of the IPL 2019 final.
17:46 hrs IST
Prize money for the final
Apart from the trophy and a fourth IPL crown, the winning skipper will also march away with a prize money of ₹20 crore. 50 per cent of this prize money will go to the franchise and the rest of the amount will be divided between the players. The runner-up will also be richer by ₹12.5 crore. The third and fourth teams in playoffs, will get ₹10.5 crore and ₹8.5 crore respectively.
🤝🚫 Friendships can wait tonight 😋#OneFamily #CricketMeriJaan #MumbaiIndians #IPL2019Final #MIvCSK @ImRo45 @msdhoni pic.twitter.com/LN6HsKKQaZ

— Mumbai Indians (@mipaltan) May 12, 2019
17:39 hrs IST
2015: Rohit leads MI to second title
Mumbai Indians won their second title by defeating Chennai Super Kings in the final for the second time in three years. Batting first, Mumbai posted a commanding total of 202/5 in 20 overs, courtesy of half-centuries from Lendl Simmons and Rohit Sharma. Chasing the mammoth target, Chennai kept losing wickets at regular intervals and no one apart from Dwayne Smith (57) resisted the in-form MI bowlers. The second highest score of the innings was by Suresh Raina who score 28 as CSK eventually folded out for 161/8 in 20 overs.
17:31 hrs IST
2013: Pollard ends MI's title drought
Batting first, MI top-order crumbled and they were struggling at 16/3 at one point. Dinesh Karthik (21) and Ambati Rayudu (37) steadied the Mumbai ship but Kieron Pollard's onslaught helped them to a fighting total. Pollard slammed 60 off 32 deliveries to fire MI to 148/9 in 20 overs. Dwayne Bravo was chief architect of MI's low score as he scalped four wickets for 42. CSK's chase was marred by early wickets as they lost the wickets of Michael Hussey, Suresh Raina and Subramaniam Badrinath for just three runs on board. MS Dhoni played a gem of an innings but his 45-ball 63* went in vain as MI won the match by 23 runs.
17:26 hrs IST
2010: Raina fires CSK to maiden title
Batting first, Chennai posted a fighting total of 168/5 in 20 overs. Suresh Raina was the top-scorer for CSK as he struck a 35-ball 57, including three fours and sixes each. Sri Lanka pacer Dilhara Fernando was the pick of the bowlers for Mumbai as he ended with outstanding figures of 2/23 in four overs. Chasing the target, MI got off to the worst start possible as Shikhar Dhawan was dismissed for a duck. Sachin Tendulkar (48) held the innings from one end but wickets kept falling on the other as MI innings folded at 146/9 and they lost the match by 22 runs.
17:20 hrs IST
Few days break for MI
Mumbai will be well rested following a four-day break and backing themselves for a fourth win over Dhoni's side this season and fourth IPL title. They won the Qualifier 1 against CSK on Tuesday and are playing the Final after a substantial gap. CSK on the other hand needed to beat DC to enter the final on Friday.
17:13 hrs IST
Record in finals
Rohit Sharma-led Mumbai can certainly take confidence out of the fact that they have won three out of the four finals they have been part of, including the two against CSK in 2013 and 2015. For three-time champions CSK, who have entered their eighth final, it has been another remarkable season after last year when they made a triumphant return having serving a two-year suspension.
17:07 hrs IST
Head to head this season
Mumbai remain the clear favourites to win an unprecedented fourth title as they have already beaten Chennai three times this term — twice in league stage and once in Qualifier 1. So, form and head to head record suggest that MI will get the better of CSK at the home of 2016 champions Sunrisers Hyderabad.
17:00 hrs IST
Hello and welcome
A very warm welcome to the live blog of the Indian Premier League Final between Mumbai Indians and Chennai Super Kings. Both teams are gunning for an unprecedented fourth IPL crown in Hyderabad. MI have the upper hand in this clash as they have already beaten CSK thrice this season and will look to continue the momentum and win the top prize.
Close Story