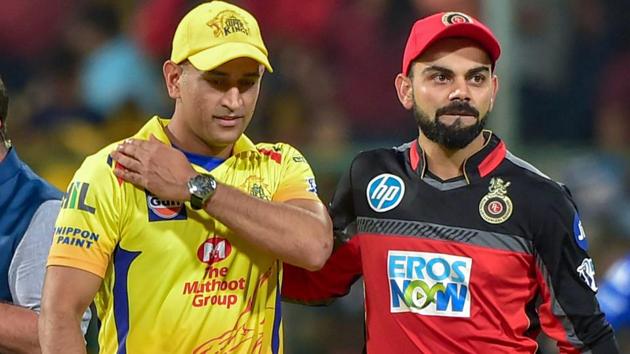 MS Dhoni lauds spinners, Virat Kohli rues dropped catches as CSK beat RCB
MS Dhoni was all praise for the Chennai Super Kings spinners while Royal Challengers Bangalore Virat Kohli rued the dropped chances as CSK defeated RCB in their Indian Premier League (IPL) 2018 encounter on Saturday
Press Trust of India, Pune | By Press Trust of India
UPDATED ON MAY 05, 2018 11:35 PM IST
Mahendra Singh Dhoni praised his spinners Ravindra Jadeja and Harbhajan Singh for their stellar show while his opposite number Virat Kohli rued the dropped catches during Chennai Super Kings' six-wicket win against Royal Challengers Bangalore in an Indian Premier League (IPL) match in Pune on Saturday. (HIGHLIGHTS)
"Spinners did not get turn (from the track) and I felt they needed to bowl really well. That's where Bhajju pa (Harbhajan) and Jadeja did well. On surfaces such as these, Jadeja bowls really well. He got Virat and then AB getting out (to Harbhajan) early helped him. We bowled well as a team," Dhoni said after the match. (SCORECARD)
Kohli, on his part, referred to the dropped catches of Dwayne Bravo by Parthiv Patel and Yuzvendra Chahal. Chennai were in trouble at that stage but chances went abegging.
"It was a close game. Dropped catches don't help," Kohli said.
"It wasn't the ideal day for us: losing so many wickets. But that's how this game goes. We gave a really good effort in the second half. The wicket played slow throughout which was surprising. Had we taken or chances, we could have made it harder for themselves," the RCB skipper lamented.
For Dhoni, the biggest concern right now is to sort out his bowling combination before the Play-Offs.
"What we're slightly worried about is the bowling department - if you see the first few games, there was no individual, who stepped up and said he could bowl in the death overs. Identifying our death bowler before the knockouts is the only thing we're worried about and that's why we're making a few changes," Dhoni said with reference to pacers David Willey and Shardul Thakur playing today.
READ | IPL 2018: Ravindra Jadeja stars as Chennai Super Kings crush Royal Challengers Bangalore
"We're playing with multiple bowlers - two spinners and the rest pacers - that takes the pressure off the rest and allows Bravo to bowl at the death. He's a specialist in the death and doesn't need to always bowl four overs. There's pressure on everyone. In the nine or ten games, no one has consistently shown that they can step up and take responsibility," said Dhoni.
Kohli tried to put up a brave face knowing fully well that it will be an uphill task to qualify for the play-offs from this position.
"The boys gave a good fight but we lost too many wickets. We would have liked to win but Dhoni played well and they deserved to win. We know it's a tough road ahead. We need to win probably four out of five (actually five out of five). These situations bring the best out of us, and I feel positive about the rest of the games."
Close