'MS Dhoni said that if Ishan Kishan doesn't play for India...': Coach recalls MSD's praise for 23-year-old youngster
Dec 12, 2022 09:53 AM IST
Ishan Kishan's childhood coach Uttam Majumdar praised the wicketkeeper-batter and revealed what MS Dhoni would tell him before his India debut.
Ishan Kishan was in brilliant form in the third ODI as India sealed a consolation victory in the three-match series at the Zahur Ahmed Chowdhury Stadium in Chattogram, on Saturday. The 24-year-old was in swashbuckling form as he slammed 210 runs off 131 balls to help India reach 409 for eight in 50 overs. Chasing a target of 410 runs, Bangladesh were bowled out for 182 in 34 overs, as the visitors went on to win by 227 runs.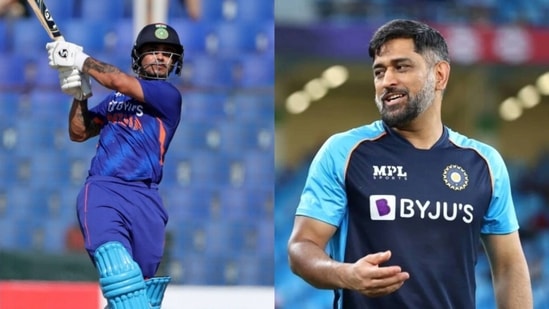 During his blistering knock, Kishan also clobbered 24 fours and 10 sixes. Meanwhile, former captain Virat Kohli also smacked 113 runs off 91 balls, including 11 fours and two sixes. The 24-year-old's coach Uttam Majumdar gave an insight into the wicketkeeper-batter's training and also revealed that MS Dhoni would tell Kishan before his India debut.
Also Read | 'I could have scored 300': Ishan Kishan's audacious statement after record-smashing double century
"Even before Ishan made his India debut, I know MS would tell him that if a talent like him doesn't play for the country for a long time, he will be doing injustice not to anyone else but himself", Majumdar said.
Majumdar stated that Kishan's elder brother was also a talented cricketer but had to sacrifice sports for a medical degree. "His elder brother Raj Kishan was a very talented cricketer. But then the parents needed to take a call that one boy would pursue sport and the other education. So Raj being the elder sacrificed and pursued a medical degree", he said.
"The first day Ishan came for training, he was so tiny, that I fed him with under-arm balls and that kid played perfect cover drives. The moment I saw a few cover drives from a six-year-old, I told Pranav ji, your son is special and he has to be unlucky if he doesn't play for India", he added.
During his knock in the third ODI, Kishan hit 10 sixes, which included pulls, some drives and also had fantastic distance. "You saw those 10 sixes today and what you must have realised is the kind of power he generates despite such a small frame. It hasn't happened overnight. There would be months of training when he would bat two sessions and play at least 500 to 600 balls at the nets per day. Out of them, at least 200 balls were about dedicated power-hitting", he said.
"I would make him continuously play big shots and he would never stop till he got it right. He is only 24 but he has seen a fair bit of ups and downs. He is mentally very strong."
"I always tell him that the past is history. For me, the past has never mattered and that's what I always tell Ishan", he further added.