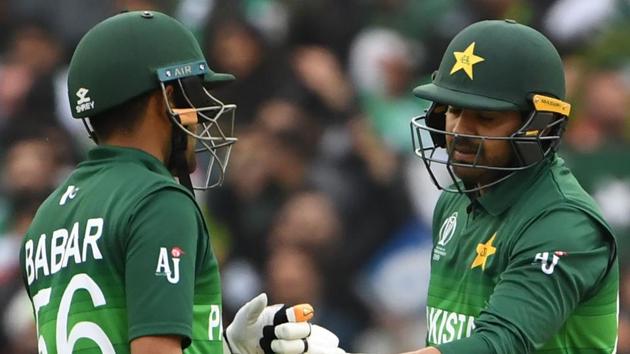 New Zealand vs Pakistan Highlights, World Cup 2019: Babar, Shaheen fire Pakistan to 6-wicket win
New Zealand vs Pakistan highlights: Babar Azam slammed his 10th ODI ton to help Pakistan beat New Zealand by 6 wickets. Not to forget the contribution of Haris Sohail to stitched a glorious stand with Babar. Earlier, New Zealand ended their innings at 237/6 in 50 overs. Neesham scored 97* and Colin de Grandhomme chipped in with a handy 64. Shaheen Afridi was the pick of the bowlers for Pakistan as he ended with figures of 3/28.
Follow New Zealand vs Pakistan highlights here:
UPDATED ON JUN 27, 2019 08:12 AM IST
23:58 hrs IST
Match ends
Skipper Sarfaraz Ahmed hits the winning runs as Pakistan beat New Zealand by 6 wickets to end their unbeaten run in the tournament. Babar Azam slammed his 10th ODI ton to star in the win but not to forget young pacer Shaheen Afridi who scalped 3/28 to set up this massive win.
23:51 hrs IST
Sohail departs
In trying to take a cheeky single, Haris Sohail is run-out by Martin Guptill for 68. There was no run there but Sohail called for the run himself and then lost his wicket. Skipper Sarfaraz Ahmed is out in the middle as Pakistan need two runs to win.
23:46 hrs IST
Century for Babar
Babar Azam has completed his 10th ODI century off 124 balls. Pakistan are on the cusp of a famous win courtesy of their star batsman. Babar also becomes the second youngster Pakistan batsman to score a century in the World Cup after Saleem Malik.
23:42 hrs IST
Nervous 90s
Babar Azam seems to be struggling with the infamous nervous 90s as he plays four dots of Trent Boult. Pakistan now need 13 off 18 deliveries with Babar stuck at 99.
23:38 hrs IST
Good over for Pakistan
Babar Azam hit a boundary on the last ball of Lokcie Ferguson over and with that he has moved on to 99. Pakistan need just 14 runs to win the match and stay alive in the contest. 9 runs came from that over from Ferguson.
23:32 hrs IST
Fifty for Sohail
Haris Sohail brings up his half-century off 63 deliveries and it has been an outstanding innings from the southpaw. He provided good support to Babar Azam and the partnership between the two is the reason Pakistan are in strong position in this contest. 100-run stand also comes up between the two as Pakistan need just 23 runs to win off 30 deliveries.
23:25 hrs IST
Santner's spell ends
Mitchell Santner's excellent spell comes to an end as he finishes with figures of 0/38 in 10 overs. He was unlucky to not pick a wicket today as he was nothing short of outstanding. Few edges flew past the keeper and there were multiple close shaves as well. Six overs left in the innings and Pakista need 31.
23:19 hrs IST
200 up for Pakistan
Luck too seems to have picked a side and it is not New Zealand. Trent Boult produces a thick edge off Haris Sohail but the ball goes for a boundary towards third man. Then, on the first ball off the next over, Babar Azam swept Santner for back to back boundaries towards mid-wicket. Pakistan in full control of the chase.
23:13 hrs IST
Stat attack
Back to back 50 runs partnership between Babar Azam and Haris Sohail
2nd 50 run partnership between this duo
2nd 50 partnership between this duo in World Cup 2019.
3rd 50+ runs partnership in 6 innings between this duo in ODIs
23:08 hrs IST
Huge hit from Sohail
Trent Boult bowled a slower one and Haris Sohail saw it early and hit the ball straight over the bowler's head for a huge six. Second six of the innings for Sohail as Pakistan are getting closer to the New Zealand total in some style.
23:02 hrs IST
Four and four
Babar Azam hits back to back boundaries off Kane Williamson as then Kiwi skipper concedes 10 runs off the over. With that, the 50-run partnership also comes up between Babar Azam and Haris Sohail. Pakistan now need just 74 runs to win.
22:57 hrs IST
150 up for Pakistan
Babar Azam and Haris Sohail are keeping the scoreboard ticking and it has become a procession in the last few overs. Batsmen are taking runs at will and the bowlers aren't able to do anything to stop it. New Zealand need wickets and they need it soon.
22:51 hrs IST
Milestone for Babar
Pakistan batsman Babar Azam on Wednesday became the second-fastest to reach 3,000 one-day international runs. Babar took 11 innings more than South Africa's Hashim Amla, who reached the milestone in 57 innings, but overtook West Indies great Viv Richards (69 innings). Read full story here.
22:46 hrs IST
Kiwis need wickets
Pakistan can simply go past the target taking singles and doubles at the moment. They don't need to take risks as the required rate is under control. With wickets in hand, one would feel Pakistan are favourites to win the match from here.
22:40 hrs IST
Stat attack
Back to back half centuries for Babar Azam
15th half century of his ODI career.
4th half century against New Zealand in ODIs
6th half century of the year 2019
3rd half century of World Cup
22:35 hrs IST
First six of the innings
Haris Sohail comes dancing down the track and hits Santner for a huge six over mid wicket. This is also the first maximum of the innings as the southpaw looks to put the pressure on the spinners. 8 runs from the over of Santner as Pakistan move closer to the Kiwi score.
22:29 hrs IST
Pak steady
Despite three wickets, Pakistan seem to be steady in the middle and are keeping the scoreboard ticking with singles and doubles. New Zealand need to pick couple of wickets soon to have any chance of winning this clash.
22:22 hrs IST
Fifty for Babar
Babar Azam brings up his half century off 65 deliveries and this is his third fifty of the tournament. He remains a key player for Pakistan if they are to stay alive in the tournament. He has held the innings well and leading the team's charge in the match.
22:16 hrs IST
Williamson strikes!
New Zealand don't have a second spinner in their line-up and after seeing the ball spin, Kane Williamson introduced himself into the attack and got rid of Mohammad Hafeez for 32. The right-hander hit the ball straight down the throat of Ferguson at mid wicket. Pakistan are three down in chase.
22:10 hrs IST
Partnership
Babar Azam and Mohammad Hafeez have put together fifty run stand now and they are starting to threat New Zealand's score. With that, Pakistan have also crossed the 100-run mark in the 23rd over of the innings. Expensive over from Jimmy Neesham as he gives away 13 runs off the over.
22:02 hrs IST
Dropped
Mitchell Santner should have had his first wicket of the day but the half-chance is spilled by keeper Tom Latham. Babar Azam survives on 38 and this could come back to haunt the Kiwis. Two runs from the over from Santner as Pakistan batsmen are living dangerously out there.
21:55 hrs IST
Spin for Santner
This pitch has assistance for the spinner and Mitchell Santner is getting plenty of purchase. The ball is almost turning square and he holds key for New Zealand here. This will be a tough phase for Pakistan, they have a battery of right-handers
21:51 hrs IST
Pakistan now cruising along
Hafeez and Babar weathered the initial storm and are now cruising along. However, the pitch is turning and Santner is getting some real purchase here. This is the game, right here, for Kane Williamson!
21:22 hrs IST
Attacking from Ferguson
This has been a great start to the spell by Lockie Ferguson. He has pace and has already troubled Hafeez with the short ball as well as the length ball. A jittery Hafeez has looked very nervy.
21:04 hrs IST
Stunner from Guptill
Ferguson into the attack, bangs in a short ball, climbs up steeply on Imam who fends at it, the ball takes the shoulder of the bat and lobs up. Martin Guptill rushes forward from gully, dives full stretch and snaffles an absolute stunning catch.
20:53 hrs IST
New Zealand need to keep chipping away
They are not defending an entirely huge target and hence, the Kiwis need to keep striking at regular intervals here. They cannot allow Pakistan any momentum, Babar Azam and Imam-ul-Haq are slowly getting into their work.
20:46 hrs IST
Good over from Henry
Matt Henry gives away just 6 runs on the over and there was a chance of a wicket as well. Babar Azam top edged the delivery and it went high in the air. de Grandhomme ran full length from mid on to take the catch near mid wicket but the ball was away from his reach. Great effort from the all-rounder.
20:41 hrs IST
Imam on the front foot
Imam ul Haq hits his third boundary off the innings of Boult but it was rather lucky. The ball took an outside edge and went for a boundary towards third man. New Zealand need to send him back soon as he can be a dangerous prospect in this small chase.
20:35 hrs IST
Boult strikes
Trent Boult has provided an early breakthrough as he gets rid of Fakhar Zaman for 9. The southpaw top-edged the delivery and Martin Guptill took a good running catch at point. Babar Azam now joins Imam Ul Haq in the middle.
20:29 hrs IST
Expensive over from Henry
Matt Henry concedes 11 runs off his first over of the innings as both Fakhar Zaman and Imam ul Haq slam one boundary each in the over. Pakistan are off to a flier in the chase and they have put the pressure on the bowlers straight away.
20:23 hrs IST
Imam starts well
Imam ul Haq sets the standards early on as he hits Trent Boult for a boundary in the first over of the innings. Pakistan will look to get off to a flier in the content in order to put the pressure on world class Kiwi bowling attack. Four runs came from the first over from Boult.
20:17 hrs IST
Chase begins
Imam ul Haq and Fakhar Zaman are opening the innings for Pakistan while Trent Boult has the new ball in his hands and he will bowl the first over of the chase. New Zealand are looking to keep their unbeaten run intact while Pakistan are looking to keep themselves alive in the tournament.
20:05 hrs IST
Kiwis eye early wickets
New Zealand bowlers will look for early breakthroughs in this small chase. If they can get rid of few top-order batsmen early in the innings, they have a chance of keeping their unbeaten run going on in the tournament. As for Pakistan, they will look for a steady start in the chase.
19:52 hrs IST
Innings over!
Jimmy Neesham hits a six off Wahab Riaz on the last ball of the innings and with that New Zealand end their innings at 237/6 in 50 overs. Neesham ended with 97* and Colin de Grandhomme chipped in with handy 64. Shaheen Afridi was the pick of the bowlers for Pakistan as he ended with figures of 3/28.
19:46 hrs IST
Amir's spell ends
Mohammad Amir completes his full quota of 10 overs and finishes with figures of 1/67. One over left in the innings with Neesham batting on 85 and Santner on 4. They will look to finish the innings on a high against Wahab Riaz.
19:40 hrs IST
CDG is run-out
In trying to take a cheeky double, Colin de Grandhomme is run-out after Amir threw the ball quickly from the third man area. Sarfaraz took off the bails in no time as CDG departs for 64. New Zealand are six down now but he has done his job.
19:36 hrs IST
SIX and four
Jimmy Neesham hit Mohammad Amir for a huge six over mid wicket and then Colin de Grandhomme flat batted the ball down the ground for a boundary. The last ball also went for a boundary towards square leg as Amir conceded 18 runs off the over.
19:30 hrs IST
Stat attack
Colin de Grandhomme scores a fifty -
This is 3rd half century of his career.
His 2nd half century against Pakistan in ODIs
His 2nd half century in the World Cup.(1st was against SA in WC 19)
19:25 hrs IST
Fifty for CDG
Colin de Grandhomme brings up his half-century off 63 deliveries and the 100-run stand have also come up between the two players. New Zealand are also nearing 200 with Neesham and de Grandhomme leading their charge. Five overs left in the innings for the Black Caps to go past the 230-run mark.
19:18 hrs IST
Pakistan waste their review
Shaheen went for the yorker but the ball was wide and it went into the hands of the keeper safely. Sarfaraz went for the DRS thinking there was an edge, however, replays showed that the there was a big gap in between bat and ball. Shaheen concedes four singles from the over as he bowls his full quota of 10 overs with outstanding figures of 3/28.
19:11 hrs IST
Expensive over from Shaheen
Shaheen Afridi concedes 11 runs from the over and there was a boundary and a triple for Jimmy Neesham in the over as well. 8 overs left in the innings and Kiwis are well poised to cross the 200-run mark.
19:05 hrs IST
Stat attack
James Neesham score a Half century
This is 6th half century of his career.
His 1st Half century against Pakistan in ODIs
His 1st Half century in the World Cup.
18:59 hrs IST
Half-century for Neesham
Jimmy Neesham brings up his half-century and this is his 6th in ODI cricket. With that, New Zealand have also crossed the 150-run mark in the innings. 10 overs left to be bowled in the innings now.
18:52 hrs IST
Pakistan need a wicket
These two have been batting really well and they have started to threaten to take the score to past 200 now. 12 overs are left in the innings now and if this partnership is let to continue, Pakistan may just left to rue it in the end.
18:45 hrs IST
Partnership
This might be the stand could comeback to haunt Pakistan as Jimmy Neesham and Colin de Grandhomme have put together 50-run stand off 54 deliveries. They are still going strong and could take New Zealand closer to 200 if they aren't stopped soon.
18:39 hrs IST
Pakistan leaking runs
Boundaries are starting to come thick and fast for Kiwis now as both the batsmen are looking to take the attack to the bowlers. In the last two overs, they have scored 17 runs including a boundary and a huge six. The partnership between the two is worth 49 now.
18:33 hrs IST
First six of the innings
Jimmy Neesham hits Shadab Khan down the ground for the first six of the innings. Then, the ball takes an outside edge of Colin de Grandhomme's bat and goes for a boundary towards third man. 12 runs came from the over as New Zealand finally look to get a move on.
18:27 hrs IST
100 up for NZ
Jimmy Neeshan and Colin de Gradnhomme have put together a 20-run stand as New Zealand have crossed the 100-run mark in the 32nd over. Imad Wasim concedes 6 runs off his over as Pakistan continue to pile on the pressure. A few overs from Mohammad Amir here can really help them take care of the tail
18:20 hrs IST
CDG survives
Colin de Grandhomme hit Wahab Riaz for a glorious boundary down the ground. But then, he survived a close run-out chance in the over as Shadab Khan hit the stumps directly at the non-striker's end from point. 6 runs off the over from Wahab as New Zealand edge closer to 100-run mark.
18:14 hrs IST
Shadab's excellent spell
Spinner Shadab Khan has bowled 6 overs so far and he has conceded 14 runs and also picked up the crucial wicket of Kane Williamson. His spell has been important in keeping Pakistan's momentum going after early burst from Shaheen Afridi.
18:08 hrs IST
Still some batting left
Colin de Grandhomme is knows for his hitting prowess while Jimmy Neesham has already shown he can bat for long. Mitchell Santner is the next man and he can bat as well. The onus is on Pakistan to not let their guard down and let New Zealand make a comeback into the contest.
18:01 hrs IST
Williamson falls!
This was the wicket that Pakistan were searching for and Shadab Khan has delivered. A peach of a delivery from the spinner and it took an outside edge of Williamson's bat, who was on his front foot trying to defend. Sarfaraz Ahmed took a brilliant catch to dismiss the Kiwi skipper. New Zealand have lost half their side now.
17:56 IST
More singles!
Shadab Khan concedes 2 runs in the over as Kiwis continue to struggle for boundaries. 25 overs have been bowled and they are yet to cross the 100-run mark. Kane Williamson has entered in his 40s and keeping NZ alive in the match.
17:50 hrs IST
Stat attack
Wahab Riaz bowling at 6th position for Pakistan. Last time he bowled at 6th position for Pakistan was in 2016 against West Indies at Abu Dhabi. Due to Shaheen's good bowling early on, Pakistan have plenty overs left of Amir and Wahab and that bodes well for the team.
17:44 hrs IST
Edge but four
Wahab Riaz produced an inside edge off Kane Williamson's bat but the ball evaded the stumps and went for a boundary towards fine leg. If the ball had crashed into the stumps, New Zealand's hopes of putting on a good score would have vanished. Wahab concedes 6 runs off his first over of the innings.
17:37 hrs IST
20 overs bowled
New Zealand are dealing in singles and doubles at the moment as boundaries are hard to come currently. Also, the batsmen are not taking any risks, so that has helped in keeping the scoring rate down. Another wicket here will really put Kiwis under the pump.
17:30 hrs IST
NZ cross 50
Williamson and Neesham have put together 12 runs off 33 deliveries and they have managed to take the score past 50. The Kiwis need these two to bat for as long as possible and then see how to take the innings from there.
17:22 hrs IST
Third maiden for Shaheen
Shaheen Afridi has now bowled six overs, conceded nine, picked three and bowled three maidens. The 19-year-old is leading his mark in the tournament and he has put Pakistan in a very good position. The onus is now on other bowlers to give him able support.
17:15 hrs IST
Williamson remains unfazed
Despite wickets falling on the other end, skipper Kane Williamson continues to bat in his usual classy fashion. He has scored 24 off 37 deliveries so far and also hit three boundaries. Pakistan know Williamson can take the game away from them and need to get rid of him soon.
17:09 hrs IST
Shaheen strikes again!
Pakistan have picked the fourth wicket of the day as Shaheen Afridi removes Tom Latham for 1. The southpaw edges the ball into the hands of keeper Sarfaraz and he becomes Shaheen's third scalp of the day.
17:03 hrs IST
Maiden over
Shaheen Shah Afridi continues to breathe fire as he bowls a maiden over to Tom Latham. New Zealand need a partnership to steady the ship and revive their innings after the fall of three early wickets.
16:58 hrs IST
10 overs gone
Pakistan are firmly on top of New Zealand after the first 10 overs. They have conceded just 44 runs and scalped three top order wickets. Kane Williamson holds the key for the Kiwis and he needs a partner on the other end to stay with him and build a partnership.
16:50 hrs IST
Afridi on fire
OUT! What a ripper from Afridi. Pitches around leg stumps, goes on with the angle to get the faintest of nicks off Ross Taylor's bat and Sarfaraz takes a brilliant one handed catch diving towards his right. Second wicket for Afridi, Pakistan on top
16:43 hrs IST
Classy from Williamson
A cover drive, followed by a backfoot punch. Pure class from Williamson. Amir had his tail up after the early wicket, runs in with all his energy but Williamson neutralizes everything with his superb strokeplay. Back-to-back boundaries.
16:38 hrs IST
Afridi gets Munro
Edged and taken! Good from Afridi, loose from Munro. New Zealand have lost both their openers early after opting to bat first. It was pitched up, Munro decides to flash at it without any foot movement, the extra bounce brings his downfall. Haris Sohail makes no mistake at first slip.
16:28 hrs IST
Depth touch from Williamson
FOUR! Impeccable timing from Williamson. It was just a push down the leg side and it races away to beat the fine leg fielder to the fence. Boy, Williamson is in some form in this tournament.
16:22 hrs IST
A small delay
It looks like there is some issue with the sight screen. New Zealand captain Kane Williamson is not happy and wants it fixed. The ground staff spring into action. Alright, they are covering the staircase next to the sight screen. We have a small delay.
16:17 hrs IST
Munro takes Amir on
Good from Colin Munro. He has decided to take the attack to the opposition's best bowler and gets the reward. 10 runs from Amir's second over including 2 boundaries. New Zealand can't let Amir bowl to his plan, Munro is doing the right thing here.
16:05 hrs IST
Amir strikes
BOWLED'em! What a start from Mohammed Amir. Not the same can be said about Guptill though. He is furious with himself and so he should be. Full and wide, no swing back in, it was there to be driven but Guptill just manages to drag it back onto his stumps. Great start from Pakistan
16:00 hrs IST
Guptill starts off with a boundary
Mohammad Hafeez begins the proceedings for Pakistan and Martin Guptill welcomes him with thunderous sweep shot for a boundary. Overcast conditions, you would hope a seamer to start things but Sarfaraz thinks the opposite.
15:50 hrs IST
Stat attack
275: Average 1st innings score extrapolated over 50 overs in the last 5 ODIs.
2/8: New Zealand have won just 2 out of the 8 matches played against Pakistan in World Cup. They have the lowest win rate against Pakistan
73: Kane Williamson is 73 runs away from completing 6000 ODI runs. He will be the 6th player for New Zealand to reach this milestone.
102: Kane Williamson needs 102 runs to complete 1000 runs against Pakistan in ODIs. He will be the 3rd NZ player to reach this milestone after Stephen Fleming (1090 runs) and Ross Taylor (1068 runs).
17: Ross Taylor needs 17 more runs to complete 1000 ODI runs in England. It will be the first away venue where he has reached this milestone. He will be the 2nd NZ player to reach this milestone after Kane Williamson (1188 runs)
53: Martin Guptill needs 53 more runs to complete 1000 ODI runs against Pakistan. He will be the 3rd NZ player to reach this milestone after Stephen Fleming (1090 runs) and Ross Taylor (1068 runs).
58: Martin Guptill needs 58 runs to complete 1000 world cup runs for New Zealand. If he does so, he would become the 2nd player to complete 1000 runs in World Cup for New Zealand after Stephen Fleming (1075)
22: Trent Boult has 22 wickets against Pakistan in ODIs, joint-2nd most after Australia (25wickets).
29: Babar Azam needs 29 more runs to complete 3000 runs in ODIs.
50: Imad Wasim will be playing in his 50th ODI, if he takes the field against New Zealand.
1: Mohammad Amir is 1 wicket away from completing 250 International wickets. He has 119 wickets in Tests, 75 in ODIs and 55 in T20Is.
4.51 RPO: Mohammad Amir's economy rate against New Zealand. Best against a side whom he has bowled in a minimum of 7 matches.
73.44: Shoaib Malik's SR against New Zealand, his 2nd worst against a side he has faced a minimum of 20 matches.
15:38 hrs IST
Playing XIs
Pakistan (Playing XI): Imam-ul-Haq, Fakhar Zaman, Babar Azam, Mohammad Hafeez, Haris Sohail, Sarfaraz Ahmed(w/c), Imad Wasim, Shadab Khan, Wahab Riaz, Mohammad Amir, Shaheen Afridi
New Zealand (Playing XI): Martin Guptill, Colin Munro, Kane Williamson(c), Ross Taylor, Tom Latham(w), James Neesham, Colin de Grandhomme, Mitchell Santner, Matt Henry, Lockie Ferguson, Trent Boult
15:32 hrs IST
The toss
New Zealand win toss and opt to bat first against Pakistan. Both sides are fielding an unchanged playing XI. This is the 6th game in a row that New Zealand are playing with the same XI.
15:25 hrs IST
First look at the pitch
Win the toss and _____ first?#CWC19 | #NZvPAK pic.twitter.com/ZAWtEppuvx

— Cricket World Cup (@cricketworldcup) June 26, 2019
15:15 hrs IST
What's the similarity with '92?
This year, the format of the World Cup is the same as the 1992 World Cup format and the results which Pakistan have dished out so far, is also the same. (Read the full story here)
15:06 hrs IST
Match to start at 4 pm
The umpires are happy with the condition of the outfield and we have an official starting time. The toss will take place at 3:30 pm and the match will begin from 4 pm. No overs have been lost because of the 1 hour delay.
15:01 hrs IST
Inspection going on
The umpires are out their inspecting the outfield and so are the captains Sarfaraz Ahmed and Kane Williamson. There's a buzz around the ground, the Pakistan fans are making a lot of noise.
14:32 hrs IST
Covers coming off
Good news from Birmingham. The ground staff are taking the covers off. It looks like they are taking the hover cover off the pitch too. So it shouldn't be a long delay. Of course, it depends on how the umpires see the conditions during their inspection. But for the moment, the weather looks clear.
14:20 hrs IST
What if it's a washout?
The chances of a wash out are slim but just in case the impossible happens, then New Zealand will be the happiest, they will be through to the semis after sharing a point. What about Pakistan? They really can't afford a washout because that would mean England, Bangladesh and Sri Lanka will have to lose all their matches for Pakistan's semi-final qualification.
14:10 hrs IST
Inspection at 3 pm IST
Right, we have an official announcement, the toss has been delayed. The umpires will carry out an inspection at 3 pm IST.
14:03 hrs IST
Covers on
The covers are on in the playing area at the moment. The super soppers are hovering around too. Not the ideal scene at the start of a match but there is a very slim chance of further rain, meaning we should get a full game without much trouble.
13:55 hrs IST
Top 5 player battles
Martin Guptill vs Mohammad Amir
Colin Munro vs Shaheen Afridi
Kane Williamson vs Wahab Riaz
Imam-ul-Haq vs Trent Boult
Babar Azam vs Lockie Ferguson (Read full story here)
13:45 hrs IST
Who said what?
Mitchell Santner, New Zealand all-rounder: You look at our side as a whole, we're quite a scrappy side, and we pride ourselves on winning those little moments, like I guess we have been, and saying that, we could have been on the other end of a couple of those games.
Sarfaraz Ahmed, Pakistan captain: We have to work hard on fielding. We dropped many catches against South Africa, I hope we won't repeat the same against New Zealand.
13:35 hrs IST
Semis for NZ, survival for PAK
New Zealand are one win away from joining Australia to become the second team to seal semi-final spot. For Pakistan, it's a battle to stay alive in the tournament. They need to win all their remaining matches to stand a chance to qualify for the semi-final.
13:25 hrs IST
NZ vs PAK
Hello and welcome to the live coverage of an all-important World Cup clash between New Zealand and Pakistan Edgbaston, Brimingham. A lot riding on this match, not only for Pakistan but for New Zealand too.
Close