PCB gives stern response to Pakistan captain Babar Azam's alleged leaked chats, videos, says allegations 'unsubstantial'
Jan 18, 2023 09:07 AM IST
The PCB also justified Babar Azam's silence on the matter and said the right-handed batter didn't feel it was 'worthy' to react to such unsubstantiated personal allegations'.
The Pakistan Cricket Board (PCB) came up with a strong response after captain Babar Azam's alleged leaked personal chats, videos and audio took social media by storm. There was always a big question mark over the legitimacy and authenticity of the screenshots, videos and audio that have gone viral and PCB has quashed them as 'unsubstantial'. The PCB also justified Babar's silence on the matter and said the right-handed batter didn't feel it was 'worthy'.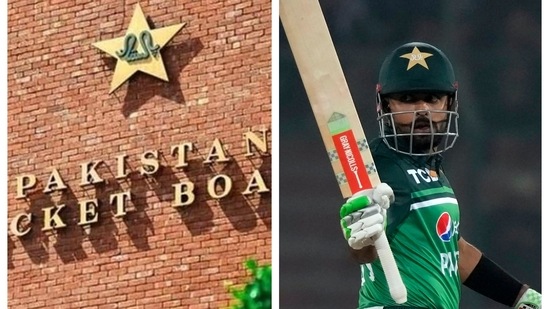 "As our media partner, you might have considered ignoring such unsubstantiated personal allegations which Babar Azam has not deemed worthy of a response," PCB tweeted quoting an Australian media report on Babar Azam. The report was deleted soon after.
Babar, for his part, did take to social media hours after his alleged personal chats went viral, to share his photograph with a cryptic one-line caption. However, with PCB's stern tweet, it can be said the post had nothing to do with the allegations.
Babar's fans too did not take the allegations lightly. They came out in numbers in support of the Pakistan captain as #WeStandWithBabarAzam started trending. Noted Pakistani journalists also came out to dismiss the leaked chats and videos, Babar's teammate Imam-ul-Haq put Babar Azam's photo as his Twitter and Instagram DP to show support.
Babar, one of the modern-day greats, has been feeling the heat even on the cricket field. Despite being in decent form, he has been under a lot of pressure for Pakistan's string of poor performances at home.
Pakistan had to suffer a 3-0 clean sweep by England in a home Test series, as they struggled on the field. In the two-match Test series against New Zealand, they played to a scoreless draw. They suffered another blow as Babar and company lost the three-match home ODI series against New Zealand too.
Pakistan did not triumph in a single home Test match during the current World Test Championship (WTC) cycle while Babar served as captain. Despite guiding Pakistan to the 2022 T20 World Cup final, Babar Azam's future as captain has been the subject of ongoing rumours.