'Should we go back to Shikhar Dhawan or...': Ravichandran Ashwin's huge statement on India's opener debate
Jan 30, 2023 12:34 PM IST
Veteran all-rounder Ravichandran Ashwin has shared his views about India's opener debate.
The rise of Ishan Kishan and Shubman Gill in One Day Internationals (ODI) has put a big question on Shikhar Dhawan's spot in the limited-overs format during the World Cup year. The veteran Indian opener capped off a forgetful series against Bangladesh while Kishan stamped his authority with a sensational double ton in the same tour. With Kishan's double ton putting Dhawan in a fix, star all-rounder Ravichandran Ashwin has weighed in on the opener's debate of the Indian team.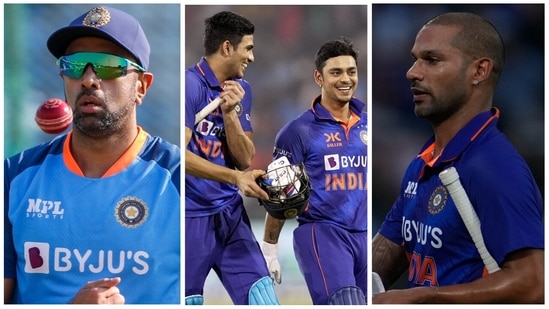 Sharing his views on his YouTube channel, the veteran Indian all-rounder opined that the Asian giants have always had solid top-order batters. Ashwin hailed veteran opener Dhawan as a stalwart in white-ball cricket. The former Delhi Capitals (DC) star also pointed out that Dhawan remained a 'silent' contributor to Team India's success in the limited-overs format.
Also Read | 'Jasprit Bumrah doesn't even come close to Shaheen Afridi's level': Abdul Razzaq stuns with another atrocious statement
"Only when the Top 3 failed, we had problems in the past. Shikhar Dhawan, Rohit Sharma, Virat Kohli. We talk a lot about Rohit and Kohli, but Dhawan is a stalwart. He was silently doing his job. Will his place be a big void to fill for Team India?," Ashwin said.
Senior batter Dhawan has played 167 ODIs for Team India. The 37-year-old was dropped from the ODI squad after a poor show against Bangladesh. Reacting to Dhawan's snub in ODIs, Ashwin has come up with a noteworthy statement after the Indian think opted to retain Kishan in the white-ball squad.
"Should we go back to Shikhar Dhawan, or should we groom Ishan Kishan, who has just scored a double hundred? Instead of backing a player on the basis of one huge score, we should see what the team requires. Which character will deliver under pressure? Which character will serve us for a long time?," Ashwin continued.
Watch: Rahul Dravid's brilliant gesture for Prithvi Shaw as Team India congratulates U-19 girls for T20 World Cup glory
Despite scoring a sensational double century, Kishan failed to find a place in the Indian playing XI. With Kishan warming the bench for the Rohit Sharma-led side, premier opener Shubman Gill strengthened his selection case in the ODI series against Sri Lanka and New Zealand.
"Ishan Kishan was dropped after a double hundred, but Team India has seen Shubman Gill's run in the past. He has scored hefty runs and has been the most consistent batter for the team over a period of time. He also plays the slog sweep and the traditional sweep, can cut and pull pacers. Smart batting, quality batting and acceleration towards the end. He accelerated beautifully in the last four overs and hit that 200 in the Hyderabad ODI," Ashwin added.