Sourav Ganguly makes fresh revelations on infamous Greg Chappell saga
Press Trust of India, Kolkata |
Press Trust of India
Jan 25, 2018 07:06 PM IST
Sourav Ganguly has made a number of new revelations about the falling out he had with former Indian cricket team coach Greg Chappell in a new book set to be released later this year.
Their public spat is now more than a decade old but for former Indian cricket team captain Sourav Ganguly, the bitter fallout with former coach Greg Chappell is something that he still finds difficult to forget. (IND v SA live updates)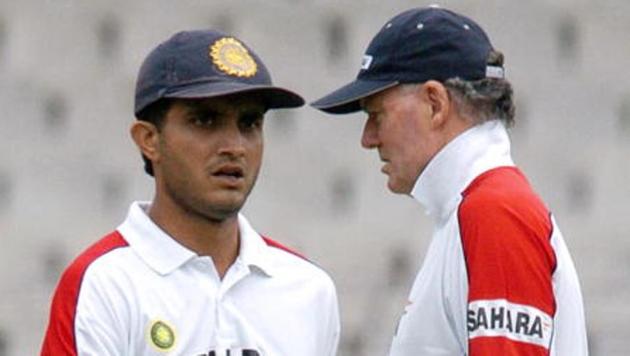 Looking back at his selection fiasco in the Greg Chappell era, Ganguly has come out openly in a book -- "Eleven Gods And A Billion Indians", the on and off the field story of cricket in India and beyond -- authored by cricket historian Boria Majumdar. (IND v SA live scorecard)
Published by Simon & Schuster, the 500-page book will be launched during the Indian Premier League and it would contain a lot of nuggets about the off-field stories of Indian cricket.
"Greg came to me one evening and showed me a team he had picked for the Test match. Some key players were not in his playing XI and I was a little taken aback at what he was trying to do," Ganguly said recollecting about the turn of events in the build up to first Test against Zimbabwe in Bulawayo in September 2005.
At a time when Chappell assumed charge as head coach in July 2005, Ganguly was serving a six-match ban imposed on him in March 2005 for slow over rate as Rahul Dravid was interim captain and it was for the Zimbabwe tour in September 2005 that Ganguly was once again given back the reins.
"Something from the very start of the tour was not right. I don't know what had happened but something definitely had gone amiss.
"I think some people who Greg had become close to may have told him that with me around, he would never have his way in Indian cricket and that may have triggered a reaction.
"Whatever it may have been, he was not the same Chappell in Zimbabwe compared to the one who had helped me get ready for the Australian tour in December 2003," Ganguly went on about the tumultuous relationship.
Ganguly admitted that he rejected suggestions given by Chappell.
"I rejected his suggestions and said to him clearly that the people he wanted out had done great things for Indian cricket while he had just been there for three months. He needed to spend more time to fully understand the situation before he started taking tough calls. He, it was clear to me, was in a hurry to make the team 'Greg Chappell's team'."
Their differences, Ganguly revelead, started with a side game in Zimbabwe against the Zimbabwe A team when the skipper was hurting from a tennis elbow as he the left-hander "retired hurt" to nurse the injury as it was an inconsequential match.
"Greg wasn't around in the dressing room when I had retired hurt and it was only after a while that he came back to ask what had happened to me. I said I had a painful elbow and with a Test match coming up did not want to risk playing on. He was unrelenting."
"To my surprise, he insisted I go out and bat and I was forced to tell him I wouldn't because I was in good touch and did not want to jeopardise my chances of playing the Test match. I even said that the pain notwithstanding, I was sure to turn up for the Test."
The chapter also mentions about the email leak in which Chappell talked at length about the match and how Ganguly was "spasmodic in his treatment habits".
Ganguly however said the discussion was never restricted to him or his place in the Test team. Ganguly went on to hit a 101 in the first Test batting for nearly six hours.
"Soon after I was back in the dressing room and was icing my elbow did Greg come and ask me if I had any pain. I said to him how does it matter for I had just scored a hundred. With or without pain, I had done a job for India," Ganguly said.
Ganguly also mentioned how Chappell literally shouted at him one day as he was dosing off and termed his "lazy" that was leading to India's suffering.
Ganguly then has said about his ouster for the ODI series against Sri Lanka on grounds his injured "elbow injury".
"I called Greg to ask why I had not been picked and was told I had to first prove my fitness and only then could I make a comeback to the team. He said I had missed the Challenger Series and he was not clear if I was fully fit.
"It was surprising because the Challenger had never been looked upon as a selection trial. I had scored more ODI runs than anyone in the team in the last few years and it was a shock to see my name not in the team. It was the first time I felt Greg was trying to end my career.