Suryakumar Yadav back at where it all began
Jan 31, 2023 09:07 PM IST
India will take on New Zealand in the deciding final T20 tie at Ahmedabad on Wednesday. The series is level at 1-1
Suryakumar Yadav showed no signs of tingling butterflies on international debut against England in March, 2021, hitting Jofra Archer over fine-leg for a first-ball six in a T20 tie. He will return as India's vice-captain on Wednesday to the same venue for the T20 series decider against New Zealand.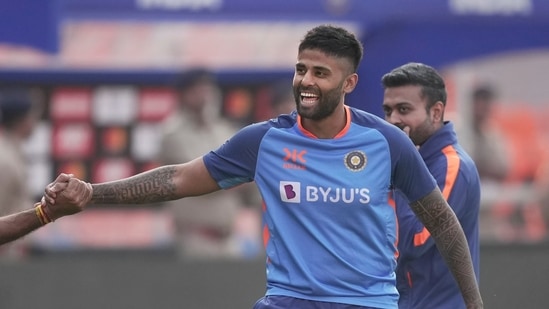 Yadav will take the field at the Narendra Modi Stadium in Ahmedabad with his reputation having zoomed since that debut as the slayer of bowling attacks like no other.
"It feels good," the man named ICC T20 Player-of-the-Year, said in a media conference on Tuesday. "When I came to the dressing room, I told our manager that I have come back to where it started. I was taking the steps down quietly and thinking back of 2021…great memories. This will be completely different. Expecting an amazing crowd at the beautiful stadium."
It's been an unusually low-scoring series with no stroke player able to break free on rank turners in Ranchi and Lucknow. There's been more talk on playing surfaces rather than flashy batting which is the norm in T20s.
With India's reputation of comfortably winning bilateral matches at home at stake, pitches have dominated talk in the series that is level 1-1. The Lucknow curator was removed after Indian skipper Hardik Pandya called the pitch "a shocker".
Yadav sought to move on. "We did what was in our control. We had to apply ourselves and adapt, but it was an exciting game. If the match is competitive, wicket should not matter. You go there, have a challenge, accept it, move on. We should take it as a challenge."
The renovated stadium at Ahmedabad has the reputation as a high-scoring venue.
In Lucknow, Pandya and Yadav together saw India home with a ball to spare as chasing a meagre target of 100 too became tough. The pair are shouldering middle-over responsibilities with both skipper Rohit Sharma and his deputy KL Rahul not playing in the series. "We've been batting together for a very long time and have had good partnerships. We were trying to have a good laugh towards the end (at Lucknow) and back each other."
For Yadav, there's also the excitement of possibly making a Test debut in the series against Australia starting on February 9. The batter though wanted to stay in the present, and stay focused on the final T20.
"Test cricket…everyone wants to play it. When you start playing domestic cricket, you start with red-ball only," he said. "There is excitement. We all know what an exciting series it is going to be. At the same time, you want to be in the present and we know this is the decider. After that, there is lot of time to think about it."