Vinoo Mankad's grandson's has his say on usage of 'Mankading': 'Don't speak…'
Jan 06, 2023 03:55 PM IST
The term 'Mankading' is used to refer to bowlers running out a batters at the non-striker's end before they deliver the ball.
While the debate has always been simmering in the world of cricket, Ravichandran Ashwin's act of running out Jos Buttler at the non-striker's end after the latter backed up too far in the 2019 Indian Premier League (IPL) arguably breathed new life into it. Eventually, it led to more such dismissals occurring until the Marylebone Cricket Club (MCC), keepers of the Laws of Cricket, stated that this was a legitimate form of dismissal that is not unfair.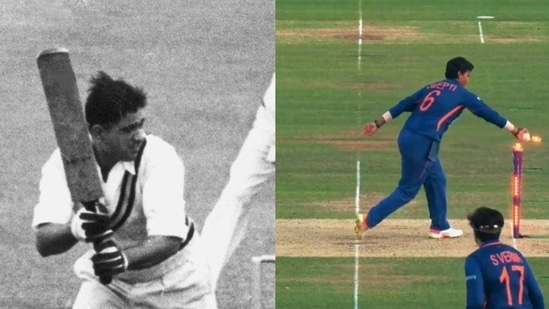 Yet, there are always a number of voices even among some current players who state that the mode of dismissal is against the spirit of the game. Another aspect of the debate surrounding the act is the term 'Mankad' or 'Mankading', which is what the mode of dismissal is commonly called. Termed after legendary India all-rounder Vinoo Mankad after he had ran out Australia's Bill Brown in Sydney in 1947, a number of former players like former India captain Sunil Gavaskar, has stated that Mankad's name shouldn't be used for describing a mode of dismissal.
ALSO READ | Hardik Pandya slammed for post-match gestures before last ball, visuals go viral after India lose 2nd T20I vs Sri Lanka
However, Mankad's family as it turns out, seems to think differently. Harsh Mankad, the former India tennis player who is also grandson of Vinoo, has stated that he is delighted for his grandfather's name to be kept alive and he hopes that he has urged people to not speak for them.
"Personally, I'm always delighted to see my grandfather being remembered. I feel it to be a great honour for our name to be associated with a cricketing term," Mankad told Newscorp Australia.
"I'd love to see the "Mankad" or "Mankading" stay and keep alive his memories and legacy as a great competitor and sportsman deeply respected and admired by everyone I've met and those who knew him and experienced life with him," he added.
While the mode of dismissal was almost considered a taboo until recently, Australia great Don Bradman, who was captain of the hosts when Mankad had run out Brown, famously defender his Indian contemporary. "For the life of me I cannot understand why," Bradman wrote in his book Farewell to Cricket, defending Mankad against the criticism he received for the action.
"The laws of cricket make it quite clear that the non-striker must keep within his ground until the ball has been delivered. If not, why is the provision there which enables the bowler to run him out?
"Mankad was an ideal type, and he was so scrupulously fair that he first of all warned Brown before taking any action. There was absolutely no feeling in the matter as far as we were concerned, for we considered it quite a legitimate part of the game."