Virat Kohli shares his life story: An incredible journey of a cricket superstar
Feb 03, 2017 11:11 PM IST
Virat Kohli shared a new video of him on social media in which the Indian cricket team captain relives his 'life story' and his cricketing journey
Virat Kohli's rise to the top of Indian cricket has been magical and inspirational. From a teenage prodigy to being the captain of world No. 1 Test side – the journey has been long and worth celebrating.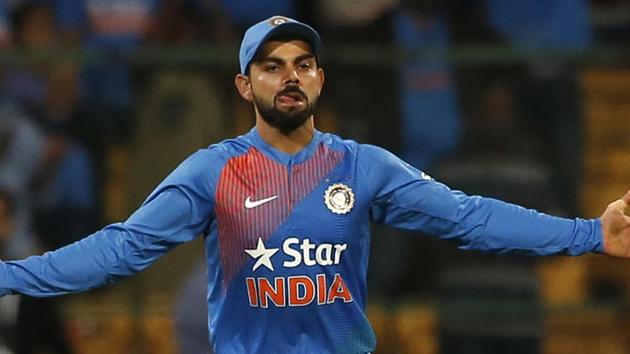 Starting from a humble background in a West Delhi colony, the journey towards greatness has begun on a right note. Having recently registered series wins in Tests, ODIs and T20Is as captain against England, Kohli chose to look back from where he started.
In a recently shared video, which he says is his 'life story' Kohli gives his fans a glimpse of what he went through to achieve the adulation of a billion Indians. However hard the path may be, Kohli reveals he is 'proud' of it.
The video starts with the tragic news of his father's death. Kohli's dad Prem passed away when the cricket star was still in his teens. At 18, the loss left a big void in his life though the very next day he was on the cricket field, playing a match-saving knock for Delhi against Karnataka.
Kohli again goes in flashback as the video shows the good times he spent with his dad and the process graduating from gully cricket to age-group tournaments and finally wearing the India shirt for the very first time in 2008.
A few of his special achievements are also listed in the video. The fastest player to score 6000 ODI runs, being named the ICC cricketer of the year (2011-12), being honoured with the Arjuna Award in 2013, scoring the fastest ODI century by an Indian in just 52 balls against Australia in 2013 in Jaipur and finally being named the Indian captain.
In the video, Kohli can be seen going through the rigours to become a champion athlete – training hard, getting up at 4 am, even breaking down sometimes – only to emerge stronger.
As of February, 2017, Kohli has scored 4209 runs in 53 Tests, 7755 in 179 ODIs and 1709 in 48 T20Is - averaging more than 50 in all the formats. He is also has distinction of scoring most number tons in a successful cause while chasing, and is also the first Indian captain to score three double centuries.
Kohli has often said his ambition is to lead India to a win overseas. With the Champions Trophy in June, his mission begins then. The India captain looks ready for it, and for inspiration he might once again look back at his 'life story' of overcoming challenges.