Nidahas Trophy: Washington Sundar relishing challenge of bowling in powerplays
Washington Sundar bowled exceptionally in the powerplays and his haul of 3/22 from four overs was the key factor in India beating Bangladesh by 17 runs and clinching a spot in the Nidahas Trophy tri-series final.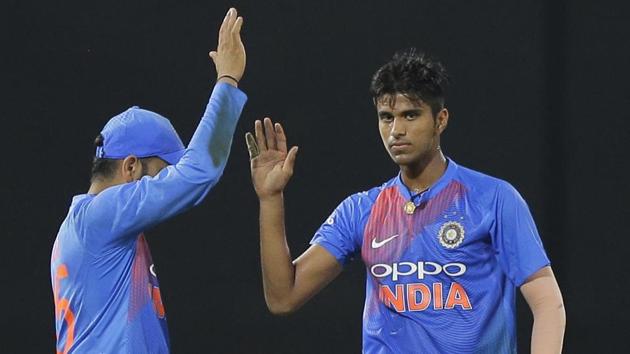 Updated on Mar 15, 2018 10:12 AM IST
Washington Sundar's performance in the powerplay during the Nidahas Trophy 2018 tri-series has been phenomenal. The 18-year-old Tamil Nadu offspinner displayed his skill yet again as he picked up three wickets and conceded just 22 runs to set-up India's 17-run win over Bangladesh and qualify for the Nidahas Trophy 2018 tri-series final at the R Premadasa stadium on Wednesday. (Match report) (Highlights)
Speaking after the end of the match, Sundar said he is fortunate to have this skill and approach in this crucial period. "I have to admit I am fortunate to have this skill (bowling in powerplay). It is more of reading the batsmen's mind in the powerplays," Sundar said.
"Every six balls, they will be looking to hit you at least for a four and six. It is important to read the mind. I myself am a batsman to an extent; I can suspect what he is thinking and where he is going to hit me," he added.
The youngster picked up the wickets of Tamim Iqbal (27), Liton Das (7) and Soumya Sarkar (1) to wreck Bangladesh's top order and despite Mushfiqur Rahim's late blitz, Mahmudullah's side suffered their seventh-straight Twenty20 loss against India.
In addition to Sundar's strike, Yuzvendra Chahal played a vital part yet again and he got the vital wicket of Mahmudullah for 11. Chahal's figures of 4-0-21-1 meant that the Indian spinners combined tally was 8-0-43-4. Sundar said this was vital in the context of the match.
"It was important for me and Yuzvendra Chahal to bowl well. Our eight overs were very important. I thought I should keep things tight," Sundar said.
League cricket helped
When asked the young off-spinner's success bowling in the powerplay, Sundar said playing in tough situations in league cricket prepared him immensely. "I play a lot of league games back home. Couple of years back, we played a tournament. I used to bowl two in the powerplay and two in the death overs which was difficult. These things helped me to get better as a cricketer. You want to keep facing those challenges and overcome," Sundar said.
Sundar's haul against Bangladesh has made him the leading wicket-taker in the Nidahas Trophy 2018 tri-series with seven wickets at an incredible economy rate of 5.87. The 18-year-old has expressed confidence that the Indian cricket team will lift the cup on Sunday.
"It is a very good feeling when you bowl under 6 every game. Both the teams are pretty If I can play to my potential or strength, then we can win the tournament," Sundar said.
Close Story