Highlights, India vs Bangladesh, Nidahas Trophy 2018, R Premadasa Stadium, Colombo: IND win, qualify for final
Get highlights of India vs Bangladesh, Nidahas Trophy 2018, here. The Rohit Sharma-led Indian cricket team defeated Bangladesh by 17 runs in the 5th game to qualify for the final of the Nidahas Trophy T20 tri-series at the R Premadasa Stadium in Colombo tonight.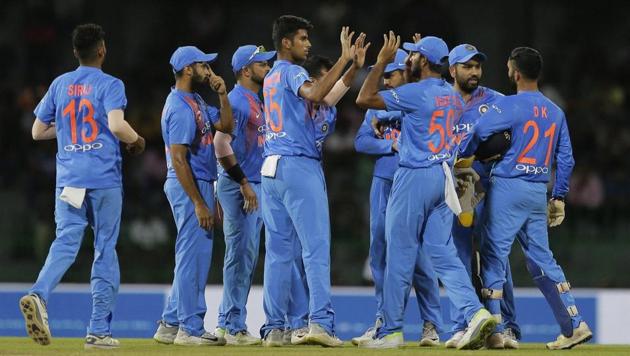 Updated on Mar 14, 2018 10:32 PM IST
India defeated Bangladesh by 17 runs to enter the final of the Nidahas Trophy in Colombo tonight. The Rohit Sharma-led outfit scored 176/3 in 20 overs after Bangladesh opted to bowl. Captain Rohit scored a brilliant 61-ball 89 which took India to their highest score of the tournament. The skipper was given good support by Shikhar Dhawan (35) and Suresh Raina (47). In reply, Bangladesh could only manage 159/6 with Mushfiqur Rahim top-scoring with 72 not out. Washington Sundar was the pick of the Indian bowlers, scalping 3/22, his career best figures, in four overs. Yuzvendra Chahal also slowed down the run rate and picked a wicket. Get highlights of India vs Bangladesh, Nidahas Trophy 2018, here. (Live streaming) (Scorecard)
22:30 hrs IST: Thanks for joining in. Hope you enjoyed the coverage
22:26 hrs IST: Friday's game between Sri Lanka and Bangladesh will decide which team plays the final vs India on Sunday
22:24 hrs IST: Mushfiqur Rahim's 72 not out goes in vain
22:22 hrs IST: Ten runs and a wicket off the last over as Bangladesh finish at 159/6. India win by 17 runs and make sure that they will play on Sunday in the final at the same venue
22:20 hrs IST: India have won it and qualify for final
22:19 hrs IST: Mehidy Hasan is out for 7 and Bangladesh now need 27 off 4
22:18 hrs IST: What an over by Thakur, just five runs! Bangladesh need 28 off the last over
22:17 hrs IST: So far a good over by Shardul Thakur
22:16 hrs IST: Ones and twos are fine, what India don't want are boundaries
22:15 hrs IST: Shardul Thakur comes in to deliver a crucial over
22:14 hrs IST: Sixteen off that Siraj over and Bangladesh now need 33 off 12!
22:12 hrs IST: Not out and four off the last ball
22:11 hrs IST: A high full toss and Mushfiqur gets caught... but is it a no ball? The umpires have gone up
22:09 hrs IST: Also back to back 50s for Mushfiqur
22:08 hrs IST: Back to back boundaries and Siraj and Rohit Sharma under pressure
22:07 hrs IST: Mushfiqur Rahim brings up his fourth half century in T20Is
22:05 hrs IST: Bangladesh need 49 off 18 with five wickets in hand
22:03 hrs IST: Bangladesh need 51 off 20 now. Partnership of 65 comes to an end
22:02 hrs IST: Bowled! Just when they needed it. Shardul Thakur's slower one clean bowls Sabbir Rahman for 27
21:58 hrs IST: Very good over from Washington Sundar, just four off it and he finishes off with a career best of 3/22
21:55 hrs IST: Bangladesh need 61 off 30 now. Rohit Sharma desperately needs wickets
21:53 hrs IST: Sabbir Rahman and Mushfiqur Rahim have also brought up the fifty run partnership!
21:50 hrs IST: Captain Rohit Sharma is quite agitated and unhappy out there. Bangladesh are inching closer to victory as the match is slowly slipping away from India
21:47 hrs IST: India need wickets now while Bangladesh need 71 off 39
21:45 hrs IST: Four runs off the first five balls and then a six!
21:44 hrs IST: Just what was needed. Chahal comes back into the attack
21:42 hrs IST: 30 runs have come in the last two overs
21:40 hrs IST: Bangladesh are 93/4 after 12 overs
21:37 hrs IST: Bangladesh need 86 off 50 now and Mushfiqur Rahim is batting well
21:33 hrs IST: Siraj proves to be expensive, 16 from his over
21:29 hrs IST: Right hander Sabbir Rahman comes to the crease
21:28 hrs IST: Bangladesh now need 116 off 68
21:26 hrs IST: Four wickets and all by spinners. The wicket is slowing down
21:24 hrs IST:Skipper Mahmudullah is out for 11. Chahal gets the wicket!
21:20 hrs IST: The Bangladeshi innings is slowing down
21:17 hrs IST: Bangladesh are 53/3 after 7 overs
21:14 hrs IST: Experienced campaigners Mahmudullah and Mushfiqur Rahim at the crease
21:12 hrs IST: This is Washington Sundar's 5th T20 and only the 1st time he has picked three wickets
21:10 hrs IST: Wow! Out! Washington Sundar picks his third wicket and this time it is the dangerous Tamim Iqbal who departs for 27
21:08 hrs IST: Good first over by Yuzvendra Chahal, just three off it. Bangladesh 39/2 in 5 overs
21:06 hrs IST: After four overs, Bangladesh are 36/2
21:05 hrs IST: Mushfiqur Rahim comes to the crease
21:03 hrs IST: Intelligent usage of Washington Sundar. Wicket is slow and usage of a slow bowler at the start has come handy
21:01 hrs IST: OUT! Soumya Sarkar goes for 1 as Washington Sundar picks his second wicket!
20:59 hrs IST: Shardul Thakur just got hammered there while delivering his first over of the match. 19 runs in the third over as Tamim Iqbal hammers three boundaries and a six!
20:54 hrs IST: Soumya Sarkar joins Tamim Iqbal at the centre and Bangladesh are 12/1 in overs
20:53 hrs IST: OUT! Sundar has picked India's first wicket as Liton Das is stumped by Karthik for 7
20:52 hrs IST: India just wasted their review!
20:50 hrs IST: Md Siraj delivers the first over and Bangladesh are 8/0
20:47 hrs IST: The Bangladeshi batsmen are coming out to bat now
20:46 hrs IST: Suresh Raina says the wicket was very slow
20:45 hrs IST: India scored 105 runs in the last 10 overs
20:42 hrs IST: Rohit was brilliant with his 89, five fours and sixes each
20:40 hrs IST: A very good last over by Rubel Hossain, only four runs but two wickets
20:37 hrs IST: This is India's highest total in the Nidahas Trophy
20:34 hrs IST: Rohit is run out on the last ball for 89 as India end at 176/3
20:32 hrs IST: Only one run!
20:31 hrs IST: Three balls left and Rohit on 88
20:30 hrs IST: Dinesh Karthik has come in to replace Raina
20:29 hrs IST: Raina gets caught out in the deep after a brilliant 30-ball 47 which included five fours and two sixes
20:27 hrs IST: India are 172/1 with one over left and Rubel Hossain to bowl
20:25 hrs IST: Back to back boundaries by Rohit Sharma, he has reached 87 not out!
20:22 hrs IST: Three sixes and 21 runs! India are 161/1 with two overs left to play
20:21 hrs IST: Six more! This time from Raina!
20:20 hrs IST: Another six! Rohit's fourth! Now he is beginning to explode in Colombo
20:19 hrs IST: 14 runs from the 17th over and India are 140/1
20:16 hrs IST: Raina walking at the crease, must have confused Mustafizur but only one run
20:15 hrs IST: Chipped in the air but lands safely at mid-off. Rohit Sharma is still not out!
20:14 hrs IST: After 16 overs, India are 126/1
20:11 hrs IST: This is now Rohit's highest score in a T20 in Sri Lanka, going past 55 he made against England in the 2012 World T20
20:08 hrs IST: Two back to back boundaries by Raina! Good over for India, 13 from it
20:05 hrs IST: India are 104/1 after 14 overs!
20:04 hrs IST: India have crossed the 100-run mark!
20:02 hrs IST: Big six from the willow of Raina! And now a four! This is good cricket by Raina
20:01 hrs IST: Rohit Sharma has had a miserable tournament so far so this knock was much needed
19:59 hrs IST: Rohit Sharma is scored his 13th half-century in Twenty20 Internationals as India near the 100-run mark
19:57 hrs IST: Much needed four from Rohit who is on 49 now
19:53 hrs IST: After 12 overs, India are 84/1. India should seriously consider accelerating now
19:51 hrs IST: Mustafizur Rahman is back into the attack
19:50 hrs IST: SIX from Rohit! India needs these!
19:48 hrs IST: After 10 overs, India are 71/1. Get live cricket score of India vs Bangladesh here.
19:46 hrs IST: Suresh Raina is the new man in
19:45 hrs IST: Bangladesh have a wicket and partnership ended at 70
19:44 hrs IST: OUT! Dhawan finally gets out for 35. Ruber Hossain clean bowls the left hander!
19:43 hrs IST: Both Rohit Sharma and Shikhar Dhawan are in 30s
19:42 hrs IST: Just four runs from the over and India are 67/0
19:40 hrs IST: With all the wickets in tact, India can really explode with only 11 overs remaining
19:35 hrs IST: Dhawan pulls and a lovely boundary down deep mid wicket
19:33 hrs IST: Wicketkeeper Liton Das drops Dhawan! What a reprieve for the opener! Both India openers are in their mid-20s
19:32 hrs IST: The foundation has been laid for India to score a big total here!
19:30 hrs IST: India have reached the 50-run mark without losing a wicket
19:29 hrs IST: Two boundaries from the sixth over. India are slowly accelerating now. India are 49/0 after 6 overs
19:25 hrs IST: Bangladesh have used five bowlers for the first five overs! Don't recall when that happened last!
19:23 hrs IST: Rohit Sharma also gets into the act and SIX! India 38/0 after 5 overs
19:21 hrs IST: Big six by Dhawan and India are 27/0 after 4 overs! That was mighty impressive from the left hander
19:19 hrs IST: Four different bowlers have bowled the first four overs!
19:16 hrs IST: Mustafizur Rahman comes in to bowl.
19:15 hrs IST: India are 18/0 after three overs
19:13 hrs IST: Rohit could have been out again there but that was a difficult take
19:11 hrs IST: Rubel Hossain into the attack. India need a good start here
19:10 hrs IST: Dhawan hits his first four and India are 11/0
19:08 hrs IST: First boundary of the match comes up! From the willow of Rohit
19:06 hrs IST: End of 1st over and India are 2 for no loss
19:04 hrs IST: Like the previous India vs Bangladesh game, crowd just over 1000
19:03 hrs IST: Sad to see but the stadium is more or less empty. India are not used to this, are they?
19:00 hrs IST: Abu Hider Rony delivers the first ball!
18:59 hrs IST: India openers Shikhar Dhawan and Rohit Sharma are stepping out. Dhawan is the highest scorer of the tournament with 153 runs. Rohit on the other hand has not done well at all
18:58 hrs IST: Time for national anthems
18:56 hrs IST: To Siraj's credit, he was the leading wicket-taker in Vijay Hazare Trophy with 23 scalps. He had three-five wicket hauls, including one against eventual champions Karnataka
18:55 hrs IST: Taskin Ahmed dropped makes sense as he went for runs in the previous two games. However, dropping Jaydev Unadkat, the joint-highest wicket-taker for Siraj is a gamble
18:50 hrs IST: Here are the squads: India: Rohit Sharma (c), Shikhar Dhawan, Lokesh Rahul, Suresh Raina, Manish Pandey, Dinesh Karthik (w), Vijay Shankar, Washington Sundar, Shardul Thakur, Mohammed Siraj, Yuzvendra Chahal
Bangladesh: Tamim Iqbal, Soumya Sarkar, Liton Das, Mushfiqur Rahim (w), Mahmudullah (c), Sabbir Rahman, Mehidy Hasan, Rubel Hossain, Abu Hider Rony, Mustafizur Rahman, Nazmul Islam
18:45 hrs IST: Bangladesh captain Mahmudullah says: "The wicket looks quite dry, spinners may come into play. The wickets here get better and better. We have two specialist spinners. One change, Abu Hider comes in for Taskin."
18:40 hrs IST: "I was thinking about batting, if we qualify for the final, we want to do that. Very happy with the way the team is performing. No, not at all (concerns of form). One change, Mohammad Siraj in place of Jaydev Unadkat," says Rohit Sharma.
18:35 hrs IST: India and Bangladesh have faced each other six times in Twenty20 Internationals. India have won each and every time
18:30 hrs IST: So the news from the centre is that Bangladesh have won the toss and opted to bowl against India
18:25 hrs IST:Interestingly all four games so far in the Nidahas Trophy, the team that has chased has won. So the captains know what to do at the toss
18:23 hrs IST: There is a strong possibility of Mohammed Siraj playing in place of Jaydev Unadkat
18:20 hrs IST: If India win today, they will for sure enter the final
18:15 hrs IST: The main news today is that there is no rain and we are in for a 6:30 PM toss and 7:00 PM start
18:10 hrs IST: This the second T20 game between the two sides in the Nidahas Trophy after India won comprehensively last week
18:05 hrs IST: Hello and welcome to the live blog of the India vs Bangladesh.
A win for Bangladesh will open the table as it will boil down to the Sri Lanka vs Bangladesh game on Friday and eventually the net run rate to see which two teams qualify for the final.
India are atop the standings with four points while hosts Sri Lanka and Bangladesh have two each.
Close Story