Watch: Lockie Ferguson clocks 157.3kph, bowls fastest ball of IPL 2022 in RR vs GT final. Here's how Buttler played it
May 29, 2022 09:20 PM IST
IPL 2022: Lockie Ferguson bowled the fastest delivery of the season, as he clocked 157.3 kph during the GT vs RR Final match.
Lockie Ferguson saved his best – or in this case – his 'fastest' – for the last as he broke the speed barriers in this season of the Indian Premier League. Ferguson bowled the fastest delivery of IPL 2022 (157.3 kph) during the final of the season against Rajasthan Royals on Sunday. Gujarat Titans are taking on the Royals as the Hardik Pandya-led side chases a title in its maiden season in the tournament. Follow IPL 2022 Coverage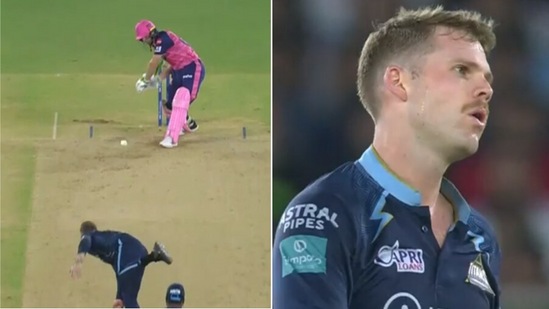 Also read: 'Coach to commentator in a jiffy': Fans overjoyed as Ravi Shastri returns to commentary box, conducts toss
Ferguson bowled the fastest delivery on the final ball of the fifth over of the game, as Jos Buttler was left dazzled with the speed at which the ball swept past him. It was a yorker-length ball outside off and Buttler completely missed the line, as Wriddhiman Saha safely carried the ball.
Watch:
Earlier, the Rajasthan Royals had won the toss and opted to bat against the Gujarat Titans at the Narendra Modi Stadium in Ahmedabad. The Royals, however, failed in their bid for a second IPL title, as the Titans defeated the side by 7 wickets in a rather one-sided final.
Gujarat's highly-rated bowling attack, led by skipper Hardik Pandya (3/17) himself, limited a formidable Rajasthan Royals batting unit to 130 for nine after losing the toss.
Shubman Gill and David Miller remained unbeaten on 45 and 32, respectively, to complete an emphatic win for their team.
It should have been a comfortable chase but Rajasthan bowled their hearts out to make it an interesting final. As they showed all season, Gujarat remained calm in tough situations to finish the chase in 18.1 overs.
Not many gave Gujarat a chance in their first season especially after a mixed auction where they waited till the end to secure the services of wicketkeepers Wriddhiman Saha and Matthew Wade. It was not a team studded with star players but Hardik impressed with his leadership and got the best out of his colleagues.