Watch: Rohit Sharma's epic brain fade after winning toss in 2nd ODI leaves Tom Latham, Javagal Srinath in splits
Jan 22, 2023 10:10 AM IST
India skipper Rohit Sharma, admitted to have had "plenty of discussions" on it, but ended but suffering an epic brain fade moment when he won the toss and failed to pick whether the hosts would bat or bowl first, leaving New Zealand captain Tom Latham and match referee Javagal Srinath in splits
Toss is crucial factor is the game of cricket, especially in limited-overs matches where captains have to keep in mind the dew factor. But captains do have discussions with the team management on whether to bat or bowl first before heading for the toss. India skipper Rohit Sharma, admitted to have had "plenty of discussions" on it, but ended but suffering an epic brain fade moment when he won the toss and failed to pick whether the hosts would bat or bowl first, leaving New Zealand captain Tom Latham and match referee Javagal Srinath in splits. (India vs New Zealand Live Score 2nd ODI)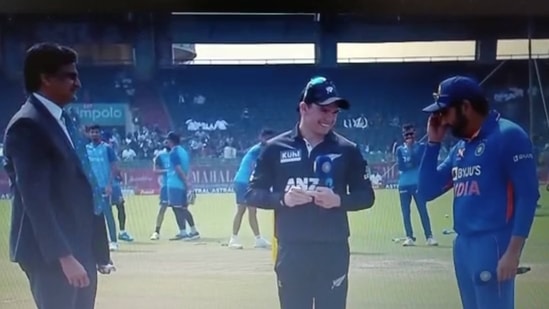 India had batted first in the series opener in Hyderabad where Shubman Gill's stunning double century helped the team win by 12 runs. The Men in Blue, now with a 1-0 lead in the three-match series, will be aiming to wrap up the contest against the 2019 ODI World Cup runners-up in the contest in Raipur, which is hosting its first ever international match.
ALSO READ: 'Unlike Australia and England, India are going to be short-changed...': Ashwin on Rohit Sharma-led side's ODI WC chances
Rohit flipped the coin. Latham called 'Heads'. The coin, however, sided with the Indian team. But Rohit forgot what India would do first. He scratched his head in embarrassment as Latham and Srinath couldn't stop laughing and eventually, albeit hesitantly, said, "we will bowl first".
"I forgot what we wanted to do, had plenty of discussions with the team about the toss decision, just wanted to challenge ourselves under difficult conditions, but we'll bowl first," said Rohit, who took 15 seconds to take that call, when Ravi Shastri asked him on the brain fade moment.
"Was a good test for us, knowing that the wicket will get better to bat on and that was the challenge in front of us. Bracewell batted well, but we bowled well in the end and won the game. There was a bit of dew during the practice sessions, but we've heard from the curator that it will not play a role on game days. We batted first in Hyderabad, we wanted to bowl first here," added Rohit.
India have made no changes to their team for the second ODI, and so have New Zealand.