Watch: Virat Kohli's 'do I look the pooja-paath types?' comment resurfaces after India star's visit to Rishikesh ashram
Feb 01, 2023 11:38 AM IST
Virat Kohli's seven-year-old comment about 'prayers and worship' has resurfaced as many fans recall the remark from the former India captain after his visit to a Rishikesh ashram on Tuesday.
Team India star Virat Kohli and his wife, Bollywood actress Anushka Sharma took a spiritual break in Rishikesh ahead of the former's return to cricketing action later this month against Australia. Kohli is a part of the Indian team for the four-match Test series against the top-placed side in the World Test Championship, and is expected to play a vital role as India chase a final berth in the edition.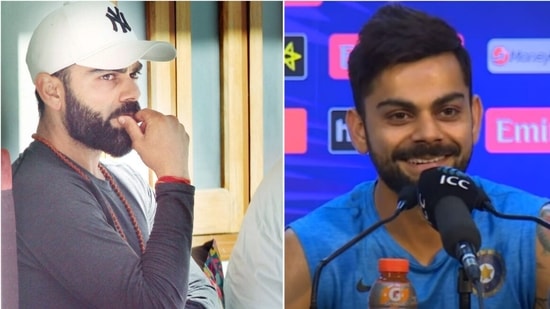 In the city of Rishikesh in Uttarakhand, the couple, along with daughter Vamika, paid a visit to Swami Dayanand Giri Ashram and several pictures of their visit went viral on social media platforms. Kohli also obliged to selfie requests from multiple fans who also arrived at the ashram to catch a glimpse of the star couple.
Also read: 'He struggles in T20s': Jaffer drops Team India star with blazing four-word verdict for series-decider against NZ
As the pictures of couple's visit to the Ashram were shared on Twitter, many fans were quick to remember a comment made by Kohli on seven years ago during a press conference at the T20 World Cup. India were scheduled to take on Australia in a do-or-die match at the tournament in Mohali, and a reporter had asked Kohli if he does 'pooja-paath' (prayers) to keep himself calm in pressure situations.
Kohli, who was then the vice-captain of the Indian team, had said, "Do I look the pooja-path types? (Do I look like I do prayers and worship?)," leaving the entire room in splits.
"When I started, a lot about me was wrong. I was the tattoo guy, the one who wore stylish clothes. It is very easy to focus on the negative stuff but I choose not do that. The basic thinking is I want to improve as a cricketer every day. I make sure I do all the hard work and hope it pays off one day. I back myself to go out there and win the game.
"As a cricketer, you don't have a long career. For me it is an opportunity. Once you get addicted to it (performing), you want more and more of it. You work so hard and you want that satisfaction," he had said.
Watch the video:
The fans remembered the comment after Kohli and Anushka's recent visit to the ashram. One fan wrote, "#ViratKohli once said " Do I really look like a Pooja person" looking at his tatoos in a press conference many years back before marriage. Thanks to #AnushkaSharma mam for changing Virat as a person. It's amazing to see this transformation from Virat."
The other, meanwhile, quoted Kohli's comment in reply to the video of cricketer visiting the ashram.
See all tweets:
Virat Kohli made a blistering return to form in the Asia Cup 2022 last year after an extended rough patch, ending a long wait for a 71st international century against Afghanistan. He, then, played a remarkable unbeaten 85-run knock against Pakistan in the T20 World Cup opener, and went on to smash three ODI centuries (one each against Bangladesh, Sri Lanka, and New Zealand).