'Woh 6 din ke liye aaya tha': Wasim Akram's absolute savage reply after reporter namedrops Ramiz Raja during interview
Jan 28, 2023 08:49 AM IST
Wasim Akram didn't mince his words as he talked about the departure of Ramiz Raja as the chairman of PCB.
The Pakistan Cricket Board (PCB) saw a series of administrative changes over the past few weeks, with Najam Sethi replacing former captain Ramiz Raja as chairman. Raja was sacked from the post in December and a 14-member managing committee was formed; former Pakistan skipper Shahid Afridi was also brought in as interim chief selector and earlier this month, Haroon Rashid took over on permanent basis.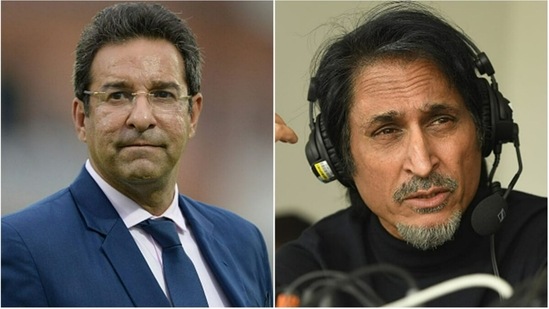 Following his unceremonious departure from the PCB, Ramiz appeared on various Pakistan news channels where he spoke against the new management, and lamented his treatment after the sacking. During one interview, as Ramiz talked in detail about his decisions as PCB chairman, he even claimed that he would've even banned Wasim Akram for being named in the Justice Qayyum report on match-fixing.
Also read: Watch: Hardik Pandya shellshocked after Arshdeep Singh bowls no-ball, concedes hat-trick of sixes in wild 27-run over
"I think no one should have had the chance (of coming back to Pakistan cricket). If Wasim Akram's name is in there, and he was censured for not cooperating, right? It was a borderline case. If I was the decision maker at the time, I would've banned them forever," the former PCB chairman had said.
Akram has now broken silence on Ramiz's departure as he talked about the changes in PCB in detail during an interview with Cricket Pakistan. And it seems clear all is not well between the two former cricketers, as Akram responded with 'Who?" as soon as the interviewer namedropped Ramiz.
"There was a change in the Pakistan board. You talked about Najam Sethi, Ramiz Raja was removed..." the interviewer said before Akram interrupted him.
"Who?" asked Akram.
"How would you rate Ramiz Raja as PCB chairman?" the reporter continued.
To this, Akram had a rather savage response.
"Look, I don't want to discuss this. Vo 6 din ke liye aaya tha, ab vo vaapis aa gaya hai apni jagah pe. (He came here for six days, now he's back to where he belongs)," Akram said.
"Najam Sethi has experience, and it's no concept that only cricketers should be PCB chairman. You need to be a good administrator, and you need to be a good communicator and build a good repo with other boards. Najam Sethi sahab is the best in that. People can disagree for all I care. It's my opinion."