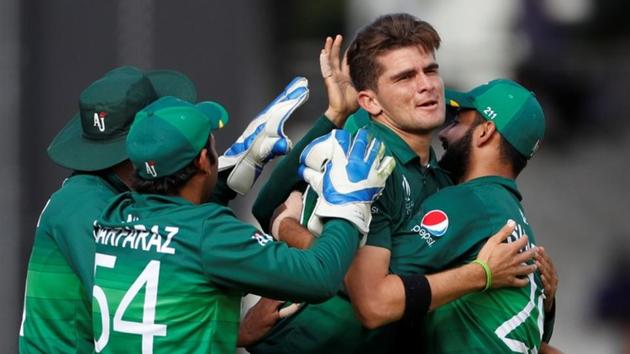 World Cup 2019: Pakistan predictably knocked out of tournament despite big win over Bangladesh
Pakistan had to win by an unlikely 316 runs to edge out New Zealand for a semi-final spot.
UPDATED ON JUL 06, 2019 07:56 AM IST
Dead rubbers have an easy tell. Lack of intent is the first. The odds of Pakistan defeating Bangladesh by a margin of 300 plus was always improbable, if not impossible. But how about still going straight for the jugular? It was certainly not beyond Pakistan who have the penchant for the theatrical, upsetting the applecart and inducing nervous breakdowns among supporters. They live to deliver the thrills, the outlandish moments of cricket. To take the safe path of reason is so not Pakistan.
That this match could be yawn-inducing was apparent when Pakistan captain Sarfaraz Ahmed made two important announcements at the toss, which he won. "No changes to our team. The loss against West Indies was disappointing. But we want to finish on a high note." 'No changes' and 'finish on a high' don't hit the right notes. To go in with an unchanged team when a T20 batting wonder like Asif Ali was unutilised is inexplicable when the scenario demanded Pakistan played out of their skin. But Ahmed—Pakistan had to win by an unlikely 316 runs to edge out New Zealand for a semi-final spot—already sounded like a captain who had accepted the exit.
READ | Shakib al Hasan equals Sachin Tendulkar's massive World Cup record
It was probably just a matter of tweaking the batting in a few positions. Some more intent in the first 10 overs could have boosted Pakistan to go beyond 314. Opener Imam-ul-Haq came good finally, scoring a run-a-ball 100. Babar Azam was unlucky in not getting his second century of the World Cup, out for 96, but it was Imad Wasim's 26-ball 43 that gave Pakistan the final momentum.
Bangladesh, in reply, couldn't have got off to a more sedate start. A win was their only motivation. That hope was extinguished when Shakib Al Hasan was caught behind trying to cut Shaheen Shah Afridi. With seven 50 plus scores, including two centuries, Shakib exits the tournament as the highest scorer (606 runs and 11 wickets). He will surely be overtaken, but it was probably the best exhibition of a talent that wasn't backed by teamwork to make it defining.
READ | New Zealand qualify for semi-finals, Pakistan knocked out
Spare a thought for Mashrafe Mortaza too. Dodgy knees and dipping batting ability couldn't stop him from leading Bangladesh with heart. No one in this Bangladesh team had played at Lord's before, making it a perfect opportunity to give Mortaza—the only player in the history of Bangladesh cricket who will never be criticised—a deserving send-off in his last World Cup match. But neither team had the appetite to go for broke. Shaheen Shah Afridi and Mustafizur Rahman both returned five-for hauls but Bangladesh slid to a defeat that will sting a bit more than the rest.
Pakistan finished level with a semi-finalist but the inferior net run rate didn't take them above New Zealand. Winning didn't matter on Friday. Only winning big did. Pakistan however looked content finishing fifth best. It's like that talented student who leaves everything for the night before the exam instead of studying through the year. He may pass, but not excel. Pakistan's World Cup story doesn't change. For all their talent and exuberance, they have again flattered to deceive.
Topics
Close