Akhada Parishad proposes to shift Kumbh bath area, faces opposition
The apex body of Hindu sadhus, Akhil Bharatiya Akhara Parishad, proposed to shift Haridwar Kumbh mela from Har-Ki-Pauri to Neeldhara area. It cited overwhelming pressure of pilgrims, which in 2021 will surpass 2 crore mark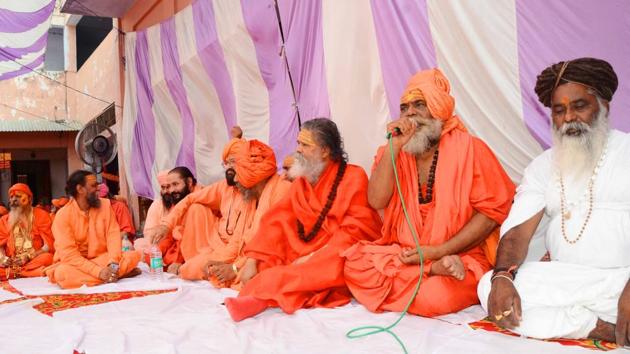 Updated on Oct 05, 2017 07:56 PM IST
Hindustan Times |
, Haridwar
Sandeep Rawat
Akhil Bharatiya Akhara Parishad (ABAP) on Thursday proposed to shift Haridwar Kumbh mela from Har-Ki-Pauri to Neeldhara area, inviting objection from Ganga Sabha, panda community and traders.
This proposal aims at reducing growing pressure on the sanctum sanctorum of Brahamkund, Har-Ki-Pauri, where millions arrive in a single day to take holy dip in Ganga during Shahi (royal) bathe of Maha Kumbh.
ABAP national president Shri Mahant Narendra Giri made the proposal before ABAP representatives at Mayadevi shrine, Juna Akhada.
He said a proposal to develop 80 km new Ganga ghat stretch to shift Kumbh festive bathes and rituals to Neeldhara will be made to Chief Minister Trivendra Singh Rawat.
"Last Kumbh in 2010, during Shahi snaan of April 12-14 about 1.63 crore pilgrims arrived in Haridwar. Current, Har-Ki-Pauri mela ghats are not sufficient to cater to such overwhelming pressure of pilgrims, which in 2021 will surpass 2 crore mark. For, smooth conduct of Kumbh fair bathes, we need to make new Ganga ghats at Neeldhara, which is open and can accommodate manifold devotees in comparison to Har-Ki-Pauri," he said.
Though Akhara president made it clear that taking holy Ganga dip will take place at Brahamkund in Har-Ki-Pauri only but Akhada royal processions, camps and bathe-rituals by pilgrims from across the country can be diverted to Neeldhara on banks of main stream of Ganga.
Ganga Sabha has made strong objection, saying Brahamkund at Har-Ki-Pauri was the ancient place, where nectar fell during 'Samudramanthan' war-of-tug between deities and demons.
Ganga Sabha president Purushottam Sharma Gandhivadi said since centuries Kumbh and Ardh Kumbh fair have been held at Har-Ki-Pauri only.
"Such is the significance of Har-Ki-Pauri that during construction of Ganga Canal in 1840s, special canal stream was discharged to ensure sufficient water flow remains at this sanctorum. It's a place where nectar fell, deities take holy dip, saints-Akhadas take maiden Shahi Snaan dip and mythological references as well as government documents also point to Kumbh being organized at Har-Ki-Pauri since centuries," he said.
Trader fraternity also expressed concern. "Kumbh in Haridwar is synonymous with Har-Ki-Pauri, so it would not only hurt religious sentiments of the devotees but would also impact livelihood of thousands of people. Trader fraternity will oppose any move to shift Kumbh activities to any other area," said Tej Prakash Sahu, a trader division representative.
When contacted urban development minister Madan Kaushik said when the Mela administrative officers for Kumbh-2021 get appointed, it's their prerogative to suggest for inclusion or expansion of Kumbh Mela zone, only after which state government will take up the matter.
On this, general secretary Akhada Parishad Hari Giri Maharaj said: "We will be meeting the CM soon to demand appointment of Kumbh Mela administrative and police office-in-charge so that Kumbh preparations begin at the earliest and our demand of expansion of Kumbh towards Neeldhara Ganga stretch is accepted."
Purushottam Sharma, a social activist, said: "During last Ardh Kumbh, the state government had extended Kumbh mela zone to Devprayag in Pauri and Tehri Garhwal districts. So, it could be extended for betterment of fair, pilgrims and facilities."
Close Story
Personalise your news feed. Follow trending topics