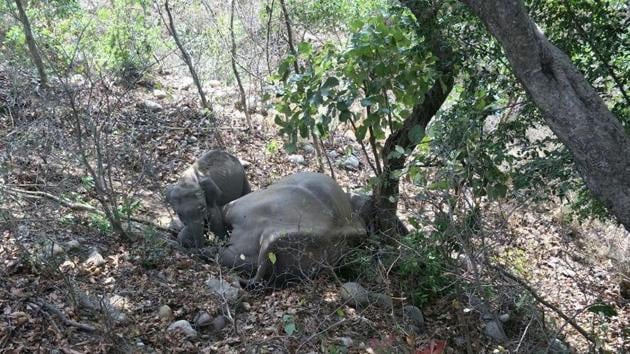 Another elephant dies in Rajaji Tiger Resrve — after falling from a cliff
This is the third elephant death in the Rajaji Tiger Reserve this year, the other two died after getting hit by speeding trains
UPDATED ON APR 05, 2018 09:04 PM IST
An adult female elephant died in Rajaji Tiger Reserve early on Thursday allegedly after falling from a cliff, officials said. The reserve staff, who termed the death natural, said they were alerted after hearing the constant screeches of the elephant's two-and-a-half-year old calf.
The calf had refused to move from the side of the dead elephant. The reserve officials had use a net to trap the calf that was later transported to Chilla range where it would be put up with three other departmental calves.
"The calf needs milk to survive. It is not eating anything. So, with the permission of the chief wildlife warden, we brought the calf to our shelter. Two people have been assigned to take care of the orphaned calf," Sanatan Sonkar, director Rajaji, said.
This is the third elephant death in the Rajaji Tiger Reserve this year. The other two elephants died after getting hit by speeding train on an 18-km sensitive stretch inside the reserve. Officials, however, found nothing suspicious in Thursday's death.
"The elephant, aged about 35-40 years, slipped from a rocky cliff in Chilla range near Chandi Bridge. This happened early in the morning. One of its legs was damaged and it seemed it died on the spot. It is a natural death. It seems that the animal was trying to reach for leaves on a tree when it lost footing," Sonkar said.
Beginning 2001, when Uttarakhand was carved out of Uttar Pradesh, the mountain state has witnessed 361 elephant deaths, as per forest department statistics. Including the latest incident, 59 elephants have died in accidents. Also, 11 elephants have died in train accidents while 139 others died of natural reasons.
DVS Khati, chief wildlife warden has issued orders to take care of the orphaned calf. The reserve management already has two adult and three departmental elephant calves.
The mountain state reported 1346 elephants in 2012 national census, which swelled to 1839 in 2017.
Close