At 61% full immunisation, Uttarakhand lags at bottom
Published on Mar 31, 2018 09:36 PM IST
Achievement of the health department's immunisation programme in Uttarakhand has taken a serious hit in 2017-18 as only 61.32% children (9-11 months old) were covered with full immunisation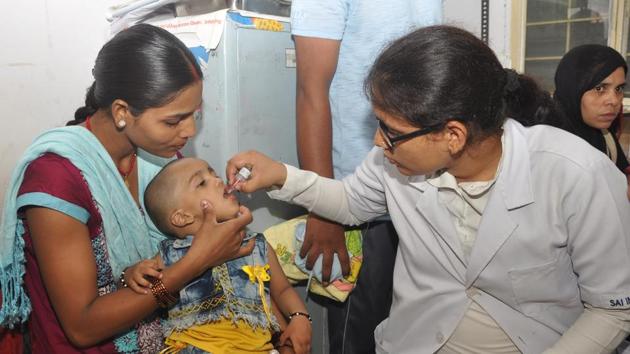 Achievement of the health department's immunisation programme in Uttarakhand has taken a serious hit in 2017-18 as only 61.32% children (9-11 months old) were covered with full immunisation.
This is a drastic fall from 99.3% full immunisation that was achieved in 2015-16.
According to a written reply by the central government in the Rajya Sabha on March 27, Uttarakhand was one of the worst-performing states when it comes to full immunisation.
In the list of 36 states and union territories, Uttarakhand is placed among the bottom three. Only Nagaland (61.07%) and Andaman and Nicobar (42%) have a grimmer situation than the hill state.
On the other hand, there are 22 states that have full immunisation coverage of more than 90%. The all India figure stands at 95.60%.
In February, the NITI Aayog released a report on the status of health in different states. The report mentioned that Uttarakhand had improved its coverage of full immunisation from 91.8% in 2014-15 to 99.3% in 2015-16.
According to the report, full immunisation is defined as the proportion of infants (9-11 month old) who have received BCG, three doses of DPT, three doses of oral polio vaccine and one dose of measles in a specific year.
A child is considered fully immunised only after receiving one dose of measles.
Dr Bharti Rana, state immunisation officer, attributes the low figures to a "loophole" in data collection mechanism.
"This year, we administered the Measles-Rubella (M-R) vaccine under a campaign mode in the state. We did not have any supply of measles vaccine since October and the M-R campaign started in February," she said.
"The central government's instructions to states that the vaccines that are administered under a campaign mode cannot be counted with figures of routine immunisation."
Dr Rana said this was the main reason why the overall figure has declined in the state this year.
"The children are all immunised, but the data has not been recorded in the health management information system (HMIS)," she said.
The data mentioned in the central government's reply in Parliament is from HMIS (as on March 9, 2018).
However, even if this reasoning is to be accepted, coverage of individual vaccines in Uttarakhand is still below most states.
The state government's immunisation data till February shows 88% coverage of BCG, 78% of oral polio, 37% of Hepatitis-B (zero dose), 78% of Pentavalent, and 55.6% of Measeles-Rubbela.
"Once the figures for March are included, the overall coverage of full immunisation will be around 80%," Dr Rana said.
Asked about the state's past performance of achieving 99.3% full immunisation, as reported by NITI Aayog, she said, "I doubt the data. As far as I know, our performance was never this high."