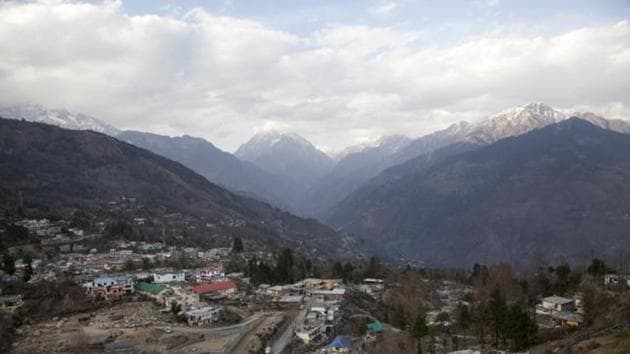 Cancellation of hotel bookings worries hoteliers in Pithoragarh
Owning to inclement weather and dry ATMs, tourists have been cancelling their hotel and other bookings
Hindustan Times, Pithoragarh | By BD Kasniyal
UPDATED ON MAY 16, 2018 10:43 PM IST
With the usual rush of tourists missing this year, hotel owners in Pithoragarh are anxious. Owning to inclement weather and dry ATMs, tourists have been cancelling their hotel and other bookings.
According to the tourism facility owners, media hype over bad weather has contributed to the weak tourism season in the district. "Over 10 percent tourists have cancelled their booking of rooms in Munsiyari alone in the month of May this year," said PC Pandey, owner of a tourist facility in Munsiyari.
Tourists visit Munsiyari to watch Panchachuli peak in summer months. But this year, as the peak was covered by clouds most of the time during May, the tourist footfall was less. "We have only 2,700 tourists in the month of May this year, while the figure was 4,000 the same time last year," said Devendra Singh Deva, president of the hotel association in Munsiyari.
Another tourist facility owner, Puran Pandey claimed that more than 100 tourists from various parts of the country have cancelled their bookings for May and June due to weather-related reasons. "Besides, shortage of cash in ATMs and lack of swap facility have also hit the business, as the tourists are asking prior to booking if we could ensure them of cash in ATMs in the town as well as the swap facility," he said, adding that the dry ATMs is a countrywide problem, but the swap facility is also not available in the town due to weak signals from the communication towers.
Sources from Chaukori hill station in Berinag of Pithoragarh district also said that the adverse weather conditions have hit tourism in the town this year. "Out of total 16 rooms in my hotel, only 3-4 rooms are filling on daily average, which till last year used to be almost 70 percent full," said Ram Singh Mehra, owner of Aagan resort at Chaukori town.
Another hill resort facility owner in Kausani said that besides the media hype around inclement weather, the panchayat elections in West Bengal has also hit the tourism trade in Kausani this year. "We do not expect good flow of tourist in coming months as due to late summer in plains, schools have declared summer vacations late this year that used to be from May 1 till last year," said Bhanu Negi, owner of Misty Mountains in Kausani.
Officials of Kumaon Mandal Vikas Nigam Ltd, a nodal agency for the pilgrimage in Pithoragarh, said that some tourists might have cancelled their bookings due to inclement weather, but the normal tourist flow in hills is yet to come. "Though May tourists might have numbered less, but we have real tourist season beginning from May 15 when the summer vacations begin in plain regions of north India," said TS Martolia, the general manager tourism of KMVN. Martolia agreed that there were less tourists on routes of Munsiyari to Milam and Bageswar to Pindari in May this year due to bad weather.
Close